ATLANTIC CITY – Inevitably under the grins and goodwill and unspoken surreality about Gov. Chris Christie's absence and a relative lack of demonstrable passion about his presidential prospects, the GOP event at the Borgata event would come down to Acting Governor Kim Guadagno versus Assembly Minority Leader Jon Bramnick (R-21), and an early unfolding party establishment rivalry for governor 2017.
Christie absent created the atmosphere for a collegial argument about who would supplant Christie.
"Believe me, I would love to go into 2016 with a Republican Majority," said the governor, taped, on a giant screen, noting his preference of an additional nine seats in the Assembly. "Sorry, I can't be there, I'm on a trade mission [to England] designed to bring jobs back to our state."
That Jumbotroned remark – sandwiched between Guadagno and Bramnick – caused a snicker on press row.
Speaking before the assembly minority leader on a final stage of party big shots, a well-received Guadagno cracked at Bramnick that she had stacked the room with Monmouth County people.
"I have to thank Jon," she said a moment later, her second invocation of the minority leader. "Are you a little afraid of what I'm about to do to you?
"Let's thank the man who brought us here today: Jon Bramnick," she added. "This is your day, Jon. You knew we had to motivate our party."
She welcomed a standing ovation for Bramnick, even as she attempted – in the same speech – to snatch away former U.S. Attorney Michael Chertoff, reminding the crowd that Chertoff – Bramnick's close friend, fellow Union County native and featured speaker – hired her at that office.
"I did hire her," Chertoff acknowledged moments later.
In her own speech, Guadagno praised Gov. Chris Christie, admitting that he created the foundation, then lingered on her own record, noting that she was proudest of "cutting red tape." "I was a proud Republican who became the first lieutenant governor of the State of New Jersey," Guadagno added. "Notice, ladies, I didn't say female. I said Republican lieutenant governor. That's what we should remember."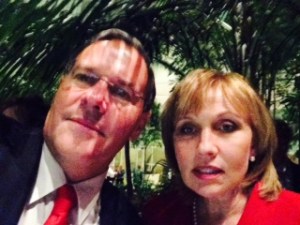 The remark played into a subtext of women in GOP power positions that ran through the entire program.
Repeatedly, the acting governor alluded to Bramnick's grinning presence in the crowd.
"Jon, you really should be sittin' with them on the right," she said, an apparent reference to his status as a political moderate and a road map statement about where she intends to position herself in a statewide Republican Primary, if it comes to that.
Guadagno slapped at Senate President Steve Sweeney (D-3) and Assembly Speaker Vinny Prieto (D-32) and a culture of Democratic disaster and despair. "You can't be for big bureaucracy and be for the little guy. It doesn't make any sense," she said.
After rolling out this video with a game supporting cast from his GOP caucus, Bramnick was the last person to speak tonight.
"As Jackie Gleason used to say, 'How sweet it is,'" he said, before poking fun at his title of leader.
Right away, he dismissed the notion of a rivalry and gently chastised the media for concocting 'angles.'
"The angle is 'people are busy in New Jersey, and they're not necessarily aware that there is an assembly race in 2015," said Bramnick. "Tonight we celebrate those ideals. The Republican Party. Smaller government. Less taxes.
"Get on the phone tonight and tell your friends, the Democrats, we're coming for you," he added. "We're coming to take you out. We're coming to get you. …For almost 14 years, Democrats have controlled the legislature. The same Democrats raised property taxes 70% until Chris Christie… put an end to that nonsense. The Democrats will never take the tough actions to make this state competitive again. It's time for them to go. Tell them we're on the way. We're coming."
It was Bramnick the street fighter from Plainfield.
He stayed focused on Democrats and didn't mention Guadagno.