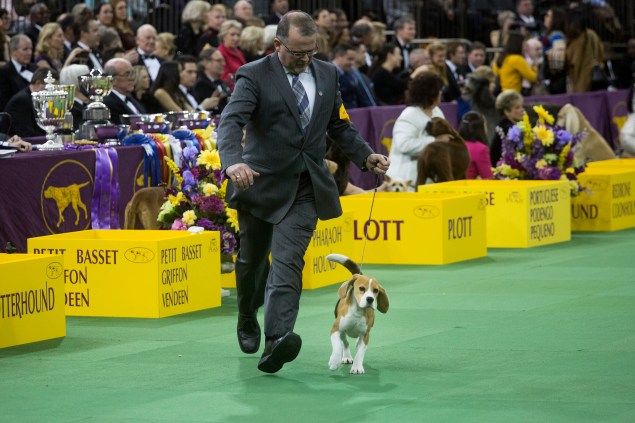 The first time that Will Alexander laid eyes on Miss P., he had come to look at another 15-inch Beagle, but he was immediately taken by the hound, who was going by the less-imperious name of Peyton back then.
"I fell in love with her," confessed Mr. Alexander, Ms. P's handler, describing how, even then, the dog's demanding and fiercely competitive nature was evident. "She thinks she's the biggest dog in the show. If she's behind another dog she almost grumbles."
Miss P.'s confident manner was clearly on display Tuesday night, when Mr. Alexander lead the Beagle, more formally known as CH Tashtins Lookin For Trouble, to victory at the Westminster Kennel Club Dog Show, making her the second 15-inch Beagle to win Best in Show in recent years. (In 2008, Uno, a great-uncle of Miss P.'s—these things move fast in canine years—also took home top honors.)
It was quite a victory for Miss P., who beat out two favorites, an Old English Sheepdog named Swagger and a Portuguese Water Dog who goes by Matisse, neither or whom was named runner-up (or, ahem, "Reserve Best in Show"). That honor went to a Skye Terrier named Charlie, whose amazingly silky tan fur—save for two dark ears popping up like pigtails—undulated in silken waves when he trotted around the ring. Charlie kept his energy high, despite having won best of terrier group just a few minutes before.
Even so, Charlie's good looks, stamina and clearly impeccable breeding were not enough to win out against Miss P., who displayed the same easy, fluid motion as she had the night before (read the Observer's full coverage of the show's first night). "You can picture her going on for hours and hours," co-owner Eddie Dziuck had said of the Beagle's impressively easy and smooth gait. Mr. Dziuck owns the four-year-old bitch with Canadian mother and daughter-team Lori and Kaitlyn Crandlemire.
"She just never lets me down," Mr. Alexander said of Miss M's triumph on Tuesday. "She didn't make any mistakes."
Of course, he added, nor had any other dog or handler in the Best of Show ring that night, who were consummate professionals, all of them.
Mistakes, no, but disappointments, yes.
"One show does not define the dog, but we'd love to win it!" the Portuguese's co-owner Peggy Helming said after Matisse took best of his working group earlier that night. But even with what his handler admiringly described as "a big spring in his step" that night, it was not to be.
Swagger the Sheepdog, who would well have won Best in Show were the title determined by an applause-o-meter, also gave an admirable performance, playing up the crowd with coy little tilts of his head.
Though among those of us who live in the city, better a popularity boom in the comparatively low-maintenance Skye Terrier than the 100 pound-plus sheepdog, who would not seem much suited to apartment living.
There is little chance of anyone even trying with the Komondor, an even larger competitor with long, ropy dreadlocks, originally from Hungary. We passed the Komondor and his owner on her way out, who pulling his hair back in big elastics and grousing to the handler and small crowd that had gathered admiringly around the dog that "all this work that no judge is ever going to recognize… they don't like rare breeds."
The crowd, at least, seemed delighted to see such a creature in the flesh (or should that be the fur)?
And in the end, after all, it's not really about winning, it's about winning so you can breed and continue the tradition of winning and breeding. Which is precisely what Miss P. is going to do. The Beagle, now 4, is slated to move back to Canada, be bred, and give up her career in dog shows.
Tuesday was her last show, Mr. Alexander confirmed. And, despite the win, it still is.