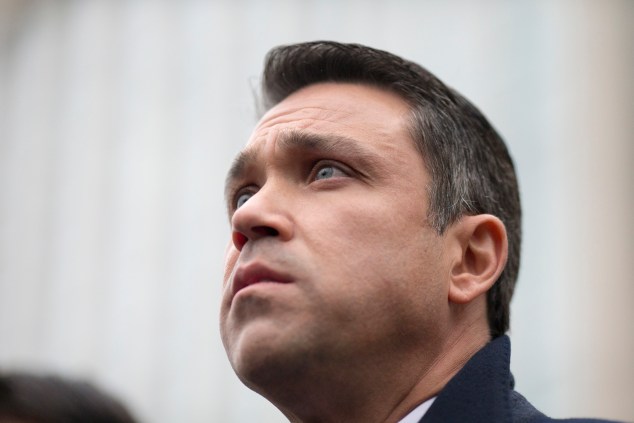 The election is starting to feel not very special.
Gov. Andrew Cuomo today gave no indication of when he would call a special election to fill the Staten Island and Brooklyn-based seat Michael Grimm, a Republican, resigned from in January.
"We're looking at it now," Mr. Cuomo told the Observer.
When pressed again on what his time frame is for an election, he admitted: "We don't have one."
The 11th Congressional District has been without a representative in Washington since Mr. Grimm was forced out of his seat following a guilty plea to a federal tax evasion charge.
The Staten Island Republican Party nominated Daniel Donovan, the borough's district attorney, to run for the seat. Mr. Donovan, who rose to prominence for not securing an indictment in the Eric Garner case, is heavily favored to win what is expected to be a low turnout affair. Staten Island Democrats have yet to settle on a candidate but are leaning toward Brooklyn Councilman Vincent Gentile after a couple of leading candidates took themselves out of the running.
Mr. Cuomo is legally required to call a special election for a vacant House seat. Some political observers have speculated that Mr. Cuomo, notoriously averse to holding special elections, may wait until the November election date to allow voters to elect a new congressman to represent the district. Mr. Cuomo declined to call special elections to fill numerous vacancies during the state legislative cycle in 2014.
Special elections forego primaries, empowering local party organizations to choose nominees. Good government groups and other critics have knocked the backroom process, though these same critics also questioned how Mr. Cuomo's failure to call special elections left districts for many months without political representation.
Will Bredderman contributed reporting.