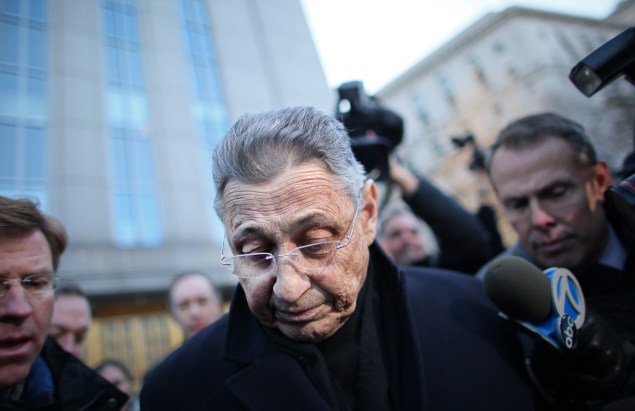 Gov. Andrew Cuomo told reporters today that Assembly Speaker Sheldon Silver's arrest on corruption charges "totally shocked" him–and declined to affirm the mayor's belief that Mr. Silver, set to resign his powerful post today, is a "man of integrity."
"I mean, no one had any clue. I'll tell you the truth, I was totally shocked on a number of levels. And so I was really, really shocked," Mr. Cuomo said after giving a speech on ethics reform in Manhattan.
Mr. Cuomo called it an "old story," referring to past indictments and arrests of elected officials in Albany. But he said the political system, rather than the individuals, is as much as fault for the misconduct.
"It's not just the individual anymore, it's the system," he said. "You should have a system that does everything it can to be protect and deter–and our current system encourages."
"Think about it: you have to disclose campaign contributions, but you don't have to disclose who pays you privately which is actually more important," he continued.
Mr. Silver was charged with masking millions of dollars in kickbacks and bribes as referral fees to a law firm he allegedly performed almost no work for. Mr. Silver is contesting the charges, but his case has thrown more harsh light on Albany's seemingly endless parade of ethics scandals. Mr. Cuomo, himself under federal investigation after prematurely closing down a corruption commission he launched in 2013, ran on an ethics reform platform during his first bid for governor five years ago.
But critics say Mr. Cuomo has done little to change Albany's culture. Mr. Cuomo has blamed an intransigent legislature for not passing reforms.
"If you don't trust the legislature, you don't trust state government and you limit government's ability to do good things because people are always skeptical and always cynical," Mr. Cuomo said. "I'm saying, 'enough is enough.'"
Mayor Bill de Blasio, a close ally of Mr. Silver, defended the speaker as a "man of integrity" on the day the charges against him were announced. But Mr. Cuomo declined to back up his fellow Democrat's character assessment of Mr. Silver.
"That's the mayor's opinion," he said.
Will Bredderman contributed reporting.