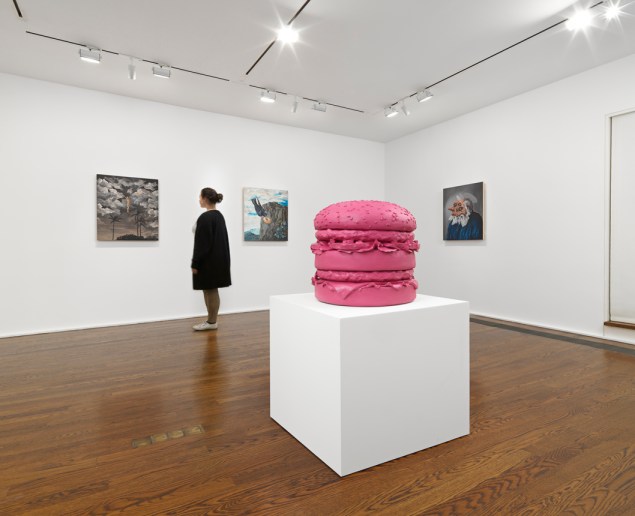 If Monty Python's Flying Circus were to reunite and appoint an official artist-in-residence, they would likely choose Djordje Ozbolt.
As a master of the deadpan historical zinger, the young Yugoslavian artist would've fit right in with Mr. Cleese and company. His painting, Intruder, 2014, for instance, essentially asks, "What would a Dutch still life look like with a Big Mac as one of the elements?" While the visual is hilarious, it's also refreshing to see the painted succulence of Mr. Ozbolt's patties and the delicacy of his sesame seeds rival the luminescence of more traditional fodder, such as that bunch of mauve grapes that Mr. Ozbolt shoved brusquely behind its beefy successor.
Mr. Ozbolt was born in Belgrade, but after studying architecture in his homeland, he switched gears and decided to move to London to attend art school. London's rich culture must've been a heady muse for an artist of some wit, but being an equal-opportunity satirist, Mr. Ozbolt has gone on to skewer a bevy of cultural and political stereotypes through the lens of art history.
Most of his newest show, "More paintings about poets and food," is made up of paintings, as the show title would suggest, and Mr. Ozbolt's talents seem to present themselves best in that medium. His clever use of acrylic paint lets him move around the bowels of art history with ease—one minute crafting a beatific landscape, the next aping a sublime Dutch still life—while his goofy charm helps to neatly tie his body of work together.
In Delivery, 2014, he offers up another campy punchline, this time via the sublime landscape. Here Mr. Ozbolt channels the craggy cliffs and expansive cloudline of Caspar David Friedrich as a backdrop for a single soaring raven. This lifelike black creature, which is one of Western literature's moodiest symbols, dramatically carries in his beak—instead of the expected scroll or letter—a lustrous glazed donut. With assistance from the title, the idea of a 12th-century noble using a messenger bird to get junk food will likely elicit a smirk.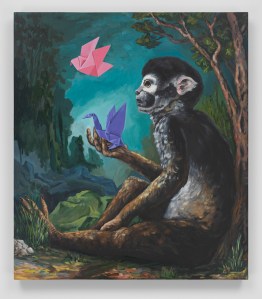 Hauser & Wirth's posh uptown gallery, which devotes three floors to his work, happens to be an ideal setting for this artist's rakish humor. Presented in a single line around the second-floor gallery space is Mr. Ozbolt's 50-painting opus, 50 ways to leave your lover, 2014, which feels like taking a stroll through the psyche of a schizophrenic art historian. The paintings, each 24 by 18 inches, have a more dashed-off look to them than Mr. Ozbolt's singular works, and in fact they were somewhat diaristically sketched over a short three months.
Here, movements such as Surrealism, Cubism and Abstract Expressionism all take a star turn in Mr. Ozbolt's spotlight. In one painting, a brooding, block-headed patron holds a curvilinear glass of offending merlot. In another, a clownish African tribal sculpture-cum-Picasso figure stabs an adorable pink elephant through the neck. The paintings as a whole become an overwhelming whorl of experimental activity, yet Mr. Ozbolt's brutish merriment always manages to elicit some dusty corner of the canon, often with bizarre results.
The accompanying drawings and sculptures in "More paintings about poets and food" are equally skillful, but they tend to wander too far into the comic terrain of other artists such as David Shrigley and Tony Matelli. What feels truly special about Mr. Ozbolt is his proximity to, and delicate handling of, the greatest hits of European art. While an artist like John Currin seems to begin from a kitschified American view of classical painting (think Norman Rockwell), Mr. Ozbolt pointedly razzes the medium's deeper history (a history that reflects our own) in a way that a New-Worlder never fully could. And considering the problems the human race has seen over its relatively short history, who couldn't use a good laugh?