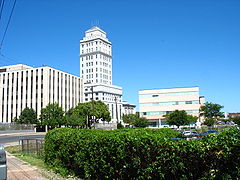 State Assemblywoman Linda Stender (D-22) has faced a flurry of questions over the past several days stemming from her husband seeking help from the non-profit group Habitat for Humanity in rebuilding a nearly half a million dollar shore home badly damaged by Hurricane Sandy.
At the same time, Union County Democrats are reportedly converging around two potential candidates to replace Stender if the need arises, according to sources.
One one side, the allies of Fanwood Mayor Colleen Mahr for the 22nd Legislative District seat are in position.
On the other side stand at the ready the allies of Jim Kennedy, a lobbyist who was Rahway's mayor from 1991 to 2011, sources say.
Union County Sheriff and former LD20 Assemblyman Joe Cryan is a longstanding friend and ally of Stender's and sources say he supports her.
But if she were to leave the legislature, Cryan would be more likely to back Mahr.
State Senator Ray Lesniak (D-20), Elizabeth Mayor Chris Bollwage and Union County Democratic Chairman and state Assemblyman Jerry Green (D-22) are behind Jim Kennedy, a lobbyist who was Rahway's mayor from 1991 to 2011, sources say.
Lesniak and Cryan have been longstanding rivals for control of Union County Democratic politics. Yet several facts could blur the otherwise clear line drawn between them.
Mahr serves as vice-chair of the Union County Democrats under Green, which could cause Green to cast a positive eye toward Mahr for a potentially available LD 22 seat.
State Senator Nick Scutari (D-22), who should have a considerable role in replacing Stender if need be, is close to Lesniak, who is reportedly on vacation as of Monday.
Roselle Mayor Jamel Holley, who will be sworn in as LD 20 Assemblyman on Monday to replace Cryan, who left the Legislature to become Union County Sheriff, was backed by Lesniak. If Mahr, backed by Cryan, does not become the new LD 22 Assemblywoman if need be, it could upset the already-delicate balance of power among Union County Democrats.
Any further disruptions of the Union County Democratic equilibrium could lead Cryan to unite with those members of the Elizabeth Board of Education who oppose Lesniak to try to unseat Holley and state Assemblywoman Annette Quijano (D-20), sources say.
But a source close to Cryan said the sheriff said he does not have a role to play in LD22, which, whether or not Stender departs, remains the specific political provenance of Scutari and Green.