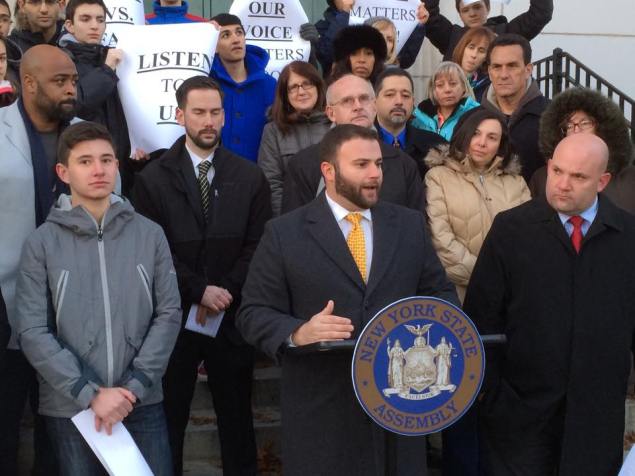 Assemblyman Joseph Borelli—whose district completely overlaps with the vacant Staten Island Congressional seat once held by Michael Grimm—today proposed a pair of measures that would create hard time frames in which Gov. Andrew Cuomo would have to call special elections.
The Staten Island legislator's bills would change the state constitution to mandate a special election for a state office within 45 to 90 days of an official's death or resignation, and would give the governor 30 days to declare a Congressional seat vacant, which would automatically trigger a special election within 70 to 80 days. State law currently leaves it entirely up to the governor's discretion whether to call a special election to fill a seat, and allows the governor to put off recognizing a Congressional vacancy almost indefinitely.
By contrast, New York City law compels the mayor to announce a special election within three days of a vacancy in a city-level elected office.
"I don't think it should be up to the executive branch to decide when to have a special election," said Mr. Borelli, a Republican. "The fundamental principle of a republic is representative democracy. And it should not be up to discretion whether people go without representation for lengthy times."
Last year, Mr. Cuomo, a Democrat, left a number of State Senate and Assembly seats sit empty rather than call special elections, and has thus far refused to even set a time frame for declaring Mr. Grimm's seat vacant, thus postponing a special election.
"This is in the news now because of Staten Island, but it is not at all unique to Staten Island," said Mr. Borelli, noting that many Assembly and State Senate districts had no representative in 2014 during the budget process. "You saw it last year when almost 10 percent of the legislature was vacant."
As a Republican in a Democrat-dominated body, Mr. Borelli faces an uphill battle in getting his bills through committee and onto the floor of the Assembly, let alone getting a majority of members to vote for it. But he argued that both parties have an interest in creating a window for special elections, pointing out that many of the state seats Mr. Cuomo allowed to remain unfilled last year were in heavily Democratic districts.
"I think there's Democratic support for this legislation," he said, adding that he thought the support might even be strong enough to override a gubernatorial veto.
Still, he did not hesitate to impute political motives to the governor for failing to declare a vacancy for Mr. Grimm's seat, where Republican Staten Island District Attorney Daniel Donovan is heavily favored to win a special election.
"There have to be some factors that are playing into the governor's decision to call it or not call it. He's not doing it for his own amusement," Mr. Borelli said.
Last week, Staten Island attorney Ronald Castorina—a Republican Board of Elections Commissioner—filed suit against Mr. Cuomo to force him to allow an election for Mr. Grimm's successor to go forward. Leading election lawyer Jerry Goldfeder noted that past courts have refused to create a deadline for special elections, and suggested that measures like Mr. Borelli's might be necessary to push Mr. Cuomo into declaring them more promptly.
"If there were no lawsuit, there would be no check on him," Mr. Goldfeder said. "If the court doesn't do it, maybe the legislature will change the law."
Mr. Grimm resigned in January after he was found guilty on a federal tax evasion charge.
Mr. Cuomo did not immediately respond to requests for comment.