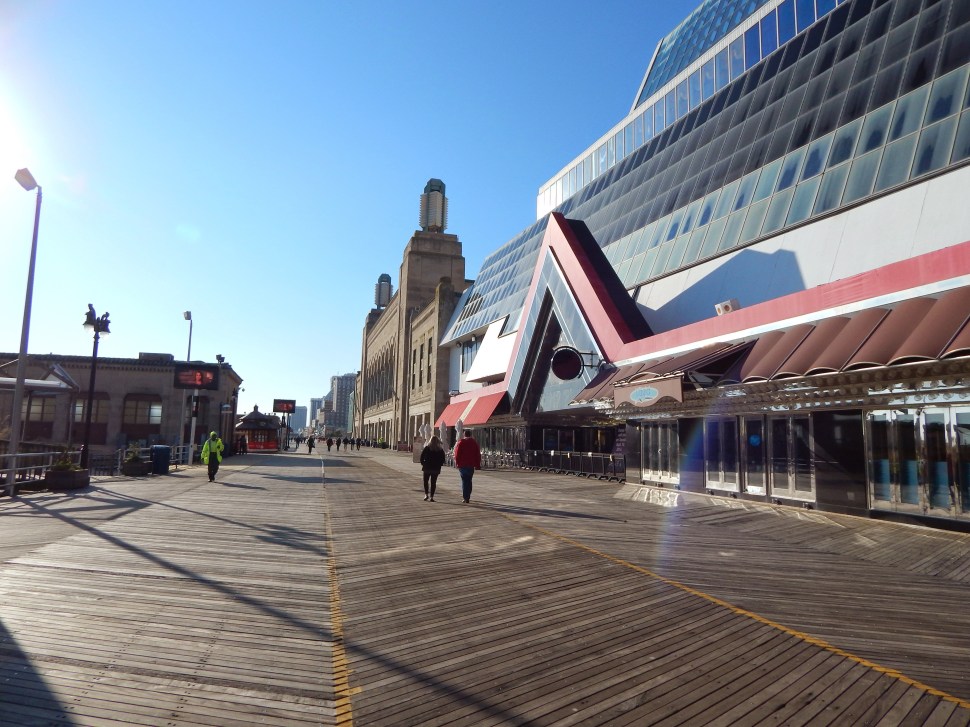 So continues the tragic saga that is Atlantic City's casino industry. In a somewhat surprising but probably foreseeable development yesterday, a deal to buy up a bankrupt Revel — the city's newest and most expensive and, by many accounts, biggest flop of a casino — fell through when another investor walked away from the bargaining table. It's the second time a deal to sell off the $2.4 billion behemoth has come undone — and the latest chapter in the story of Atlantic City's down-spiraling gambling market, shrunk by nearly half over the last eight years.
Perhaps more than anything, though, the development also adds to the uncertainty of an already chaotic situation in the beleaguered seaside gaming mecca, where legislators and stakeholders from across the state have fought to come up with solutions not just to save struggling casinos like Revel but to save the city's crumbling tax base and overall economic welfare, both of which have been thrown in jeopardy as a result. Despite efforts on the part of the governor and local officials in recent months, some lawmakers say a clear path to firmer fiscal footing has yet to fully materialize.
"It's very much a confused, chaotic situation," said state Sen. Jim Whelan (D-2), a former Atlantic City mayor who is working with fellow lawmakers to come up with solutions to the city's economic woes.
Revel — on the market without a third buyer lined up if judges approve its appeal for a contract termination in the coming weeks — poses another challenge, but it's not the only development in the city that has had lawmakers scratching their heads in recent weeks. Two other plans officials hope will help move Atlantic City out of its economic bind are also in varying states of uncertainty, according to some lawmakers.
The first, the long-awaited PILOT program legislation that lawmakers hope will bring swift economic relief to the city, is still sitting idle in the legislature after efforts to pass it last year were stalled by political infighting and the breakdown of a another deal, this one to buy out a shuttered Trump Casino, at the hands of owners and investors. Lawmakers — including Whelan and the bills' primary Democratic sponsor Senate President Steve Sweeney (D-3) and Assemblyman Vince Mazzeo (D-2) — have continued to push to move the package back to a vote, but it's unclear when exactly that will happen.
"We're at the point where early on the governor was on board but I'm not sure where that is," Whelan said. "We're hoping when it hits the governors desk he signs it."
Under the new program, casinos would pay $150 million for two years, compared to the current total casino property tax levy of $210 million, and future payments would be based on their gambling revenues rather than their property valuations, which have been falling as casinos challenge their tax assessments in court. Atlantic City officials have clamored for the financial and economic aid such a program would bring, including its own Republican mayor, Don Guardian, who told PolitickerNJ last month that he thinks its the most "logical" proposal currently on the table.
Whelan said initial opposition to the bills from some Republicans in Trenton, like the second legislative district's other representative, Assemblyman Chris Brown (R-2), has made it difficult to garner the kind of support needed to move the package through the legislature and on to Christie's desk. Brown, who's up for re-election along with Mazzeo in a battleground LD2 this year, had proposed his own version of a tax relief bill, one that called for a all-out freeze on tax rates throughout the city. Many county officials and mayors also condemned the PILOT, fearing the legislation might force property taxes up in their own municipalities.
Brown and those county officials have since signed on to the PILOT package, but Whelan expressed frustration over what he called the "knee-jerk reaction" the bills first received. He said a clause in the legislation that gave consideration to county and school board members' concerns ultimately enabled the both parties to resolve their differences — that when "people finally looked into it, they came to the conclusion that this was a lot better than doing nothing."
"You would've expected people to have done their homework, frankly, before hand, but they came out and it was like the whole ready, shoot, aim," Whelan said. "Like, we're against it — what is it?"
Still, lawmakers have insisted that economic relief from the state is only part of the solution to shoring up Atlantic City in the long-term. Christie and other stakeholders have held regular summits in the city in recent months to come up with other proposals to that end, ultimately with the goal to "transition" the city and its economy from its longtime gaming base toward one focused more on tourism and resort attractions. In a brief interview with PolitickerNJ at a Republican conference last week, Guardian laid out his vision for that transition, the key to which he said would be "diversifying beyond casinos."
"Short term it's conventions and conferences, it's entertainment, and it's bringing an indoor water park, and something for millennials, like a Northern Liberties in Philadelphia, and of course a university," Guardian said. "The thing is Atlantic City has always been a shore town, but people here still think like a tourist town. They should really think like a city."
And yet many of the proposals that have come out of those summits — including a the creation of a state-sponsored Atlantic City Development Corporation, modeled after the success of the one in New Brunswick, as well as a plan by Stockton College to buy up the old Showboat Casino property and turn it into a university campus– have received little attention since Christie last month  announced the installation of an emergency management team to oversee the city's budgeting and finances. That team consists of corporate finance attorney Kevin Lavin as emergency manager for municipal and school budget issues, as well as his special counsel, Kevyn Orr, a key player in the recent bankruptcy of Detroit.
While officials like Mazzeo and Whelan have vowed to work with Christie and the management team despite their own misgivings, the governor's decision has still managed to create some tension between lawmakers in their deliberations to move forward. Some, like Brown, have stayed relatively supportive of the plan, unintentionally drawing the ire of other local officials who have condemned it.
For example: yesterday, Mullica Township committeewoman Barbra Rheault slammed Brown for being "content to let the state takeover Atlantic City, putting control of the largest economic engine in Atlantic County in the hands of a Governor who spends more time in Des Moines and Nashua than he does in New Jersey." (Brown could not be reached for comment).
Others have taken similar stances, though, and have expressed worry that Christie's installation of an emergency manager that had been involved in Detroit's own bankruptcy saga shows that the governor might have in mind a similar plan for Atlantic City. That group includes Sweeney, who pledged to put up a "big fight" should Christie go down that road at a recent League of Municipalities meeting.
Guardian, who has stayed adamant in his support for Brown's re-election in November despite siding largely with Democrats in these discussions, also expressed skepticism over the plan.
"This guy says, well I looked at Michigan, and what they did there is they blew everything up," Guardian said of Jon Hanson, the  head of a Christie's advisory commission that proposed the emergency manager idea. "That brought in an emergency manager, they took over, they fired everybody, and everything is good. Well, maybe that's how Michigan handles it, but Michgan also had a pension system that the city owned. Our pension is with the state so it's out of the question here."
But Whelan said his biggest concern with the move has been the result: that talk about moving forward with other proposals produced through the summit and earlier discussions is now "up in the air", and that it's all "very much about the emergency manager." Both Whelan and Guardian argue that while austerity measures to trim down the city's budget are warranted — Guardian said he already plans to propose more than $40 million in cuts in his next budget — they're only one piece of the puzzle.
"One of the major concerns I have with the situation, when you look at it in the context of the summit, or just overall in the context of Atlantic City, there are a whole lot of things where topics under consideration at the summit have been pushed onto the back burner," Whelan said. "Are we just going to come in and cut a bunch of money and think that's going to solve the problem?"
"Because frankly, that all by itself isn't going to solve the problem," he added.
Orr and Lavin are expected to report back to Christie with recommendations in the next 60 days — but Whelan said lawmakers can't wait that long.
"It's all very chaotic, there's a lot of uncertainty, but a lot of us are working very hard to try and seize an opportunity out of the chaos that we have," Whelan said.