The Bergen County establishment Republican Freeholder field is set with the convention cancelled after Dierdre Paul withdrew her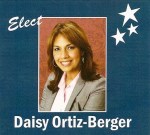 bid.
Daisy Ortiz-Berger of River Edge will join former Freeholder John Mitchell and Ramsey Councilman Ken Tyburczy in a play for the GOP's November ticket.
Mitchell and Tyburczy are running for full terms.
An MBA, Ortiz-Berger is running for the unexpired term of Bergen County Executive (and former Freeholder) James Tedesco.