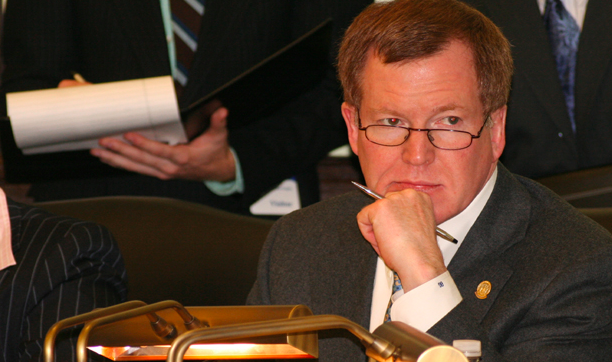 Following multiple gut-wrenching testimonials, including several by cops, the Senate Commerce Committee this afternoon passed a drug, alcohol and psychiatric treatment facilitation bill backed by state Senator Robert Gordon (D-38), without the support of Gordon's fellow Bergen County lawmaker, Senator Gerald Cardinale (R-39), who questioned cost implications of the bill.
Aimed at removing bureaucratic barriers, Gordon's Senate Bill 2180 requires hospitals and insurers to provide coverage, without utilization management review, for behavioral health care services when a physician, a licensed psychologist, a licensed clinical social worker, a certified advanced practice nurse, or a licensed physician assistant, prescribes a patient treatment.
Cardinale said if the bill removes one barrier, it supplants it with another. "This bill is going to crate a barrier, and the insurance company can't monitor it," griped the veteran Republican senator.
"The wholesale elimination of oversight does not seem to me a remedy," he added.
Hold the bill, Cardinale advised, moments before he voted no.
He was the only senator who voted no.
Everyone else on Commerce voted in the affirmative.
According to a summary of the bill, Senate Bill 2180 amends several state statutes, initially enacted in 1977 and 1985, which require hospital, medical and health service corporations, and individual and group health insurers to provide coverage for the treatment of alcoholism. The bill expands that coverage to include mental illness, emotional disorders, other types of substance abuse, including drug abuse, and updates terminology in those statutes.
The bill also extends the required behavioral health coverage to health maintenance organizations, the individual and small employer insurance programs, the State Health Benefits Program, and the School Employees' Health Benefits Program, which were not included in the 1977 and 1985 statutes.
As part of a hearing on this bill that lasted all afternoon, several cops provided emotional testimony in favor of the bill, recounting their own struggles in search of help and health coverage in the aftermath of traumatic police calls.
Those confessions met the cool deconstruction of manage care company reps who said the bill lacks coherence.
They don't deny, was the running argument, they direct.
For his part, Cardinale worried about the costs associated with the legislation. "Is there a fiscal note?" the 39th District senator wanted to know.
There wasn't.
"It will raise costs," admitted Gordon, who said he would examine making modifications going forward. "…My intent is to eliminate the controls that I consider too stringent; people denied access to psychiatric care [and] counseling. …People are not getting the access they need."Cardinale was unconvinced.
"I'm very concerned about the cost implications, not just for the individual instance but a provider, like the State of New Jersey, who would be bound by this, would they not?" he said.
"I have no doubt there are serious cost implications to this," Gordon said. "Utilization management is used to control costs."