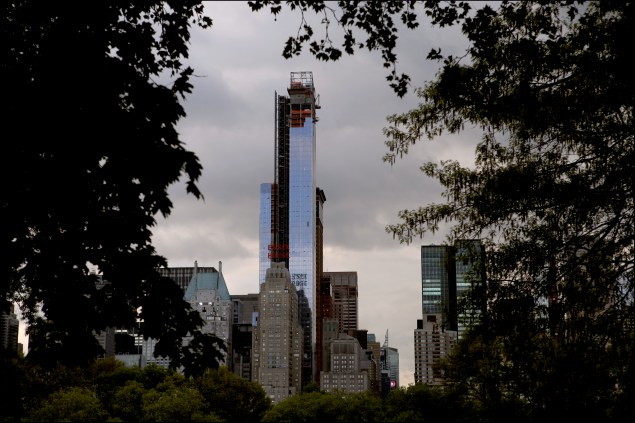 In his Albany testimony today, Mayor Bill de Blasio declined to take a position on a controversial real estate tax break, temporarily sidestepping an issue that has galvanized his base.
Mr. de Blasio, testifying in front of the State Senate and Assembly on his budget priorities for the city, declined to offer any window into his views on 421-a, promising that he would reveal more in the "coming weeks."
"My broad construct is yes, we will have a lot to say," Mr. de Blasio told State Senator SImcha Felder, a Democrat and fellow Brooklynite. "We will be thinking in terms of how 421-a relates to affordability, how to have the appropriate impact."
Mr. de Blasio promised a more "detailed analysis and proposal" in the near future.
No matter what path Mr. de Blasio takes on 421-a, influential interest groups are going to feel aggrieved. The once obscure abatement gives tax breaks to developers who build multifamily housing and has undergone changes since it was first introduced in the 1970s, when developers were reluctant to invest in New York City. 421-a incentivizes the construction of affordable housing depending on the neighborhood.
Vigorously defended by the Real Estate Board of New York, the chief lobbying group for the city's powerful real estate industry, 421-a is viewed by its supporters as the best way to ensure developers continue to build at a breakneck pace in New York City and fulfill Mr. de Blasio's goal of building and preserving 200,000 units of affordable housing over the next decade.
But critics, particularly progressive groups close to Mr. de Blasio, deride the abatement as a tax break for wealthy developers to build housing for the equally wealthy. 421-a was roundly criticized after One57, a luxury housing building overlooking Central Park, received the tax break despite offering apartments that sold for tens of millions of dollars. Protesters marched outside One57 last week to call for the repeal of 421-a, which like other real estate and rent laws is up for renewal in Albany this June.
Mr. de Blasio is in a thorny position. His liberal base despises the tax break, but State Senate Republicans who control the chamber–and work closely with REBNY–want to renew it. Mr. de Blasio needs the cooperation of REBNY to fulfill his ambitious affordable housing goals, and his initial unwillingness to take a position on the tax abatement reflects how carefully the Democratic mayor must tread.
In his budget testimony today, Mr. de Blasio was more willing to please his base on another housing issue, vacancy decontrol. Tenant advocates revile the policy, which allows rent-stabilized apartments to go market rate when they become vacant. Landlords are in favor.
"It is a major contributing factor in the loss of rent-protected units in the city," Mr. de Blasio said. "We will be returning to these important issues, but in this budget we must address a specific aspect of saving affordable housing–protecting tenants from landlord harassment."
421-a and other rent laws could be resolved in the state budget or separately after the budget is passed. The budget deadline is April 1 and Gov. Andrew Cuomo, as in past years, is intent on meeting the deadline.