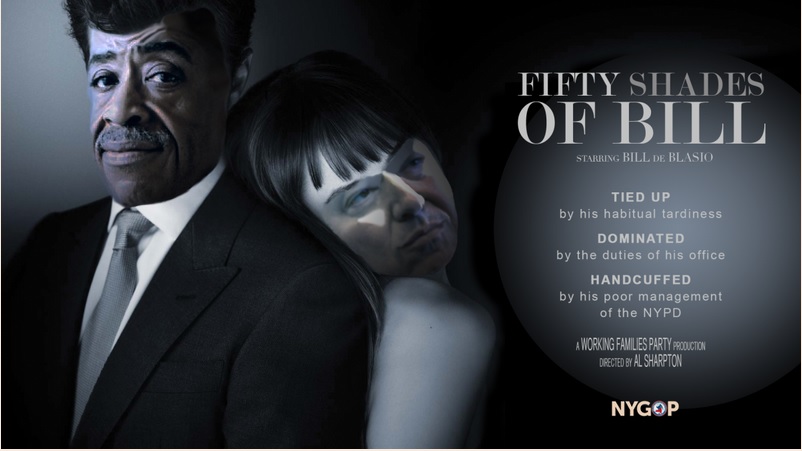 Fifty Shades of Grey may have whipped up a box office frenzy this Valentine's Weekend, but Mayor Bill de Blasio wasn't among the millions of people who watched the smutty film.
"I have not seen the movie or read the books," Mr. de Blasio told reporters today, two days after the New York Republican Party compared the mayor to the heroine of the film, Anastasia Steele, with Rev. Al Sharpton playing the role of Ms. Steele's dominant, billionaire lover Christian Grey.
The image featured Mr. de Blasio, photoshopped to have Ms. Steele's long brunette hair, leaning coquettishly on the shoulder of Mr. Sharpton, who is shown wearing the grey tie that Mr. Grey famously wears in the film, based on a best-selling novel about a whirlwind, kinky romance.
"Tied up by his habitual tardiness. Dominated by the duties of his office. Handcuffed by his poor management of the NYPD," the faux movie poster reads, alluding to controversies Mr. de Blasio has faced while in office and the themes of movie.
Mr. Sharpton's National Action Network demanded an apology Tuesday. But today, Mr. de Blasio—who said he wasn't sure if anyone else in his family had seen the film or read the books—laughed it off.
"I respect any other organization's view of this attempt at humor, but I have handled it a particular way," Mr. de Blasio said.
The mayor attended the Saturday Night Live 40th anniversary special Sunday night, where the actor who played Ms. Steel, Dakota Johnson, was in attendance.
"Dakota Johnson was there, so in light of this, I asked her to play me in the upcoming biography of my life. So I think that settles it," Mr. de Blasio said.
After a pause, he clarified, just in case anyone might wonder: "That's not a factual statement."