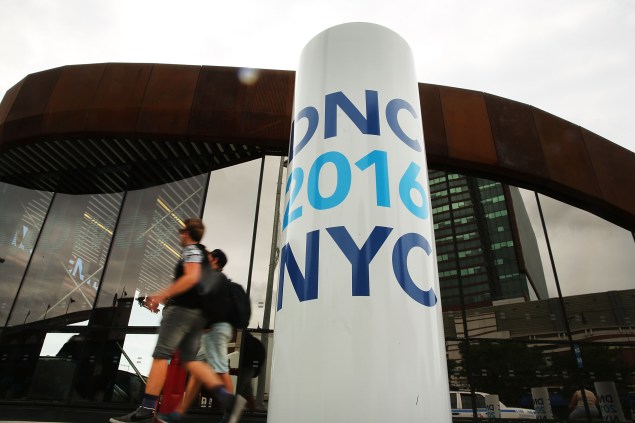 He's got 2020 vision.
Mayor Bill de Blasio said today that his failed attempt to bring the 2016 Democratic National Convention to Brooklyn–it went instead to Philadelphia–would not deter him from trying to land the 2020 DNC in New York City.
"We'll certainly consider. I think it's premature to make decisions [about 2020] but we'll certainly consider it," Mr. de Blasio told reporters at a City Hall press conference.
Mr. de Blasio noted, however, that he would first have to be re-elected in 2017 before he considers a fight for another convention. "I have a lot of work over the next few years and I have to get my employment contract renewed and there's a very elaborate process around that. So I don't take any of that lightly," he said with a smile.
Losing the Democratic convention to Philadelphia is a blow to Mr. de Blasio, a Democrat with ambitions to be a national progressive leader. He invested considerable political capital in promoting the Barclays Center as a site for the convention but ran up against several obstacles, including logistical and security issues, a public battle with the NYPD and a perception by some national Democrats that his bid was more about internal politics.
Mr. de Blasio, along with Brooklyn Borough President Eric Adams and the councilwoman representing downtown Brooklyn, Laurie Cumbo, said he had no regrets about how the city lobbied for the convention. He said that, at the minimum, Brooklyn was promoted and its "inclusive" history was shared with national Democrats.
Mr. de Blasio lived in Brooklyn for two decades before moving to Gracie Mansion in Manhattan.
"I do believe a convention in Brooklyn would have sent a great message about what this country … needs to be in the future," he said.
Ms. Cumbo, for a moment at least, couldn't seem to believe Brooklyn had lost.
"Brooklyn is always winning, never losing," she said.
"I'm going to be proud to attend the convention in Brooklyn—excuse me, Philadelphia," she added.