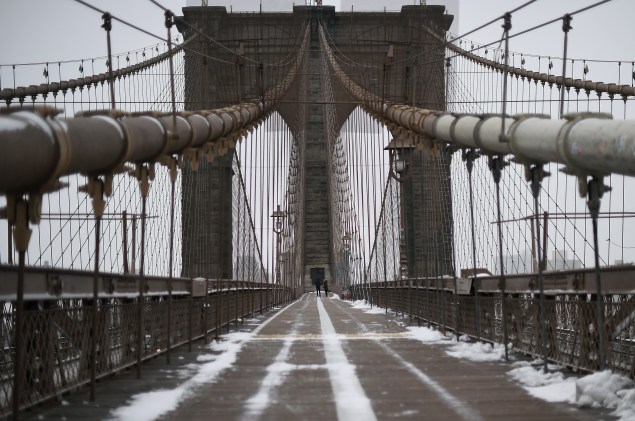 Mayor Bill de Blasio said today that a new congestion pricing proposal needs to be taken "seriously," perhaps a sign that the mayor, opposed to a Bloomberg era pricing scheme, is evolving on the issue.
The proposal, advanced by former City Traffic Commissioner "Gridlock" Sam Schwartz, would introduce tolls to cross four East River bridges and to travel south of 60th Street in Manhattan. The new revenue would be used to lower tolls on outer borough crossings like the Bronx-Whitestone Bridge, Robert F. Kennedy Bridge and Verrazano-Narrows Bridge.
"I have not seen the details of the new proposal but … I think it has to be taken seriously," Mr. de Blasio told reporters at an unrelated event in Brooklyn. "What I think we have to do is, the city and state together, figure out a long-term vision for the MTA. And, you know, we should look at a range of options."
Mr. de Blasio still did not voice outright support for the plan, which would need to win over city and state lawmakers and Gov. Andrew Cuomo. As a city councilman, Mr. de Blasio opposed ex-Mayor Michael Bloomberg's plan to introduce another form of congestion pricing. The plan, backed by then-Gov. Eliot Spitzer, was never brought up for a vote in the Assembly.
Mr. Schwartz has worked extensively behind-the-scenes to line up support for his plan, known as Move NY, from labor unions and business organizations, some of whom resisted Mr. Bloomberg's congestion pricing scheme. Mr. de Blasio praised Mr. Schwartz, but said his focus this year would be on "preserving the funding streams we have for the MTA."
"Clearly one of the things that has to be addressed is the level of state support for the MTA from the surplus dollars that are now available," Mr. de Blasio said. "So those are the immediate things that have to be addressed, but I think the various proposals that have come out over the last couple of years need to be assessed and compared with other options, and we've got to figure out a long-term solution for the MTA finances."