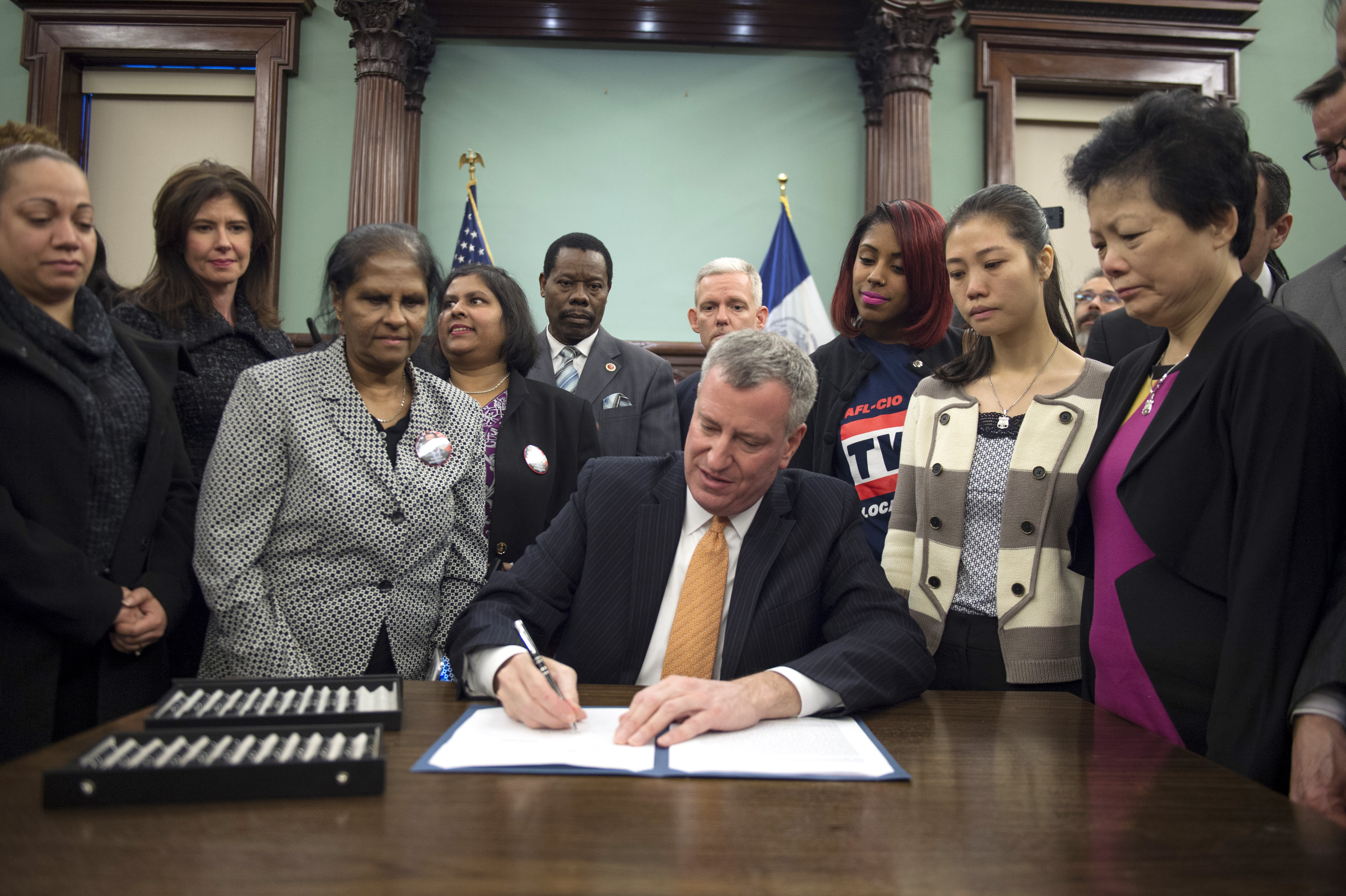 Mayor Bill de Blasio signed a law today to name two city streets after Rafael Ramos and Wenjian Liu, the two police officers gunned down this December as they sat in their patrol car in Brooklyn.
"This is one of the ways, one of the many ways that we honor people who have done so much for the city, and there are many forms of service and sacrifice—none greater than when our men and women in uniform pay the ultimate price, make the ultimate sacrifice to protect others," Mr. de Blasio said.
The officers were promoted posthumously to detectives, and the street signs, to be erected in their neighborhoods, will bear that rank.
"Detective Rafael Ramos Way and Detective Wenjian Liu Way will now be part of all that is New York City, a permanent part of this city and a permanent reminder, a permanent example to all New Yorkers of their heroism and sacrifice," the mayor said.
Police Commissioner Bill Bratton said it was great to see the city remember the officers.
"It's just a way for the city to say thank you, and say thank you in a way that's visible and lasting," he said after the bill signing ceremony.
The law signed by Mr. de Blasio also co-names 46 other streets and public places, including several other city workers who died in the line of duty: FDNY Lieutenant Matt Ambelas, a firefighter killed in a Williamsburg fire; Police Officer Kenneth Anthony Nugent, an officer killed trying to stop a robbery in Queens; Traffic Enforcement Agent Kalyana Ranasinghe, hit by a truck while writing tickets; Deputy Fire Chief Charles Kaspter, killed on September 11, 2001; Sanitation worker Steven Frosch, a Sanitation worker killed in a Maspeth garage; and Edwin Thomas, who was stabbed to death while driving a city bus.
A street was also named after Jack Maple, the legendary architect of the NYPD's CompStat program unveiled during Mr. Bratton's first stint as commissioner in the 1990s.