Mayor Bill de Blasio will attend a Manhattan synagogue service with the chief rabbi of France tomorrow, according to an invitation obtained by the Observer. The event is not open to the public and in fact, according to unusually exclusionary language on the invitation, "This meeting is reserved for leaders and representatives of the Jewish community."
Mr. de Blasio is scheduled to appear at the Park East Synagogue on the Upper East Side with Chief Rabbi Haim Korsia, the leader of the French Jewish community. Hosted by Rabbi Arthur Schneier, Mr. Korsia is set to speak to the congregation.
Mr. de Blasio's joint appearance with the French rabbi comes as Mr. de Blasio has been more forcefully denouncing anti-Semitism and forging ties with France. The mayor, a Democrat who represented a slice of heavily Jewish Borough Park when he served as a Brooklyn city councilman, is close to the Parisian mayor, Anne Hidalgo, and visited France last month after Islamist terrorists killed employees of a satirical French newspaper and later murdered hostages at a kosher supermarket.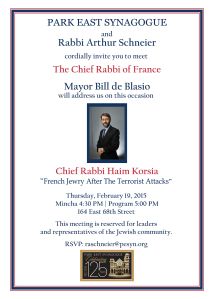 In January, Mr. de Blasio spoke at Congregation Kehilath Jeshurun, another Upper East Side synagogue, where he bemoaned a perceived trend of rising anti-Semitism in Europe. According to a press release from Rubinstein Communications confirming Mr. de Blasio's attendance, the chief rabbi will address the issue of European anti-Semitism tomorrow.
"In Paris, what I heard from community members–again, I doubt this will shock anyone in this room–but what I heard was this was not only not an isolated incident, it was something with too many preceding incidents, too many signs before, that had gone under-addressed in France and under-addressed in Europe," Mr. de Blasio said in January.
A spokesman for Mr. de Blasio did not immediately return a request for comment.