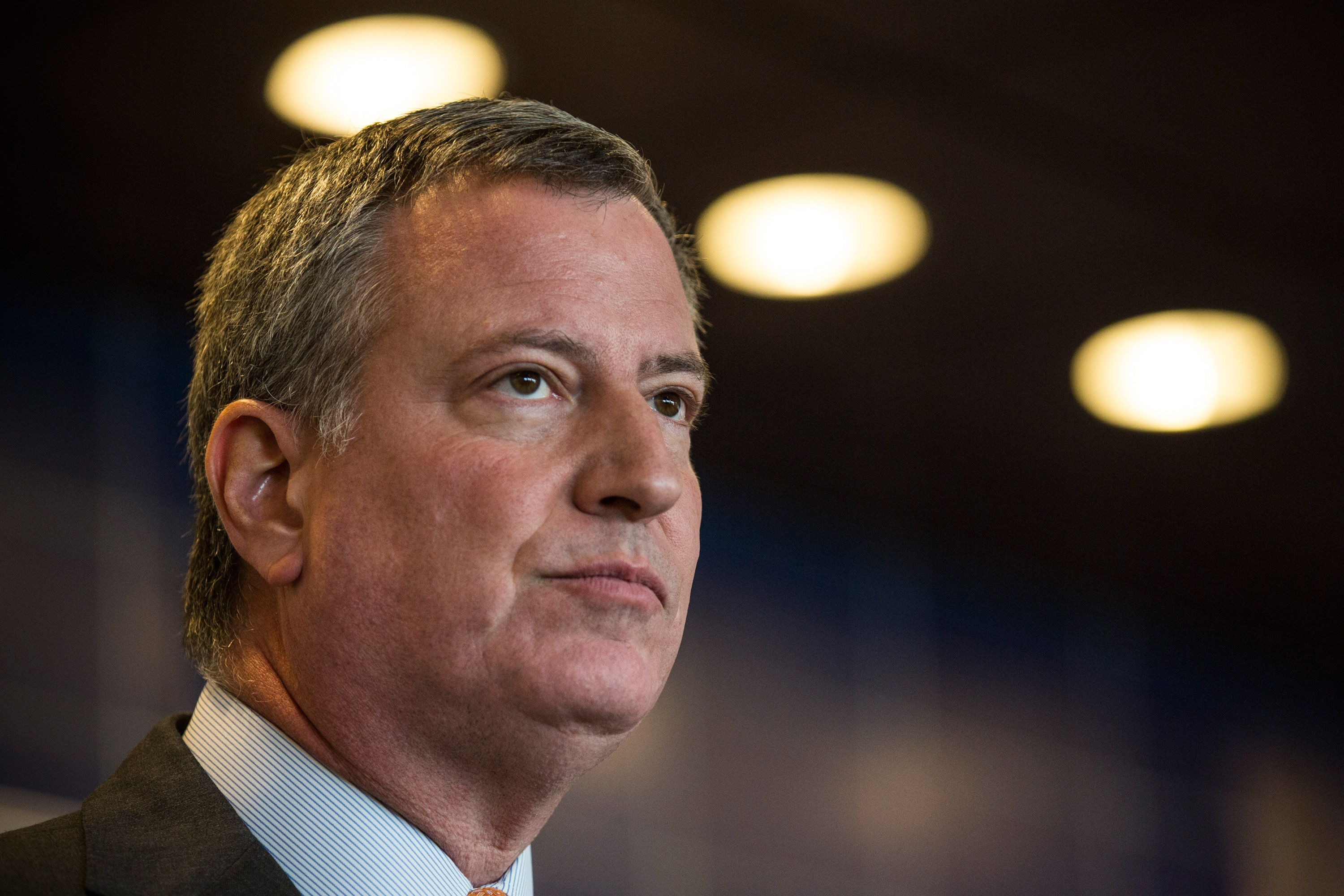 Mayor Bill de Blasio unveiled his preliminary budget plan for fiscal year 2016 today, a $77.7 billion document that kicks off a budget process that won't wrap up until June.
"Budgets are about values. Budgets are by definition a statement of values," Mr. de Blasio said of the document that includes funding for his initiatives.
The proposed budget, which would take effect July 1, closes a $1.8 billion deficit that had been projected in November, Mr. de Blasio said. It increases city budget reserves to $750 million a year and reduces projected deficits in the out years, he said. While the city's economy has enjoyed growth, Mr. de Blasio, who ran on promise of bridging a "tale of two cities," said it has not been shared by all.
"I think we have here the tale of two economies," Mr. de Blasio said.
Mr. de Blasio's second proposed budget as mayor includes funding for his priorities, including $340 million for the second year of a prekindergarten roll-out and $190 million for after-school programs. It also builds on some of his successes, holding to a pattern for municipal labor contracts he first established in a deal with the United Federation of Teachers last May and spending $5 million to expand staffing for the popular IDNYC program.
This year's budget lacks the open questions he faced this time a year ago—when Mr. de Blasio was still pressing for an income tax to fund pre-K and when not a single municipal labor union had a contract, nor had they for years.
But the budget plan does look to address some challenges facing the city, and facing the mayor's administration.
After Mr. de Blasio found himself at odds with police unions who accused him of not supporting law enforcement, Mr. de Blasio's office touted increased funding for public safety and criminal justice. The budget includes $11.3 million to add 45 new ambulance tours and $6.7 million to add 149 new EMS dispatchers in an effort to reduce response times. There's another $10 million to expand the Police Cadet Program, which reaches into community colleges to identify young students who would make good police officers—a program that has shrunk in recent years while Mr. de Blasio and others have called for greater police-community relations.
Mr. de Blasio's budget also calls for spending $3.2 million to fight frivolous lawsuits against the city—after he was hit with intense criticism for his Law Department paying out $5,000 to a man who threatened two cops with a machete and then sued the department.
And after months of controversy and criticism of operations at Rikers Island—including a Department of Investigation report finding the department had hired people with criminal records and numerous high-profile cases of deaths or brutality allegations—Mr. de Blasio is proposing $35.5 million to reduce the use of force there, and $3.6 million to better vet candidates for the department.
With homelessness on the rise in the city, Mr. de Blasio has also proposed increased spending in that area. The budget plan includes $28.4 million for rental assistance and support to move homeless New Yorkers out of shelters, $8.6 million for homelessness prevention programs and support services, $4.3 million for a community-based family services program, and $.9 million to expand drop-in centers for the homeless.
There's also money to reform the oft-criticized Administration for Children Services, with $11 million in fiscal 2016 and $26 million across fiscal 2016 to fiscal 2019 for child welfare reforms.
The budget process is far from over. The City Council will offer its response to the mayor's budget—which itself will be updated going forward with Mr. de Blasio's executive budget—before the council and the mayor eventually reach a deal, usually just before the budget is set to take effect on July 1.