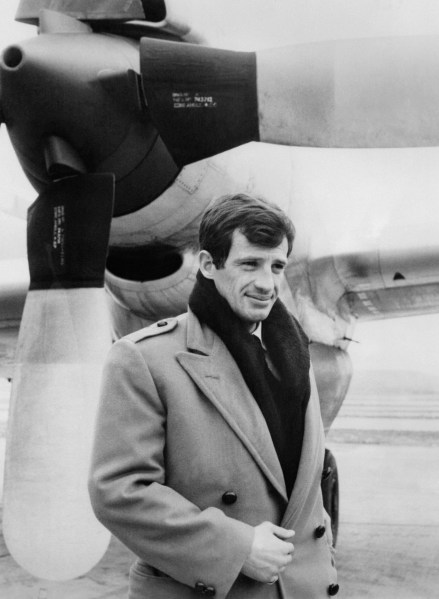 As the menswear market continues to expand, even the manliest of men can be seen peacocking around the city, dressed in perfectly tailored suits with coordinating pocket squares and socks.
It follows, then, that many of the men's fall '15 fashion shows last month featured collections signaling a return to an archetypal style-obsessed man's man: The male stars of French New Wave cinema.
In Jean-Luc Godard's Breathless, Jean-Paul Belmondo played Michel Poiccard, alias Laszlo Kovacs, a French wannabe gangster who obsessively models himself after Humphrey Bogart. After a bit of car trouble turns into a homicide, he makes a chaotic stopover in Paris to pick up an American girlfriend, with the intent of lamming it in Italy. Between dodging the police and getting his funds together, he pauses periodically to stare at posters of Bogey.
Rakishly charming, Belmondo's character was aesthetically a precursor to '60s mod style and a callback to the bootleggers and gangsters of the early 20th century. He embodied the youth rebellion bubbling in Europe's capitals, which would later erupt in Haight-Ashbury, on Carnaby Street, at Rolling Stones shows and in the streets of Paris during May 1968.
The Belmondo references began at J.W. Anderson in London on Janurary 11, when models with slicked-back hair wore chunky turtlenecks tucked into high-waisted slacks, reminiscent of the 1920s gangsters Jean-Paul Belmondo's character in Breathless emulated. The next day, Burberry Prorsum gave us puffy bomber jackets, ankle-baring slacks and Francophile-friendly patterned scarves.
Then, at John Varvatos in Milan on January 17, turtlenecks were also present, as well as dark sunglasses and structured jackets with the lapels popped, perfect for going incognito when one must borrow a getaway car from a garage on the Left Bank.
Louis Vuitton showed short-waisted, small-time-gangster-friendly, single-breasted leather and tweed jackets. At Berluti on January 23 in Paris, the scarves popped up again, with models wearing them instead of ties with their blazers.
The apex came on January 25 at Saint Laurent in Paris, when the spirit of Michel Poiccard mingled with early Keith Richards and Mick Jagger gear, making for a painfully cool combination. Models wore sunglasses, leather jackets, leather trench coats, skinny ties, pointy-toed boots with chunky heels and even a leopard-print, skin-tight tee with an olive bomber jacket, stuffing their hands in their pockets insouciantly while they struck knock-kneed rocker poses at the end of the runway. A few even wore black berets.
At a time when more men than ever are paying attention to their clothes, it is fitting that designers would want to channel the French New Wave's most famous player. The rumpled, rock and roll Michel is the perfect conduit for a guy who is dipping his toe into the world of fashion, without wanting to become fully de rigueur.