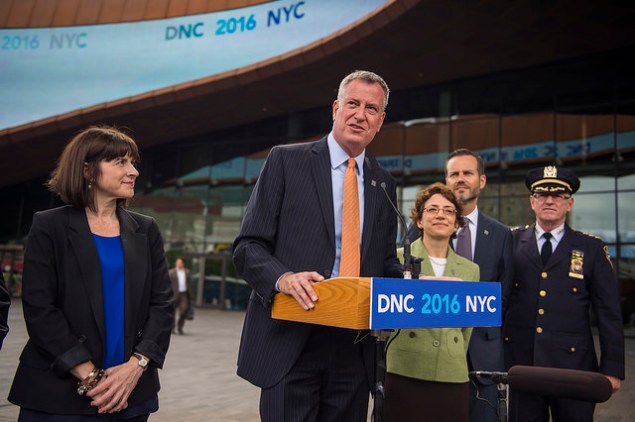 Despite a strong push from local elected officials led by Mayor Bill de Blasio, the mayor's home borough of Brooklyn will not play host to the 2016 Democratic National Convention.
Instead, the convention will be held in Philadelphia, which has the advantage of being located in Pennsylvania, often regarded as a "swing state."
The decision brings to an end Mr. de Blasio's months-long campaign to lure the DNC to the Barclay's Center.
"New York City represents the future of America. We're a city that's working to lift up and unite every resident and ensure that all 8.4 million New Yorkers have the opportunity to succeed – not just the fortunate few," Mr. de Blasio said in a statement today. "That core principal is what makes our City and our nation so great, and is why we fought so hard to bring the 2016 Democratic National Convention to the five boroughs."
Mr. de Blasio had highlighted the city's diversity (also touted in a series of videos sometimes headlined by celebrities), the thousands of hotel rooms within a quick subway ride, the security provided by the NYPD, the spirit of the city's working class and, at the same time, the ability to raise large amounts of money from some of the city's more affluent residents.
"Brooklyn is America's greatest urban success story, which would have made it a great backdrop to nominate the next President of the United States. I'd like to thank the thousands of New Yorkers who lent their time, energy and resources to support our effort," the mayor said.
Brooklyn may yet play a role in the nomination of the next Democratic candidate for president—the Daily News reported that former Secretary of State Hillary Clinton is planning to put her campaign offices in the borough. Mr. de Blasio ran Ms. Clinton's successful bid for one of New York's U.S. Senate seats in 2000.
In selecting Philadelphia, DNC Chair Congresswoman Debbie Wasserman Schultz cited the city's history.
"In addition to their commitment to a seamless and safe convention, Philadelphia's deep rooted place in American history provides a perfect setting for this special gathering. I cannot wait to join Democrats across the country to celebrate our shared values, lay out a Democratic vision for the future, and support our nominee," Ms. Wasserman Schultz said.
Philadelphia Mayor Michael Nutter said the city was "excited and honored" to host the convention.
"We believe that it was our proven track record of hosting big events safely and efficiently with a dynamic team of top-tier professionals to organize and manage a conference of this magnitude, paired with our City's tremendous amenities, its accessible location and historical significance, which made Philadelphia the ideal choice for the 2016 DNC," Mr. Nutter said.
As of about a month ago, $16 million had been raised in an effort to lure the convention to New York, according to the Daily News.