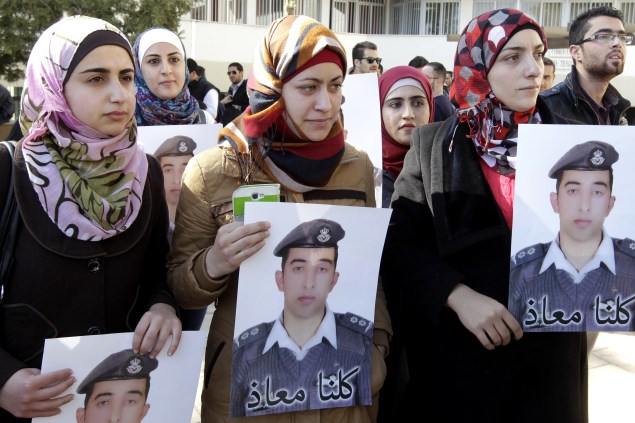 The captured Jordanian pilot burned to death by ISIS, Muath al-Kasaesbeh, was a Muslim. In the eyes of his executioners, his crime was that he was doing the bidding of the heretic–the West and of the United States. He was flying and attacking ISIS targets as part of the Jordanian contribution to the US-led coalition against ISIS.
Despite petitions extended on his behalf invoking Islamic tradition and the requirement to not harm another Muslim, ISIS was bent on publicly executing al- Kasaesbeh. And so they did.
The reasons should, by now, be obvious. This Jordanian pilot, downed in late December, was worse than a non-believer, worse than a heretic. Al Kasaesbeh was a traitor who betrayed ISIS's conception of Islam. And so, he was brutally murdered, placed in a black cage and burned to death while the camera was rolling and then covered, buried with dry sand.
The video entitled "Healing the Believer's Chests" spread quickly. The title comes from the Koran, 9:14. A better translation would probably be "Healing the Breast of the Believers"–"fight them and Allah will punish them by your hands, cover them with shame, help you over them, heal the breasts of Believers." That is the exact quote from the Koran.
Executions in Islam are part of the judicial process for capital crimes. Today, beheadings are most common capital punishment, but there are other forms of execution in Islam. In general, burning someone alive is reserved for a Muslim who betrayed Islam like one who converted to Christianity.
The fear factor is a very important part of the Islamic style of execution–and ISIS is bringing that fear factor to new heights.
---

Burning a prisoner alive has a dual purpose. Not only was it intended to intimidate, it is a an ISIS recruiting tool.

---
Beheading carried out by, videotaped by and disseminated throughout the internet by ISIS has delivered a message across the world. It is a message of fear and horror. Onlookers, especially Muslims, were mortified by this open display of barbarity. And everyone, including Muslims, became fearful of this force that was executing so many people, even Westerners.
Horrifying as it is to us all, this move to burn the Jordanian pilot alive is even more of a message than the decapitations are. And it is more of a message to the Muslims masses than it is to the Western world.
The message is clear: ISIS believes you abandoned the true path.
For ISIS, the "viciousness and barbarity," to quote President Obama, of the burning has a dual purpose. Not only was it meant to intimidate, it is a recruiting tool!
The burning and the beheadings are meant to help recruit new members. They are the means through which ISIS is return honor and tradition to the ISIS brand of Islam and they are being used to draw people into their flock and to challenge modern ideas of equality and freedom.
ISIS hopes to not only mesmerize young people to join their cause but also to persuade them to support ISIS in word and deed on their home turfs. They are recruiting disenfranchised youth to fight alongside ISIS not only in the Middle East but in Europe and the Americas and around the globe.
Most importantly ISIS is making a play for the middle of the Islamic world. They are sending out the message that if you are not going to fight with us or support us than be silent about us–because if you are not, we can and we will execute you.
Well before the deadline for negotiations had passed and before their pilot was executed by ISIS, the Jordanians responded to ISIS. The terrorists have said that they will execute the downed Jordanian pilot they captured and were holding unless Jordan releases a female terrorist. Jordan decided to up the ante.
They countered and threatened ISIS. The Jordanians said give us proof that our pilot is alive. If you kill our pilot, the Jordanians said, we will execute all ISIS prisoners in Jordan. This was not meant as an idle threat. Jordan is not a foreigner to the threat of force and the use of violence.  That threat by Jordan may explain why, even though the deadline for the prisoner exchange was on Thursday, ISIS waited until the next Tuesday to carry out the murder.
I expect a slew of brutal executions of ISIS members at the hands of Jordan to follow.  And I expect that these, too, will be broadcast.
There is a method to all of ISIS's madness. We need to understand it in order to fight it. This is not simple "viciousness and brutality."  It is about power and the challenge to that power.