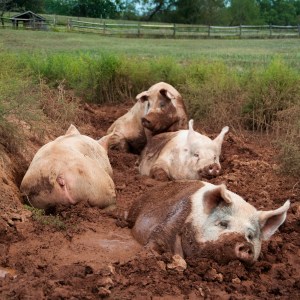 MOORESTOWN — Amid talk of pensions and benefits and a new $33.8 budget, Gov. Chris Christie was forced — once again — to explain why he vetoed a bill that would have banned the use of gestation crates on pregnant pigs when asked whether it implied anything about his presidential ambitions.
"There are no Iowa hog farmers in New Jersey," Christie cracked.
Last year, Christie created a stir when he vetoed legislation that would have directed the Department of Agriculture to ban gestation crates in the state. Critics argue that the practice is harmful to female sow, but Christie sided with pig farmers who say it helps protect their young.
Some speculated the Republican did so because of his presidential ambitions. Christie is mulling a bid for the GOP nomination in 2016, and Iowa — a first in the nation primary state — boasts the largest population of pig farmers in the country.
"No one uses gestation crates in New Jersey," Christie said.
"Here's what I don't do — I don't look for solutions when there's none," he added.
Christie said sometimes legislators just "want to make a statement" with bills that don't affect what's going on in the state.
State Sen. Ray Lesniak (D-21) was the primary sponsor on the Senate's version of the pig crate bill last time around, which Christie has vetoed before.
"Ban something that's not happening? That's like banning franking in New Jersey," he said
"When you're the governor, when you make a statement, it becomes a law. That's the difference between the jobs," he added.