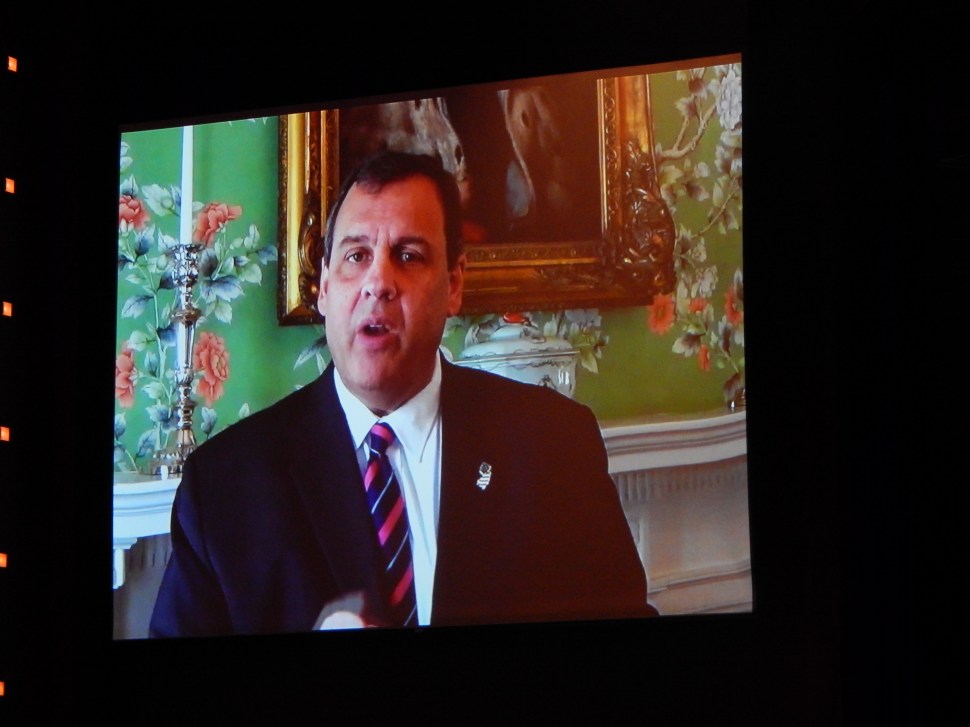 ATLANTIC CITY — In lieu of an in-person appearance, Gov. Chris Christie beamed onto the screens here at the front Borgata Ballroom to deliver a message to Assembly Republicans gathered for Assembly Minority Leader Jon Bramnick's (R-21) GOP-fest tonight.
Via video message, the state's top Republican told guests that he's "sorry" he couldn't be with them. At the same time, he attempted to rally efforts ahead of this year's Assembly elections, when members of the legislature's lower house will find themselves heading up tickets across the state.
"Believe me, I'd love to come into 2016 with a Republican majority in the general Assembly and Jon Bramnick as the speaker of that general Assembly. But to get there, we're going to have to work together," Christie said.
Christie's in England on a three day trade mission, allegedly scheduled before Bramnick had a chance to secure his attendance. And while Republicans here have been largely forgiving of the scheduling conflict, they also haven't paid much attention to Christie's absence, choosing to focus for the most part in their speeches on stage and in private conversations around the ballroom on their main mission: to wrack up seats in a legislature this year long-controlled by Democrats.
Christie, however, venture to make clear they'd have his support.
"As governor, and as the leader of the Republican Part of our state, you have this promise from me: I will do what Jon Bramnick and what his leadership needs me to do to add the nine seats we need to get to a majority in the General Assembly in January of 2016," he said.
He later attempted to dispel any notion that he's lessened his commitment to the party and its pursuits in recent months — a criticism he's received more and more often as he continues to lay the groundwork for a 2016 presidential campaign.
"Sorry I can't be with you, I'm on a trade mission trying to bring jobs back to New Jersey from Great Britain," Christie told Republicans during the last stint of the event. "But I want all of you to understand I'm committed to the furthering of our party's principles and goals and I need each and every one of you with me and with Assembly Minority Leader Jon Bramnick to forward our agenda in 2016."