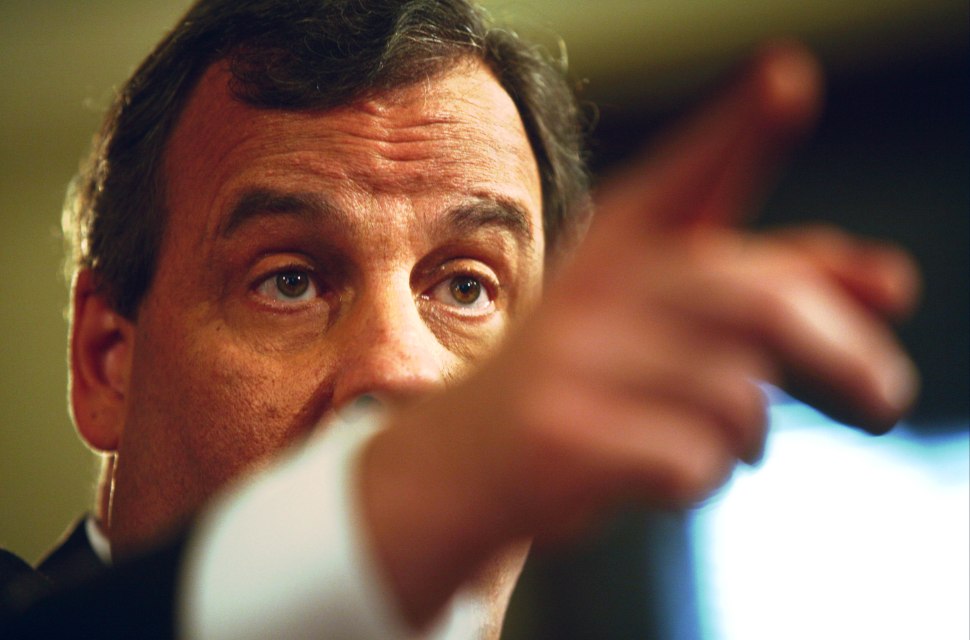 Gov. Chris Christie is on the receiving end of a torrent of criticism this morning for comments he made about parents vaccinating their children — and national Democrats aren't passing up the opportunity to capitalize on it all.
On the second morning of a three-day trade mission in England, Christie told a scrum of reporters that parents should have a "choice" when it comes to vaccinations. He was responding to questions about the measles epidemic, said to have started at a Disneyland in California earlier this week, that has spread to 14 states and over 100 people.
"It's more important what you think as a parent than what you think as a public official. I also understand that parents need to have some measure of choice in things as well. So that's the balance that the government has to decide," Christie said, as reported by the New York Times.
But the comments immediately sparked outrage across social media and elsewhere, both from pro-vaccinists who argue the practice is overwhelmingly supported by the science community and from prospective challengers looking to dent the fledgling presidential candidate's image ahead of the 2016 Republican primaries.
Straddling those two groups was the Democratic National Committee, which sent out an email blast not a couple hours after Christie's comments made headlines calling on the Republican to "stop bowing to junk science and take a cue from President Obama."
"Chris Christie isn't a scientist. He isn't a doctor. And he sure as heck isn't a leader. If his campaign is going to be about kissing up to the radical, conspiracy theory base that's wagging the dog of today's Republican Party, that's up to him and his cracker-jack team," the release reads.
"But if he wants to actually be a leader, then he should stop bowing to junk science and take a cue from President Obama by showing leadership that promotes facts and keeps our children and our nation safe. He may be trying to walk back his latest comments on vaccinations, but it's not the first time he's courted the anti-vaccination vote. It may cause his press office headaches, but his loud mouth isn't charming. He ought to take his own advice – sit down and shut up, before people actually get hurt," it adds.
Christie's position on the issue of vaccinations would seem to run contrary to the one advanced by much of the medical profession as well as Obama, who on Sunday night urged parents to have their children vaccinated and called evidence of the practice's effectiveness "pretty indisputable." Many in the medical field say vaccinations are a pro-active and indispensable way to prevent childhood diseases.
But the governor also took fire from critics at home on the issue. In the legislature,  Assemblyman Herb Conaway, M.D., (D-7), a practicing physician who chairs the Assembly Health and Senior Services Committee said Christie's "wavering comments are irresponsible and endanger the health of our communities."
"Science has shown vaccination to be an extremely effective approach to securing public health," Conaway said in a statement. "The only thing government has to balance is what's best for the overall public health, and that means unambiguously supporting vaccinations. Gov. Christie's failure to clearly state where he stands on vaccinations that protect everyone, especially our most vulnerable, is another example of his weak leadership and his inability to stand up for what's scientifically proven as being right."
"His lack of clarity is very disappointing and, from a medical point of view, disturbing," he added.
Indeed, it's unclear whether Christie's remarks reveal a politician with a truly unpopular opinion or one simply suffering from ambiguity in his delivery of that opinion. The wave of criticism quickly prompted a response from Christie's office seeking to clarify the governor's comments, and Christie spokesman Kevin Roberts said despite what people have assumed, "The governor believes vaccines are an important public health protection and with a disease like measles there is no question kids should be vaccinated."
The office also released a full transcript of his remarks with reporters in which Christie's stresses the debate must strike a "balance in parental concerns because no parents cares about protecting their own child's health."
It's worth nothing, however, that this might not be the first time Christie has hinted at his preference for "choice" when it comes to vaccinations. In 2009, during his first election campaign for governor, Christie and Lt. Gov. Kim Guadagno sent a letter out to supporters saying he "stands with" families concerned with the state's strict vaccination mandates.
"I have met with families affected by autism from across the state and have been struck by their
incredible grace and courage," Christie said at the time. "Many of these families have expressed their concern over New Jersey's highest-in-the nation vaccine mandates. I stand with them now, and will stand with them as their governor in their fight for greater parental involvement in vaccination decisions that affect their children."
Others sounded off on Christie's comments as well: