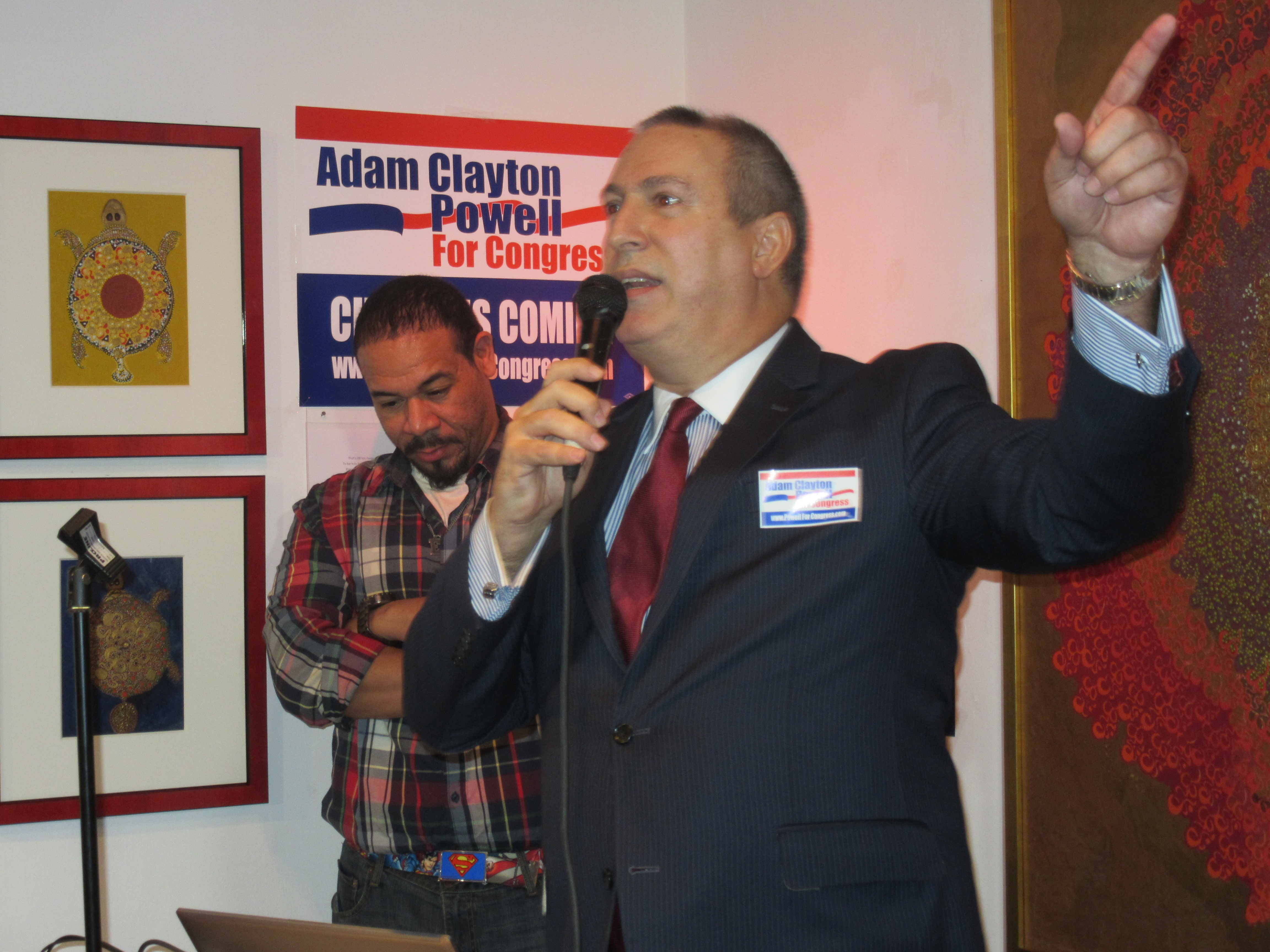 Former Councilman and Assemblyman Adam Clayton Powell IV last night declared State Senator Adriano Espaillat too old and too worn out to make a third try for the seat of retiring Congressman Charles Rangel—as Mr. Powell himself officially kicked off his own 2016 bid for the Upper Manhattan and Bronx-spanning district.
The 52-year-old ex-East Harlem legislator expressed personal affection for the 60-year-old state senator, but told the Observer that the Dominican-American lawmaker's advancing age and unsuccessful 2012 and 2014 challenges to Mr. Rangel should dissuade him from running again next year.
"Yeah, I don't think he wants to run with three strikes, you know. You know, he's got two big strikes, and the fact is that, he's a good guy, and he's tried twice and he didn't make it, and it's time for the new blood," he said. "And somebody younger in years, also, to try to give it a good shot. I mean, Adriano's a great guy, but he ought to be planning his retirement rather than Charlie Rangel's retirement."
Mr. Powell, the son of legendary Harlem Congressman Adam Clayton Powell Jr. and his third wife, conceded he was only a few years younger than Mr. Espaillat—but claimed to be far more youthful in spirit.
"The way I see it, I'm 26, with 26 years' experience," he said. "I've lived here all of my adult life, I've represented this area in the City Council in the 1990s, in the state Assembly for 10 years, and so this is home, it still is."
Mr. Espaillat's office did not respond to requests for comment.
Mr. Powell himself twice sought to unseat Mr. Rangel, first in 1994 and again in 2010. He has since reconciled with the octogenarian Congressman, and endorsed him in his two races against Mr. Espaillat.
The traditionally Puerto Rican areas of Upper Manhattan Mr. Clayton Powell represented proved crucial to Mr. Rangel's victory over Mr. Espaillat in the Democratic primary last year.
Mr. Rangel unseated the elder Powell in 1970, when his son, the future East Harlem politician and Congressional contender, was just eight years old.
The vacuum of the vacancy set to occur with Mr. Rangel's retirement—the first in the district's seven decade history—is expected to attract a number of other potential successors to the 2016 contest. Harlem Assemblyman Keith Wright, current East Harlem Assemblyman Robert Rodriguez and City Council Speaker Melissa Mark-Viverito are all regarded as prospective contenders for Mr. Rangel's seat, though the last has denied any interest in running.
Mr. Powell said he saw nothing odd about launching his campaign just a month after Mr. Rangel was sworn into his final term.
"It's good to start early so we can reach out to all the neighborhoods and all the people," he said.