"I just took the wedding band off," Carly Spindel said nonchalantly, when we met at a Midtown café on a recent afternoon. "But in business meetings," she added, having just come from work, "I always wear one."
As a professional matchmaker, Ms. Spindel, who is decidedly unwedded, spends the majority of her waking hours wading through the gritty details of desire. On telephone calls with potential clients and daily simulated dates throughout the city, countless men, and some women, reveal to her their most deep-seated and peculiar relationship needs in the way a patient might divulge his or her unfiltered feelings to a psychotherapist.
There was, Ms. Spindel recounted in a manner somewhat clinical, the client who asked for a blonde, blue-eyed version of Kim Kardashian, "but a size zero." (Who wouldn't?) There was the guy who wanted someone "sexy like Angelina Jolie, but also sultry like Mila Kunis," with a size-26 waist and breasts that would fill a D cup. (Your standard woman.) And don't forget the man who requested an African-American professor from Harvard who looked like Halle Berry. (Don't they all?)
"I can go on," said Ms. Spindel, whose clients pay tens of thousands of dollars for her services and are typically 40 years or older.
Then there are those who simply decide to pursue Ms. Spindel, an attractive, ebullient 28-year-old brunette. They tell her she's beautiful. They offer to whisk her away on weekend trips to London. They invite her to rock concerts. "When I ask them if they have other questions, they're always wondering how they can date me," she said.
Unfortunately for her suitors, Ms. Spindel—who, for the past six years, has worked alongside her mother, Janis, one of the city's most successful matchmakers—is currently on a "guyatus," as she put it. "I have this much free time." But even if she weren't so busy, cavorting with clients would be unprofessional, by her estimation. That's why she deploys the ring, a kind of work-time prophylactic.
"Matchmakers are basically making it all about the client,"  said Lisa Clampitt, the founder of the New York-based Matchmaking Institute. "They listen, they compliment, they pay attention—that is kind of what flirtation is. The person feels very understood, so they're going to get a crush."
---

Clients tell Carly Spindel she's beautiful. They offer to whisk her away on trips to London. 'When I ask them if they have other questions, they're always wondering how they can date me.'

---
Practically every relationship expert is familiar with navigating this "blurry emotional boundary," as Ms. Clampitt put it. Some, like Ms. Spindel, wear a ring. Others say they are in a relationship, whether true or false. Some say up front that they are not interested and change the subject right away. Other matchmakers, however, who grapple with their own feelings for clients, have trysts—and more than a few have gotten married.
Welcome to the awkward, sexually charged flip side of the dating business. How each matchmaker deals with this romantic obstacle course depends on his or her own professional standards in a burgeoning industry with few rules. Sales, after all, is a kind of courting ritual, and in the world of matchmaking, where love—or something like it—is the commodity, things can get weird.
Take Fay Goldman, a matchmaker in New York who runs Meaningful Connections. In a "rather uncomfortable situation," Ms. Goldman, who is single, solicited the advice of a client, a successful writer, to discuss a book idea. He misinterpreted the nature of the meeting, later telling the woman he'd been set up with that he didn't want to see her anymore because he was dating his matchmaker. "It was very disturbing," Ms. Goldman said, "because she was just about to kill me."
Men, as is their wont, are sneaky, and it can take a while to catch on to clients who aren't direct. Some even come to see their matchmakers as surrogate girlfriends. "They'll want to text us, check in and have banter," said Erika Christensen, who founded Train Spottings, the service in which matchmakers roam the subways searching for potential mates. "We just shut that shit down. We try to establish boundaries early and often."
The Train Spottings method can be particularly troubling. Kady Grant, a 25-year-old employee of the unconventional company, said she initially went up to strangers and asked them cold if they were single, which gave the impression she was interested in them. Sometimes she is, she said—and often potential clients will email her about going out after she hands them her business card. "They'll be like, 'What's your situation?' " Ms. Grant said. "It's sort of frustrating because it's a lot of work to find single people for other people, and then to have someone sign up and have it become seemingly useless after that is, like, so annoying."
Other clients, though, are more up front about their intentions. A divorced matchmaker in Washington, D.C., said she would wear her wedding ring in client meetings to fend off grabby guys. One day, though, she forgot it—the only day, in fact—and met the man who would become her husband. He asked, as many do in the introductory conversation, if she was single. Could she be his first match? After her boss said O.K., they put his contract on hold.
"It was probably the easiest match we ever had," she said. "I had the privilege of learning everything about him that most women would want to know about their date without having to go through that awkward first-date conversation."
The age of the haimish, old-world matchmaker epitomized by Yenta in Fiddler on the Roof, is long gone. Today's entrepreneurial love peddlers often rely on their own looks and charisma to build their brand and attract clients—though maybe not in the way they'd imagined.
"The distraction of me being an attractive woman gets in the way of doing the job," said Carmelia Ray, a veteran matchmaker in Toronto and the author of Finding the One: The A-Z Secrets to Attracting and Keeping Your Soul Mate. Her clients often look at her as an ideal match, despite, she says, that she is not selling herself as one. "And if they can't have me," said Ms. Ray, who is in a relationship, "then they want an equivalent. So my job is to find the equivalent version of me."
*** *** ***
Though none admitted to it, it seems that many matchmakers go into the business to meet romantic partners—there are way more women in New York than there are men, and the competition can get tough—and to reaffirm their own attractiveness.
"I know most of the girls who call themselves matchmakers," said Janis Spindel (who only sees male clients, because she thinks women are too needy and unsatisfiable). "They're single girls who've been single for a very long time, so they figure, 'Why not?' " Ms. Spindel added with more than a touch of disdain. "One of them, no names mentioned, was online, on Match.com, looking for men and for clients, too."
---

One professional estimates that 30 to 40 percent of married matchmakers around the country have found their spouses through their own services.

---
Whether you see matchmaking as a racket is a matter of opinion, though those who use the services usually consider themselves too busy to find a partner outside of work and are hesitant to try online dating, because it's too public. So this, they think, is their only option. Marriages do happen, too. Ms. Spindel, who has worked in the business for 24 years, says she's responsible for 1,517 of them—"or something like that"—and sees herself as the city's unmatched 'maker.
More often than not, the male clients are catches, too, in a superficial sense. They are successful and quite wealthy and are, for the most part, looking to settle down. They wear nice suits, drive expensive cars and have courtside seats at NBA games.
"These days, I fall in love with my clients all the time," said Julie Ferman, a Los Angeles-based relationship expert. "I just can't do anything about it."
Ms. Ferman, whose story is somewhat legendary in the matchmaking community, met her husband, Gil, in 1990 when he was the director of Great Expectations, the dating service, in St. Louis. "You're not really supposed to date your own clients, it's kind of an unspoken rule, but it happens all the time," said Ms. Ferman, who estimated that 30 to 40 percent of married matchmakers around the country have found their spouses through their own services. "A lot of people don't want to come clean about it."
That number is unverifiable, of course, but it's not hard to believe, considering matchmakers are often just as busy as their clients, working long, absorbing hours, with little socializing. "Matchmakers aren't robots," said Amy Laurent, a relationship expert and Bravo reality TV star. "If a hot guy comes into the interview, of course I turn red."
Ms. Laurent said she would never date a client, though. "Don't get your meat where you get your bread," she said. "That's always been my philosophy." And knowing them more deeply, in fact, turns her off. "If any typical female would understand the men like I understand them, then they would freak out," she said. "These guys tell you things that they would normally never utter to a woman. When men first start working with me, they feel like before each comment they have to apologize."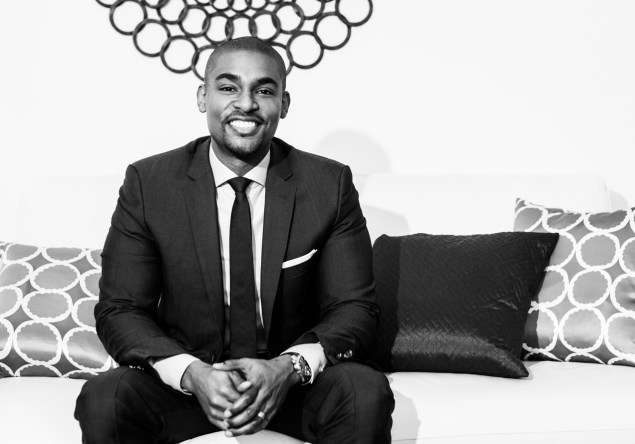 Ms. Laurent is not alone in that regard. Another matchmaker in New York, who requested anonymity so as not to offend her clients, echoed that sentiment. "The majority of the time I don't want to date my clients because I can see why they're single," said the matchmaker, who has dated one client in her time playing Cupid. It was going great, she said, until he freaked out and disappeared. Later, he got back in touch, apologized and offered to fly her down to Miami. She said no.
"After that happened, I will never date a potential client again," she said. "When people ask me about my relationships status, I don't disclose it anymore, because it just gets weird. I'm here to find out about your personal life, not for you to find out about mine."
Carly Spindel feels her male clients wouldn't want to pursue her if they thought about the situation a little more deeply. "They're laying all their cards before me. They shouldn't want to go out with me—I know all their secrets."
*** *** ***
Male matchmakers, though there are fewer of them, are not exempt from the equation, either. Paul Brunson, the quite-handsome author of It's Complicated (But It Doesn't Have to Be), is a dating coach in New York and Washington, D.C. "There have been a few occasions when it was clear that the client would have liked me to cross the line," said Mr. Brunson, who added that he has never crossed it.
Mr. Brunson, who interacts with an ungodly number of single women on a daily basis, is himself married—happily, he said. In his six years in the dating business, he said, his wife has never questioned his loyalty, though if the situation were reversed, he feels he might not have her fortitude. "I tell her often," Mr. Brunson said, "I don't know if I could do it if it was the other way around."
Mr. Brunson is likely more self-aware than others. What the majority of men probably don't consider, in the moment, is that romantic involvement with a woman who deals in love and relationships can get complicated.
"It takes a very secure man," Carly Spindel said, "to go out a with a matchmaker."