On September 25, 1947, Langston Hughes of Harlem wrote to painter Jacob Lawrence in Bed-Stuy. Fed up with white depictions of African-Americans in his work, Hughes asked Lawrence—who defined our image of the Great Migration in his work—to illustrate his 1949 collection of poetry on the topic, One-Way Ticket. Although the painter and the poet's publisher, Alfred A. Knopf, struck a deal, Knopf never paid Lawrence for his work, according to a new collection of correspondence.
So Hughes compensated Lawrence with $600 from his own pocket.
The Selected Letters of Langston Hughes, edited by Arnold Rampersad and David Roessel, who previously collaborated on the Collected Poems of Langston Hughes in 1995, represents the first comprehensive chronicle of Hughes' letters. The volume spans Hughes' career, from his arrival to New York City shortly after The Crisis printed his first published poem "The Negro Speaks of Rivers" in 1921 to the day friends recited the same poem at his cremation ceremony in 1967.
The two scholars culled the vast Hughes archives at Yale University's Beinecke Rare Book & Manuscript Library to show a writer who overcame racism, financial instability and loneliness to produce several masterpieces. And anecdotes like the Lawrence exchange pop up throughout the 480-page book.
"What I would hope will happen is that readers will spend time with each of these letters, because each letter tells a story," said Mr. Roessel, a professor of Greek language and literature at the Richard Stockton College of New Jersey. "And these stories haven't been told."
Messrs. Roessel and Rampersad, a Hughes biographer who is a professor emeritus at Stanford University, spent ten years studying the letters at Yale.
Hughes, who often referred to himself as a "literary sharecropper" in notes he typed out to confidants like fellow Harlem Renaissance figure Arna Bontemps, suffered from financial travails even after he achieved notoriety. Struggles related to productions of Hughes' plays, including a painful conflict with Zora Neale Hurston over authorship rights for one show, often placed Hughes in limbo. He even had to haggle with the African-American newspaper Chicago Defender over his pay for his popular and still-insightful "From Here to Now" column. But the letters, which coincide with Knopf's re-release of Hughes' first poetry book The Weary Blues, show how Hughes did not allow those circumstances to hold him down.
"He kept moving, he just persisted," Mr. Rampersad said. "There's something absolutely courageous about it."
Hughes must have achieved some solace by corresponding with fellow artists. He penned jubilant letters and telegrams to figures like novelist Claude McKay after the release of Home to Harlem, Richard Wright after Native Son hit the shelves and James Baldwin following the publication of Go Tell it On the Mountain. Ezra Pound and Hughes carried on a long-distance conversation concerning African-American universities and the works of Leo Frobenius, a German ethnologist who specialized in African studies. A footnote in the volume–notes are carefully crafted, well-located on the pages and plentiful throughout–relates the story of Hughes encouraging a then 16-year-old Gwendolyn Brooks to pursue her poetry.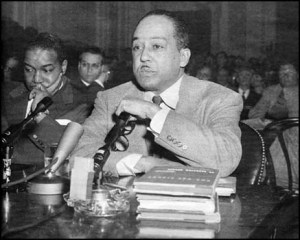 Asked which of these exchanges with artistic figures might prove most arresting to readers, Mr. Rampersad pinpointed the sorrowful drafts of letters that Hughes sent to a white patron named Charlotte Osgood Mason in the late '20s and early '30s. Hughes felt so strongly that the philanthropist, who paid him a monthly stipend, was typecasting him and threatening the free pursuit of his art that he asked her to cut off the aid in a series of messages.
"They really stand out because we see the depths of Hughes' self-doubt and, I don't want to say self-hatred, but he said some very harsh things about himself," Mr. Rampersad said.
The letters reveal little of Hughes' romantic life, other than questions about a possible brief relationship with another man, Howard University professor Alain Locke, and unrequited inquiries to a female Chinese dancer of Trinidadian descent named Silvia Si-lan Chen. "Wish I could kiss you! Do you?" he asked her in 1934. But she later married the New York University film historian and filmmaker Jay Leyda.
Locke and Hughes met in the '20s, with Hughes copying a handwritten reproduction of his poem "I, Too, Sing America" on the back of a dispatch from Italy in 1924. The scholars verified that Hughes once suffered from gonorrhea in 1941 but little else about Hughes' love interests or sexuality, Mr. Rampersad said, acknowledging that his position that Hughes' sexuality remains ambiguous has sparked criticism among others who study the poet.
"I think he was really in love with Si-lan Chen, but I think he was more in love with being a writer," Mr. Rampersad said. "We have no record of him being involved with anyone."
Hughes clearly devoted his life to his work, often with a goal of providing African-Americans with depictions devoid of paternalism. His bitter letters on white appropriation of African-American culture for film and theater productions still ring true today. And he sent one of his collaborators on a children's book a passionate note coaching her to create images without "the usual kinky headed caricatures that most illustrators put into books of Negro child life" in 1932 while on a tour stop at the Tuskegee Institute. Hughes' stories for children reflected his concerns, Mr. Roessel said.
"He really felt that literature wasn't serving them well, and that one of the things it needed to do was serve them better," Mr. Roessel said.
But Hughes' views could bring him into conflict with the racist mainstream culture of the times, especially when his thoughts took a radical turn following his trip to the Soviet Union in the '30s. In a cringe-worthy moment, he blamed the kulaks for killing the country's cows in a letter home. He would compose a series of poems that writer and photographer Carl Van Vechten predicted he would regret, verses capable of inciting right-wing mobs and mentions in speeches by J. Edgar Hoover. He later appeared before Sen. Joseph McCarthy's Senate Permanent Subcommittee on Investigations on March 21, 1953. Hughes escaped any serious charges, but he didn't avoid disturbances that often blocked his ability to appear and collect speaking honorariums from the sometimes-conservative or cautious institutions where he was booked, Mr. Roessel said.
"It was quite a balancing act," he said. "In the end, he didn't make a great deal of money and he didn't die wealthy. He was still struggling until the end of his life."
But, through it all, he found a way to continue working. Perhaps his struggles helped him produce classics like the Harlem-spawned "Montage of a Dream Deferred" because, as his earlier "Mother to Son" poem says, "Life for me ain't been no crystal stair." Messrs. Roessel and Rampersad have provided succeeding generations with a glimpse into the life of a literary giant who held fast to his dreams.