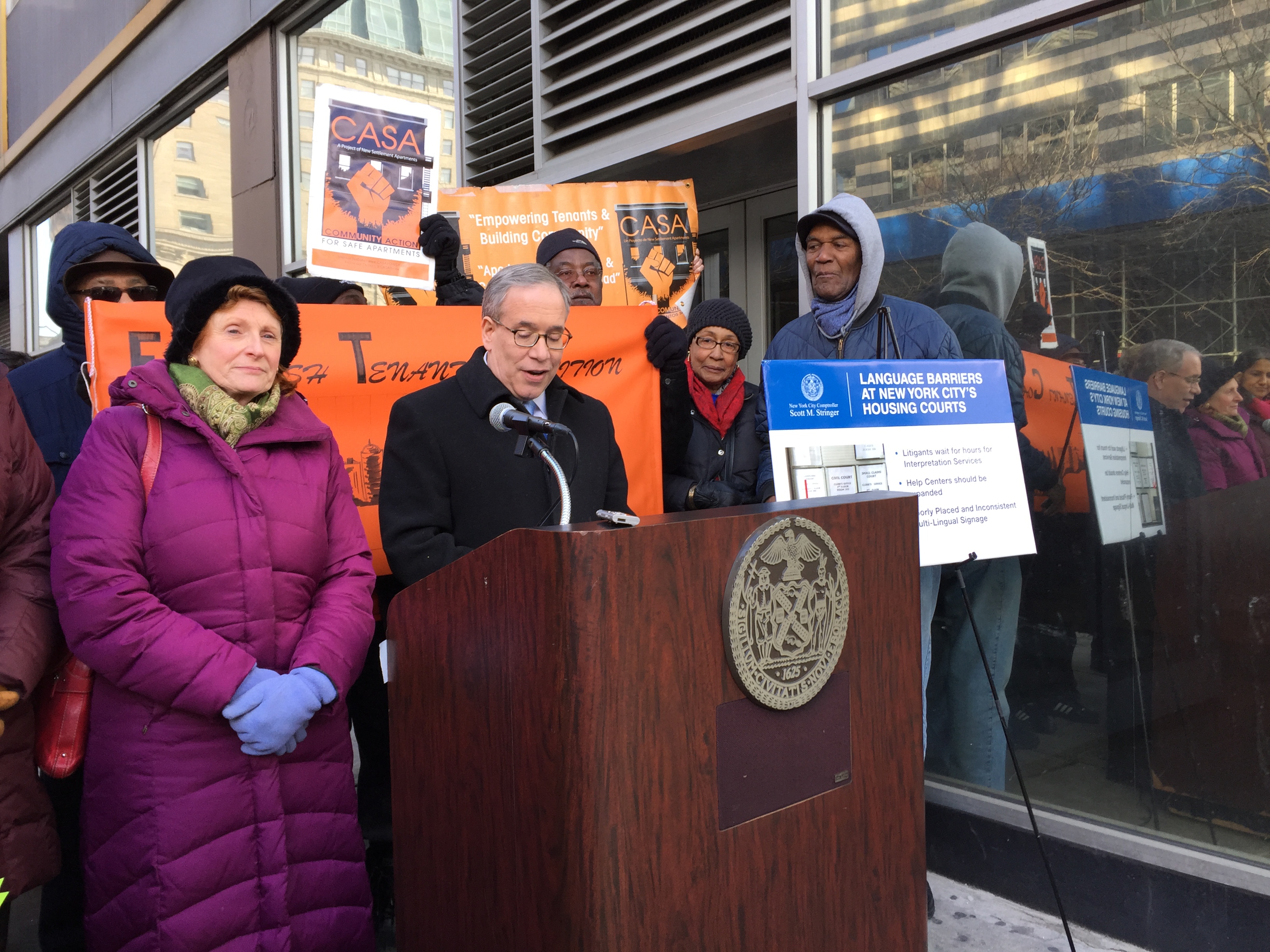 It's bad enough going to housing court without a lawyer—but it's even worse if you don't speak English, Comptroller Scott Stringer agued today.
"Justice is hard to find in courthouses that confuse the people they're supposed to serve," Mr. Stringer said outside Brooklyn's housing court, huddled with advocates on a frigid sidewalk.
Two weeks after joining a push for a right to a lawyer in housing court for those facing evictions or foreclosures, Mr. Stringer today called on New York State Chief Administrative Judge Gail Prudenti to beef up interpretation services and signage for New Yorkers fighting to keep their homes in housing court.
Mr. Stringer—who blamed the cold when he nearly introduced himself with his old title of Manhattan borough president—took a visit to a Bronx housing court earlier this month with the advocacy group CASA, or Community Action for Safe Apartments, to throw his support behind the plan to provide lawyers to tenants, who are often struggling financially and facing well-heeled landlords and their attorneys. On his visit, he said he he discovered housing courts are unwelcoming to the 1.8 million New Yorkers who have "limited English proficiency."
"I was shocked to see the lack of basic resources for those who don't speak English," Mr. Stringer said, adding that it prompted him to have his staff survey all the city's housing courts. "What we found was outrageous and an insult to thousands of New Yorkers."
While everyone is entitled to an interpreter in court, one tenant at the press conference today said she didn't know about that right until she entered the courtroom. Many tenants have to wait hours for an interpreter.
"Sometimes they're even sent home and told to come back another day because services aren't available," Mr. Stringer said.
That can lead lawyers to try to cut deals in the hallways of housing court—where there are no interpreters available. In a letter to Judge Prudenti, Mr. Stringer called for interpreters to be available to people not just before the judge but out in the halls for negotiating with lawyers, since that's how many deals are struck.
"Understanding the language that's being spoken is critical if you're going to be able to stay in your apartment," Mr. Stringer said.
The comptroller also called for more signs in various languages—noting sometimes signs pointing to interpretation services are only offered in English—and for help centers to be more visible and offer materials in the city's six most-spoken languages.
"For too long the courts have been nickel and diming New Yorkers who don't speak English, and that has deprived them of basic civil rights," Mr. Stringer said.
Arguing in court to keep your home is already a difficult situation, Assemblywoman Jo Anne Simon said.
"Court is confusing enough, even if you understand the language perfectly. This is a stressful time. and even if you're not stressed, court can be confusing," Ms. Simon said.
Councilwoman Vanessa Gibson, who is a co-sponsor of City Council legislation to provide lawyers for New Yorkers in housing court who cannot afford them, said in 2013 there were 11,000 preventable evictions in the Bronx. The right-to-counsel bill and increased resources for those who don't speak English are just some of the steps needed to make housing court more fair, she said.
"As long as we continue to have inequity in the system, we will always need to be here," she said.