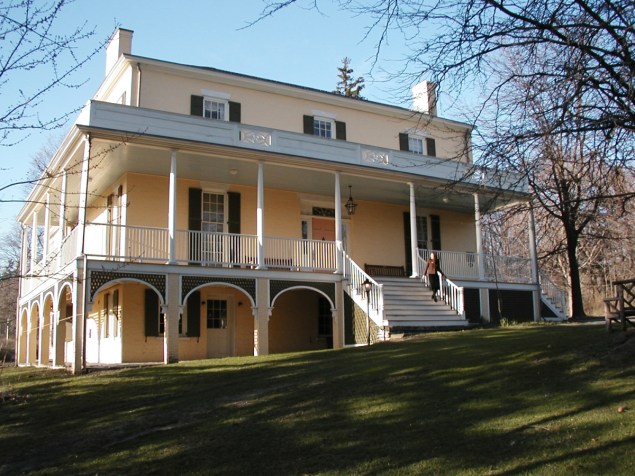 This summer, when the oppressive hot garbage smell of New York City starts to get to you, you'll have a fresh and inventive contemporary art exhibition to escape to in the Hudson Valley. On Wednesday, the Thomas Cole National Historic Site and The Olana Partnership/Olana State Historic Site announced plans for "River Crossings: Contemporary Art Comes Home," an exhibition of contemporary artists that will highlight the artistic history of the region and the artists that have lived and worked over the years. Running May 3 through November 1, it will feature works in a range of styles from 30 of the art world's biggest names, such as Cindy Sherman, Maya Lin, Kiki Smith, Will Cotton, Rashaad Newsome, and Chuck Close.
"The show aims to highlight the continued vitality of the Hudson River Valley as an important site of contemporary artistic production," said Jason Rosenfeld, art historian and co-curator of the exhibition along with painter Stephen Hannock.
"River Crossings" will exhibit simultaneously in the town of Catskill, New York, once home of painter and founder of the Hudson River School of late-19th century landscape art Thomas Cole, and in Hudson, where the school's chief practitioner Frederic Edwin Church once lived. The houses are just two miles apart, connected by the Rip Van Winkle Bridge, and two hours north of the New York City by train. It will be the first time since the 19th century that artists have exhibited in either location, and the first time the sites have been used for a joint exhibition.
Hudson has long been a place of escape for New York-based artists, and "River Crossings" is another reason for visitors to take a break from the city. The organizers will make it easy for you: shuttle service will be available from the Hudson Amtrak station to both locations of the exhibition.