In a bid to defend coveted Midtown food cart turf, an all-out religious war between a small group of halal vendors and a new kosher food cart is among us. Or so the New York Post reported in its front-page story on Sunday.
The Post reported The Holy Rollers kosher food cart was forced to move to a new location on West 35th Street and 9th Avenue just days after opening in the Midtown area. In a delicious microcosm of Middle East turmoil, the retreat by Holy Rollers was alleged to be caused by intimidation tactics by the halal vendors, including the vendors blocking the area and shouting religious insults.
On Monday, Yisroel Mordowitz, the owner of the targeted Holy Rollers kosher food cart, contacted the Observer to provide further color on the incident between his cart and the other vendors.
Mr. Mordowitz said the vendors who confronted him at Rockefeller Center area on 48th Street off Sixth Avenue have a history of turf wars for a myriad of reasons.
"The truth is that I'm not the first person they've done it to, and I'm not the last person they'll do it to," Mr. Mordowitz. "I was hoping that the article [in the Post] would be written in a light that would expose their tactics and I wouldn't have to take that extra step. What occurred before had nothing to do with Israel or Palestine, or Jews and Muslims."
Mr. Mordowitz said most vendors don't behave like those he encountered on 48th Street.
"It's unfair to maybe make an impression to the general public that anyone with the word halal on their cart would act in such a manner," Mr. Mordowitz said. "I know so many of them myself, being in the business for a long time, and they would never go to such extents."
Opening its roller door last week for the first time outside of their usual location in Queens, The Holy Rollers claim to be "the first Glatt kosher meat cart in Manhattan" and cater to a wide range of people, including those who are not restricted to eating kosher.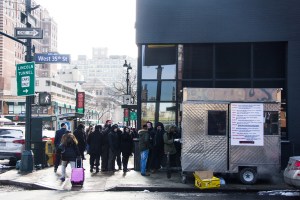 People were already lining up for the kosher cart long before it opened for the first time on West 35th and 9th today.
Nazir, a local midtown worker said he specifically sought out the Holy Rollers because he prefers to eat Kosher for its quality and not for religious purposes.
Chaim Feigen, a volunteer EMT in the West Manhattan area said he was happy there was another food cart option for people to choose from.
"Having this vendor here in this location really diversifies the culinary choices of the working people," Mr. Feigen said. "The cuisine choices are more heavily biased towards the traditional halal and Chinese stands."
Having another culinary option for people isn't the main reason Mr. Mordowitz opened the kosher food cart. Finding a kosher food option in Midtown isn't as easy as people would think.
"I found some people would resort in their hunger to eating a non-kosher slice of pizza," Mr. Mordowitz said. "I wanted to make sure they had the opportunity to not resort to that option."
Mr. Mordowitz said he tried to explain to the halal vendors who pushed him out of the Rockefeller area that his customers probably wouldn't be able to eat at their carts even if they'd wanted to, due to their religious obligation.
"This is the first opportunity they can walk up to a cart and order a meat sandwich, and they've never been able to do that in their life," Mr. Mordowitz said. "I'm sure many people just like myself who've walked past these carts wishing we can just go pick up a quick sandwich and yet we didn't have the opportunity due to kosher restrictions."
The support for more kosher options is certainly there, with many people lining up for some brisket or pastrami.
Jack Wasserman, Director of Kosher Catering for Fairway Market, was in line for his order and said the Jewish community would support the business.
Mr. Mordowitz said he hoped this support would extend to other street food vendors and the image of the street food carts wouldn't be tainted by just a few purveyors.
"I believe that this is a society that we should all be able to chase the American dream and build businesses next to each other in love and respect and peace," Mr. Mordowitz said. "There's no room for hate or religious intolerance. None of us are better than any other person. It's not fair to generalize on a whole group of people just on a few bad apples."