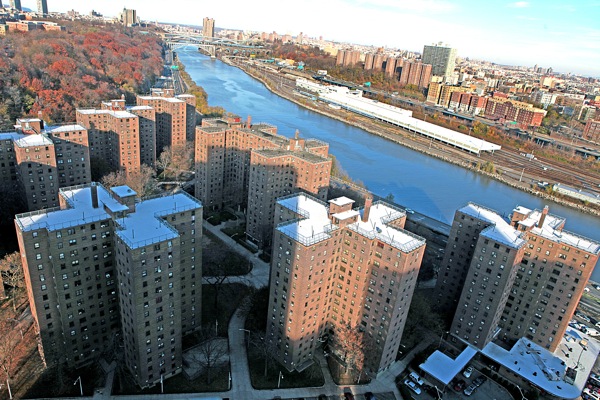 Members of the City Council raged today against the New York City Housing Authority for failing to inform them or tenants about the changing arrangements at six of the agency's properties where NYCHA has made a deal to split ownership with a pair of private developers.
Politicians claimed at a Committee on Public Housing hearing today that they were left in the dark while NYCHA met with L+M Development Partners and BFC Partners in final year of the Bloomberg Administration to create a limited liability company that would own and manage the four buildings in Manhattan and one each in Brooklyn and the Bronx—a deal Mayor Bill de Blasio officially inked late last year. Councilman Ritchie Torres of the Bronx, the committee chairman, acknowledged that the plan had its upsides, in that it made the units eligible for a badly needed $465 million in tax abatements and loans for refurbishment, but complained that the process had not been open to review.
"I think I found out when the agreement was a fait accompli. It really was a done deal when the City Council found out," he said.
Others used stronger language. Manhattan Councilwoman Inez Dickens, whose district contains one of the buildings, expressed anger over allegedly never telling her of the impending deal.
"I am disgusted by the nature of these transactions taking place in the community," Ms. Dickens said in a written statement read aloud by Brooklyn Councilwoman Darlene Mealy.
The six structures, comprising almost 900 apartments and more than 2,000 tenants, are not traditional NYCHA projects. Rather, they are buildings participating in the federal Section 8 voucher program for low-income earners.
The public housing authority took ownership of the developments three decades ago, and they have since suffered from the kind of decay that has afflicted many of the financially desperate agency's properties. C+C Apartment Management—a subsidiary of L+M—has undertaken extensive painting and repairs, and some tenants have been hospitalized due to fumes, but have not known who to contact with a complaint.
"I would like to know when outreach was done to my residents, or any of these residents," said Councilwoman Rosie Mendez, whose Lower Manhattan turf contains two of the buildings. "Complaints could not be logged with any particular person because the site manager does not have a phone."
Ms. Mealy said that tenants of the building in her district have lost some of the special eviction protections afforded to NYCHA residents, which is of concern because all the properties will enter the even more vulnerable rent stabilization program if the deal with L+M and BFC is for any reason not renewed after 20 or 30 years. She recalled that rumors of a sale of the building had circulated in her community for a long time, but said that the city had denied any such intentions—and Ms. Mealy claimed she only learned of the changing ownership situation after speaking to representatives from L+M at an unrelated event.
"I think that's the wrong way to be introduced into what NYCHA is doing. NYCHA should let elected officials know so that we can work together, so that we can make sure that our constituents know what they're looking forward to," Ms. Mealy said.
"This is a sad state for today, just with NYCHA housing in general. I feel sad being here today," she continued, to applause from tenants in the audience.
Ms. Olatoye said her agency had repeatedly attempted to contact Ms. Mealy prior to the closing of the deal, and received no response. The NYCHA head also hit back at the councilwoman's characterization of the situation, arguing that the deal had brought about an improvement in tenants' quality of life.
"I'm going to respectfully disagree. Because I think that, for the folks that are living in these buildings, to have been living with horrible conditions, who have had no promise of any new resources for those units to come, because there were no resources coming, I actually think for those families that it's a very good day," she said. "It's a very good day that they get to have a roof that doesn't leak, a kitchen that works and a toilet that flushes."
Nonetheless, Ms. Olatoye acknowledged that the agency could have done a better job of apprising politicians and the public of the impending deal.
"There are always certainly things we can do to improve, communication being one of them, as evidenced by your questioning and commentary this morning, and we will certainly seek to do that," Ms. Olatoye said.