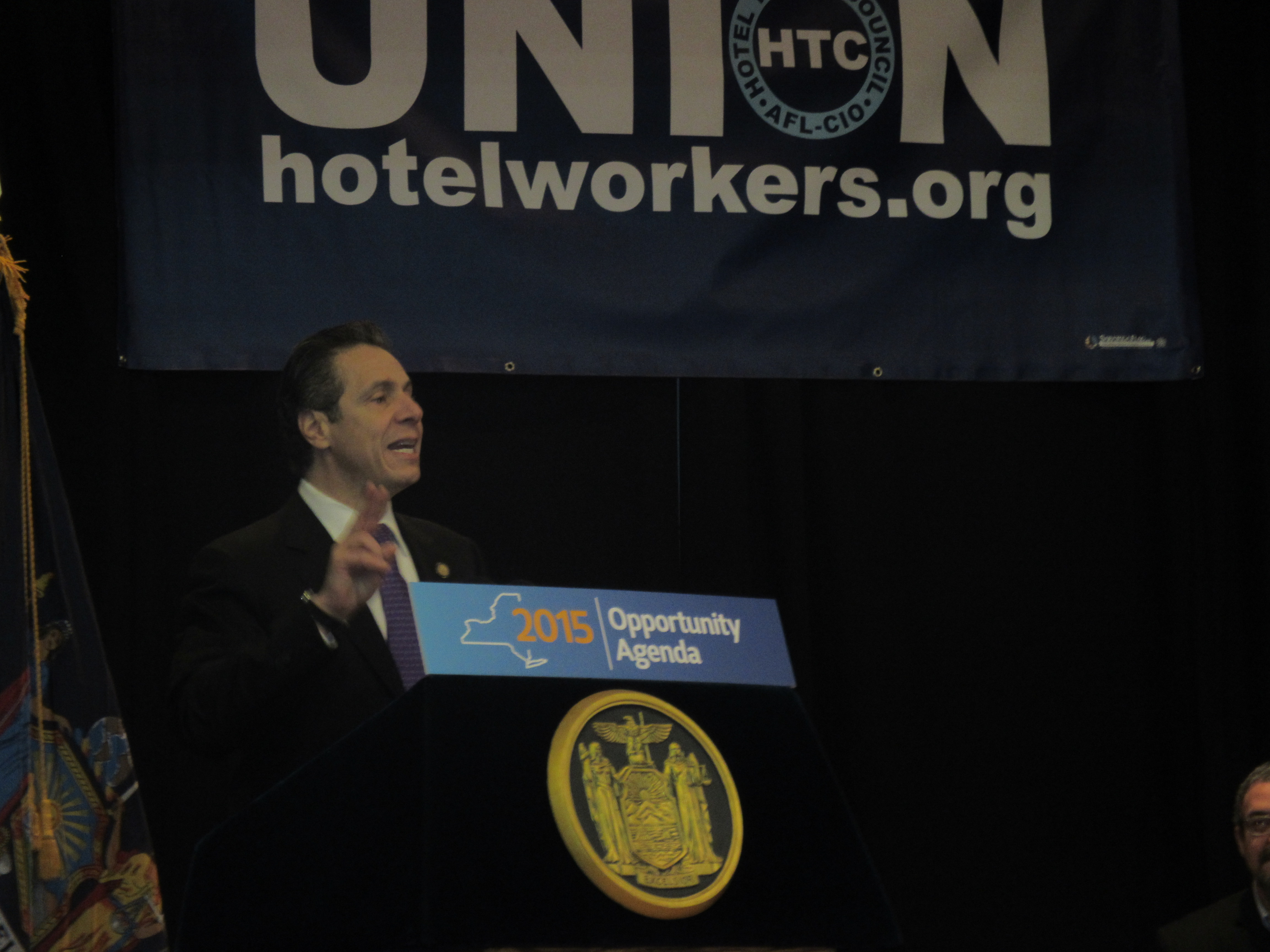 Gov. Andrew Cuomo and top union heads today celebrated the state's decision to raise the base pay for New York's tipped workers, while pushing the governor's plan for an across-the-board boost to the minimum wage.
Adopting a populist pose, the usually business-oriented Mr. Cuomo took the stage with top brass from the Retail, Wholesale and Department Store Workers Union, 1199 SEIU, 32BJ SEIU and the Hotel and Motel Trades Council at the latter union's headquarters. He applauded the state Department of Labor's resolution to lift the regular pay rate of tipped service and hospitality workers to a uniform $7.50 an hour starting next year. Different sectors had previously had different wage floors ranging from $4.90 an hour to $5.65.
"It's good for HTC, it's good for the labor movement, it's good for the State of New York, it couldn't be any better," said Mr. Cuomo, cheering Acting Labor Commissioner Mario Musolino, who began his tenure in government under the late Gov. Mario Cuomo. "Mario Cuomo would have been very proud of what you did today."
The governor touted New York's economic growth since the 2008 financial crisis, noting that the state ranks second in the nation in job creation. This, he insisted, meant it was time for industry heads to give up some of their gains in negotiations with the unions present.
"When they sit down with the leaders of business, business can't say 'I'm sorry, I'm broke.' They're doing great. And we know they're doing great. And we want them to do what's fair, and we want them to do what is right by labor, and that is today is all about," he said.
Mr. Cuomo then called upon the Assembly and State Senate to pass his State of the State plan to increase the overall minimum wage to $10.50 an hour and to hike it to $11.50 in New York State—which the Labor Department announced today would augment tipped workers' pay by an additional dollar. The governor argued that the $9.00 minimum wage passed two years ago is insufficient for many New Yorkers' needs.
"Nine dollars is $18,000 a year. $18,000 is not—if you work full-time, $18,000 a year. You cannot raise a family, you cannot pay for rent, and food, and insurance, and health care on $18,000 a year in the City of New York. You cannot do it," he said. "The concept of the minimum wage is if you work full time, you can lift yourself out of poverty and take care of your family, that's what the minimum wage means. And when it's $18,000 in New York City, you can't get there. And business doesn't have the excuse of saying 'we can't afford any more, we're broke,' because we know they're not. They're making record profits."
The governor then launched into a diatribe against growing income inequality in America—seeming to echo the rhetoric of more liberal figures like Mayor Bill de Blasio.
"Business is doing well, God bless them. But it is time that they share. We are looking at a polarization of income in this nation that we have never seen before. We're seeing an economy where the rich are getting richer, and the middle class and working families are getting left further and further behind, and we're getting where they cannot even catch up," Mr. Cuomo said. "And what we're saying is that is not what New York is all about. And it is not what America is all about. And it is time this state stood up and showed the rest of the nation what fairness and decency and community means."
The crowd of union members gave Mr. Cuomo's speech a standing ovation, but his proposals appear poised for a far cooler reception in the Republican-run State Senate, where Majority Leader Dean Skelos has expressed his aversion to another wage increase.