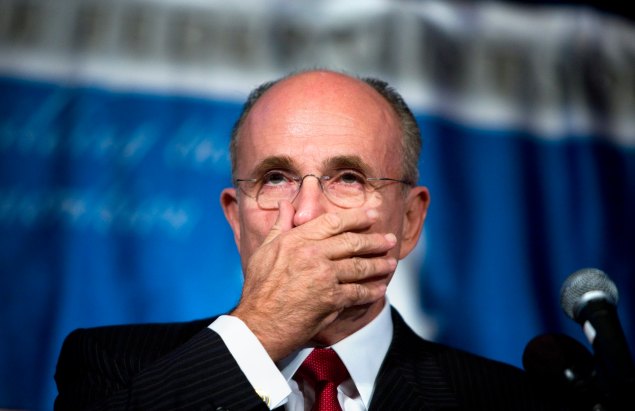 Gov. Andrew Cuomo declined to join Democrats in condemning Rudolph Giuliani for saying repeatedly that he doesn't think President Obama loves America.
Mr. Cuomo, speaking with reporters in Brooklyn today, took a far more measured approach to Mr. Giuliani, the Republican former mayor, than current Mayor Bill de Blasio, who called Mr. Giuliani's comments "pitiful."
"I know he's taking a significant amount of criticism on it. I would like to hear—I haven't heard the former mayor's comments on what the context of the statements were," Mr. Cuomo, a Democrat, said. "Obviously, President Obama loves the country and nobody should be attacking someone's basic love of the country."
"But I haven't heard the mayor's comments on what the context was and I know all too well that sometimes you say something and it comes out in a certain way you didn't mean. So I just haven't heard his explanation," he added.
In a dinner for Wisconsin Gov. Scott Walker, a potential GOP presidential contender, Mr. Giuliani said Wednesday night that the Democratic president does not "love America."
"He doesn't love you. And he doesn't love me. He wasn't brought up the way you were brought up and I was brought up through love of this country," Mr. Giuliani said.
In radio, television and newspaper interviews on Thursday, including a conversation with the Observer, Mr. Giuliani did not back away from his remarks. Mr. Giuliani told the Observer that, in his opinion, "as an American citizen, that our president does not emphasize enough his love of America. He emphasizes his criticisms of America, which has created an impression that he doesn't love America enough—I don't mean that as a psychological analysis."
Mr. Cuomo became one of the few, if not only, prominent Democrats to not outright condemn Mr. Giuliani when asked about his remarks. Debbie Wasserman Schultz, the chairwoman of the Democratic National Committee, dismissed Mr. Giuliani and tried to tie him to the rest of the 2016 Republican presidential field.
"Is this what it's really come to? Really?" she asked.