Grinning, her eyes glinting, Cynthia Nixon first came into public view as kid sister to Tracy Lord in the 1980 Broadway revival of The Philadelphia Story, playing a sharp-as-a-tack teenager old beyond her years. She has sustained that bright bubble of amiable intelligence through a 35-year career, amassing a Tony, a Grammy and a couple of Emmys, for Sex and the City and Law & Order, along the way.
But would you take direction from this woman? Tonya Pinkins, who has a Tony of her own, and Dianne Wiest, who has a pair of Oscars, would—and currently are, in Joel Drake Johnson's Rasheeda Speaking, bowing February 11 at the Signature Center.
In this edgy comedy/racial drama/office thriller from The New Group, they play rival receptionists at a doctor's office. Jaclyn is African-American and not quite Employee-of-the-Month (she waits in the hallway for the big hand to reach 12 before she clocks into the workplace), while Ileen is a Caucasian Little-Miss-Make-Nice who struggles overtime to maintain an emotional even-keel for everyone.
An impossible job—what with Jaclyn returning from a protracted sick leave to find her plants unwatered and wilting. The atmosphere is toxic, and it thickens when the doc promotes Ileen to office manager (a.k.a. "snitch") to jot down Jaclyn's transgressions and make her easier to fire. When Jaclyn gets wind of this, well…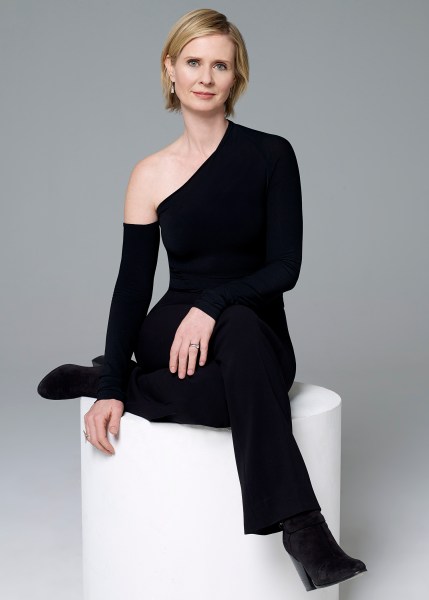 Simplified, what we have here is All About Eve played around a water cooler, and, at that level, audience members may be stunned to realize what's really been going on in their own interoffice interplay. Indeed, the roles of the warring women are written and played so even-handedly audience sympathies are apt to be divided.
"It takes you on a wild ride, this play," said Ms. Nixon. "The way Joel has written it nobody means badly. Everybody's trying to do the best they can and trying to get along but also trying to save their own skin and trying to keep their job."
The person responsible for keeping this delicate balance is, of course, the novice director on the case. "I'm so proud of my cast," she told the Observer. "When you're a director, what do you really have? An actor has his performance. A writer has his script. What you have as a director are your ideas and your ability to convince people of your ideas. It makes me happy—and surprised!—when I speak to them and they look at me like they want to hear what I have to say!"
Ms. Nixon was "taught by masters," and she can rattle 'em off faster than a machine gun: "Mark Brokaw, Dan Sullivan, Milos Forman, George C. Wolfe, Robert Altman." Mike Nichols liked her so much that, when she was a freshman at Barnard, he famously put her in two Broadway shows simultaneously.
But the best teacher of all, she said, was her mother. "She took me to the theater from the age of 3 on—not kid theater, but grown-up theater like Shakespeare in the Park. We didn't just go to theater—we dissected it, like critics, like people who want to work in the theater. We'd talk about not just what was wrong or what was good but what they could have done to make it better. When something was great, we'd talk about what made it great—if we could. Usually, it was so great we couldn't tell what it was. It was just magic."
Scott Elliott, artistic director of The New Group, is the guy who gave Ms. Nixon a push into the director's chair. Actually, it was a playful push back when he was directing her in a benefit reading three years ago.
"I guess I was very bossy," she meekly admitted. "I had a lot of opinions about whether we should sit or stand or enter, where the music stands should be—and he finally said, 'Well, I guess you'll be directing the benefit next year because you're directing this one already.' It was very funny, and everybody laughed."
"I thought he was just kidding, but then six months later he called and said, 'What are you going to direct for our benefit this year?' I said, 'Oh, you're serious.' He was!"
Before she knew it, she was cracking the whip over the likes of Eric Bogosian, Charles Grodin, America Ferrera, et al in a benefit reading of Jules Feiffer's Little Murders. Mr. Elliott was impressed enough at the beginner's luck that he decided to press it by promising her a slot in the next New Group season. He'd even find her a play, too.
What he came up with was Rasheeda Speaking, which premiered in Chicago last year and contended for the Jeff Award there as Best New Work. It is reaching New York audiences just when its subject has suddenly become a hot-button topic.
"We picked this play a year and a half ago," Ms. Nixon noted, "and nowadays I feel like the thing that's on everybody's mind is the black-white disconnect." (The color scheme has been soft-focused here by the human dimensions of the characters so it doesn't come off strident or overstated.)
The play was actually prompted by a nasty altercation Mr. Johnson had with an African-American hospital receptionist. When he reported her rudeness to his doctor, he was told, "We've had a lot of trouble with that person. This is the last straw. We're going to have to let her go." For somebody seeking a simple apology, this was excessive overkill, and he worked off his guilt by dramatizing the incident.
Initially, he wrote the play from his own perspective, but his focus shifted to the receptionist when he heard Viola Davis, in an interview, talking about the shortage of substantial roles for African-American actresses.
"She was talking about how she loved her role in Fences because it was really about her as much as it was about any of the other characters. She said she was always having to play somebody's wife or mother or teacher or maid—always adjacent to the person the story was about—and Fences brought her forward," Ms. Nixon explained. So "Joel thought, 'That makes sense. Why not make the play about the receptionist?'"
Thinking back, "I loved the play the first time I read it," said Ms. Nixon. "I loved it for how intricately observed it was and how provocative it was. Plus, it happens to have two amazingly juicy roles for women over 50. I've never worked with either of these actresses before, but I thought of Tonya Pinkins and Dianne Wiest immediately. You can't get any better than that!"
Ms. Nixon hasn't quit acting herself and recently had to take a day off of tech to go to Sundance for premieres of two movies she's particularly proud of: James White, in which she plays Christopher Abbott's cancer-plagued mom, and Stockhold, Pennsylvania, in which she's a mother whose daughter is kidnapped at age 4 and returned to her at age 21.
She hasn't sworn off comedy, either. Exhibit A arrives in May: 5 Flights Up with Morgan Freeman and Diane Keaton. "It's about NYC, getting old and real estate."
Since winning her Tony (for Rabbit Hole in 2006), she has tapered off of television where she ran a rangy gamut from SATC's Miranda Hobbes to Eleanor Roosevelt.
Now she concentrates on feature films. Come spring, she'll film The Quiet Passion for English writer-director Terrence Davies, playing a part on film that Julie Harris played to perfection on stage: Emily Dickinson.
"One of the devastating things in my life—every actor has roles that got away—is that I didn't get to do Laura when Julie Harris did The Glass Menagerie. They cast Calista [Flockhart]. I would have towered over Julie."
Next order of business for Ms. Nixon is quality time with the family. "By pure coincidence, this play opens on February 11, and New York Public Schools' winter break starts February 13. We're going to Whistler, which is in Canada just over the border near Vancouver. My wife is from Bainbridge Island, off of Seattle, so her family will be there. My 12-year-old son really likes to ski, and he is going to get a lot of that in."
After a directing debut, a slippery slope must look downright inviting.