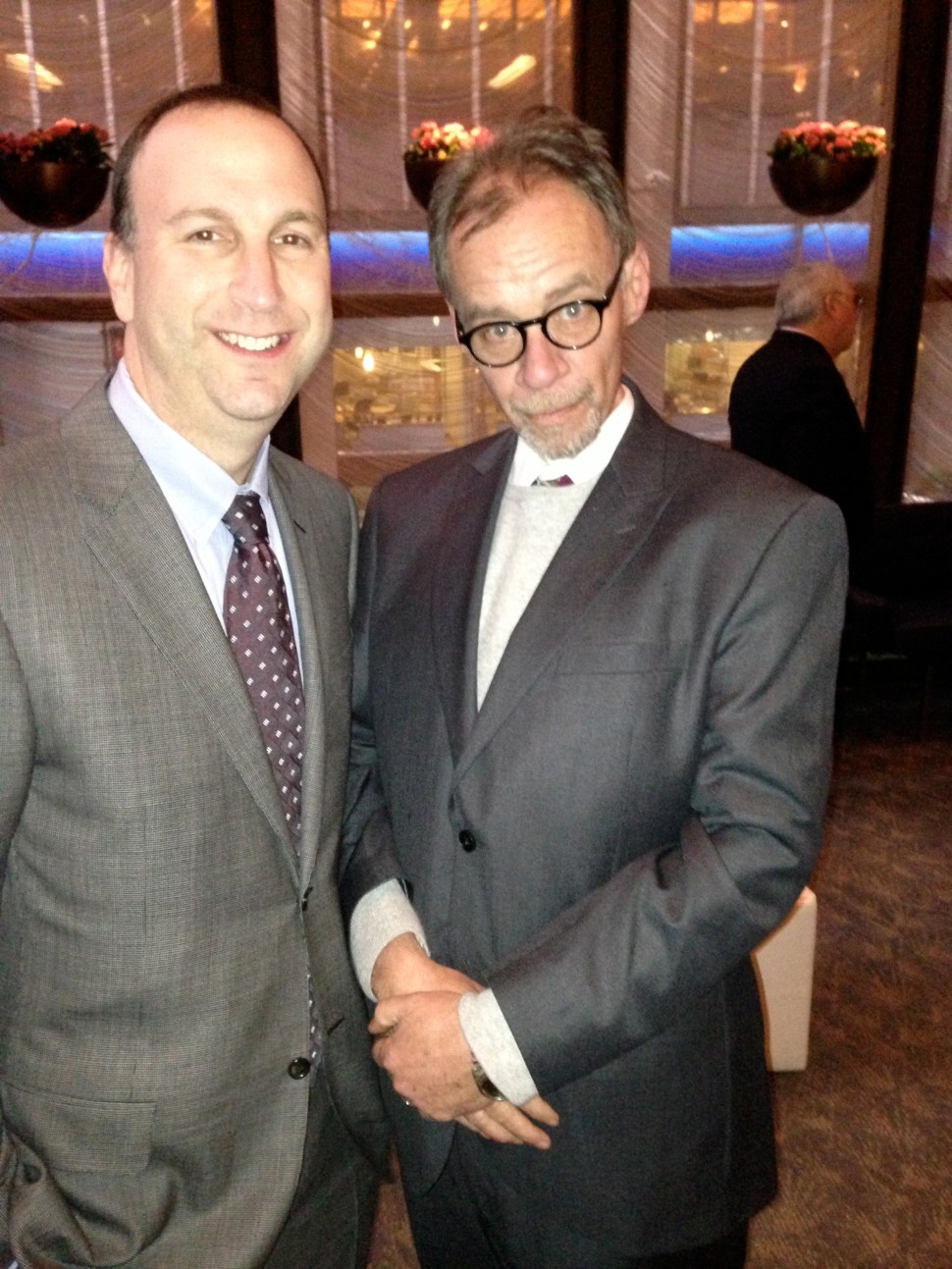 You can't write about David Carr. You just can't. Because you know he's going to read it (he read everything) and you know he would have said it better with funnier phrases and deeper insights. There is no one in New York media circles who wasn't personally touched by this man, this fine, fine man. I have never known anyone who was more generous with his time or sage about his industry. There will be hundreds, maybe thousands, of great writers who will recount career interactions with David. I have those, too, because he was a skilled advisor and also relied on me from time to time for career and even money advice. But here I will mostly remember the husband and father and friend.
When David lived in Washington, he accepted a job at Inside.com and emailed me out of the blue to ask what I thought of New Jersey. I didn't know who he was. I wrote him back an epic treatise on Montclair and why it was the only place he could possibly live. He moved there and became its proudest son. He would tell people he lived on "Super Duper Cooper Ave." He had great parties there. I met him in person for the first time at Inside's offices. He introduced me to Kurt Andersen and said to Kurt, "This is the guy who wrote to me about Montclair and got me to move here. He's going to be my friend forever."
A few weeks later, he came to my house. Beautiful wife, twin girls and a baby. We talked and talked. The girls found an old typewriter and pecked out "thank you for brunch." He loved that. I didn't have any kids then. Those girls would grow up to babysit my kids when they arrived.
In October 2001, with the country on fire, David was being interviewed for the Times job. He wrote to me, "I will be doing seven hours of interviews for Alex K's old job at times. I am not the only candidate, but a pretty serious one. … [Then a bunch of personal stuff] … What say you? Will I become a robot, or the same guy with more reach?" I told him "I think you are obligated to go after the times job as hard as possible, for 2 major reasons and lots of secondary and tertiary reasons." I went on for a thousand words, but the specifics of what I said don't matter. It boiled down to "you will be the best person at that job who has ever held it." And he was.
When the Jayson Blair story hit, David wrote to me: "it's been absolutely freaky. freakier by the day. the meeting yesterday was the most spectacular coproate theater I have ever seen. going in at ten or 11 if you are interested. let me know if you want to hook."
I told him, "No, it's too rainy and stormy tomorrow. I get depressed if it rains on me."
"my, you ARE senstive. real emotional boy…fuck that, mr. candidate. let's hope the rain doesn't come. I hate it when the candidate cries. it didn't help ed muskie much." The guy knew everything, even when he was breaking balls.
David used to ride his bike around town and had these crazy bike outfits. I'd kid him and he loved it. We'd drive in together sometimes and home together if the timing worked. We tried not to talk too much work – kids, wives, sex, money, drugs. Anything but who was working where.
In 2003, I decided to run for office. He thought I was nuts, but he threw a meet-and-greet at his house for me. I worried that he'd get in trouble for being a partisan. Nah, friendship comes first, he told me. Besides, if anyone asks, I'll blame Jill, she's a right-wing nut like you.
This was a guy who knocked himself out for his kids. One time, he called me to ask how much he should charge for a book he was writing. David! You're finally doing a book, I congratulated him. Nah, not like that. I'm writing a history of a Minnesota law firm. The hell? Hey, you try putting three girls through Catholic school, buddy.
David and I emailed all the time, and when IM was a thing, we did that, too, and it was such a joy because every sentence he'd write, even little stuff, was just perfect. His note to me when our son was born: "Please let us know when we can come and make odd noises and hover over him." He did come over, with a grey sweater for Steve and told me he picked it out himself. When I thanked him, he wrote to me, "I am proud to say that I actually did the shopping. i have to deliver before your linebacker grows out of it."
Sometimes he'd email to make arrangements and say stuff like he was late because "sorry, I was just playing the austin powers pinball game at siberai. siberia, relocated from the subway to right by the port. it's a bar."
One time I was feeling insecure about my book during that awful period after you've written it but before it's published. David wrote to me, "i believe that you are capable of authorial greatness. your analytics are without peer. and if you have your brother's profiling gene, you are a fucking monster."
For a ridiculously social guy with more genuinely close friends than anyone in history, David was introspective. One time he wrote to me, "I am being jilted by a good friend for having gone native since I became a wannabee timesman. turns out that I am not only full of myself, I am full of shit. kind of hurts, but maybe I need to take a look at it." Who would say that? "Maybe I need to take a look at it." But David really did. He cared about how he treated people.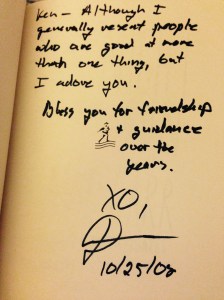 David thought it was a mistake for me to leave journalism to do politics. He told me I was too good a writer. He came to my 40th Birthday party in 2008. His masterpiece, The Night of the Gun, had come out. He told me I was an idiot for doing politics. Then he signed my copy: "Ken – Although I generally resent people who are good at more than one thing, but I adore you. Bless you for friendship & guidance over the years. XO, D."
That book is perfect. David remained till the end a ferocious advocate for recovery and his radical honesty rescued at least a couple people I personally know. And if you know the girls who came out of that life, the fine young women, you understand redemption, which is why he wrote it.
David kept working on me to leave politics and return to journalism full-time. He set up a lunch with him, me and Peter Kafka because he thought I'd see how great Kafka was doing—his theory was that Kafka shares my twin goals of being a great writer and making a pile of cash—and get excited about the possibilities if I returned. When I got the job at the Observer, David was prouder of me than anyone else in my life. I mean it, more than anyone. Because that's where he thought I belonged. He insisted on personally writing the profile the Times ran to commemorate yet another change of guard at the Observer. He wanted to protect me from "six editors in seven years" sniffing. He hugged me, over and over, and told me not to fuck it up. And told me HOW not to fuck it up. A few months later, his daughter Erin was premiering her terrific short film, "Click.Print.Gun." I put it in the Observer. He loved it. "wowee. she will pee her pants."
Last year, I wrote some tough stuff about the New York Times. On May 5, I wrote to him, "I was having coffee at Dean & DeLuca and you were taking photos w a bunch of friends on 40th St. I didn't wanna interrupt you cuz I thought you might not be proud to be my friend if they were members of Times editorial board or whatever. But you looked happy!!!"
I didn't want anyone to assume he had been a source for my stories (he wasn't).
David wrote back to me, "those were kids from South Carolina who came up to me while I was smoking. and you are always my friend no matter who I am with. I am proud to stand next to you in any circumstance. I mean that." I'm crying now as I copy and paste these words, these words from him that always appeared above the Hunter S. Thompson quote in his signature: "Call on God, but row away from the rocks."
In November, we had lunch at his spot, Casa Nonna, where he always sat at the same corner table. He fucked up the date so when I walked in, he was sitting there with a different colleague from the Times. He introduced me and we shook hands and I left. But the next day, we sat for hours, talking about everything. Everything except media and the business.
David and I have the same agent, Flip Brophy; her insistence that I move to Montclair was the precursor to my insistence that he do so. I saw him every Jan. 1 at her New Year's party. He gave the best hugs ever. He would go outside to smoke cigarettes in the freezing air. Old school. This year, whatever the fuck was wrong with his throat and neck were worse than usual. But someone like that, so full of life and fire and brilliance that it radiated out of him like its own solar system, that's not someone who's gonna die on you.