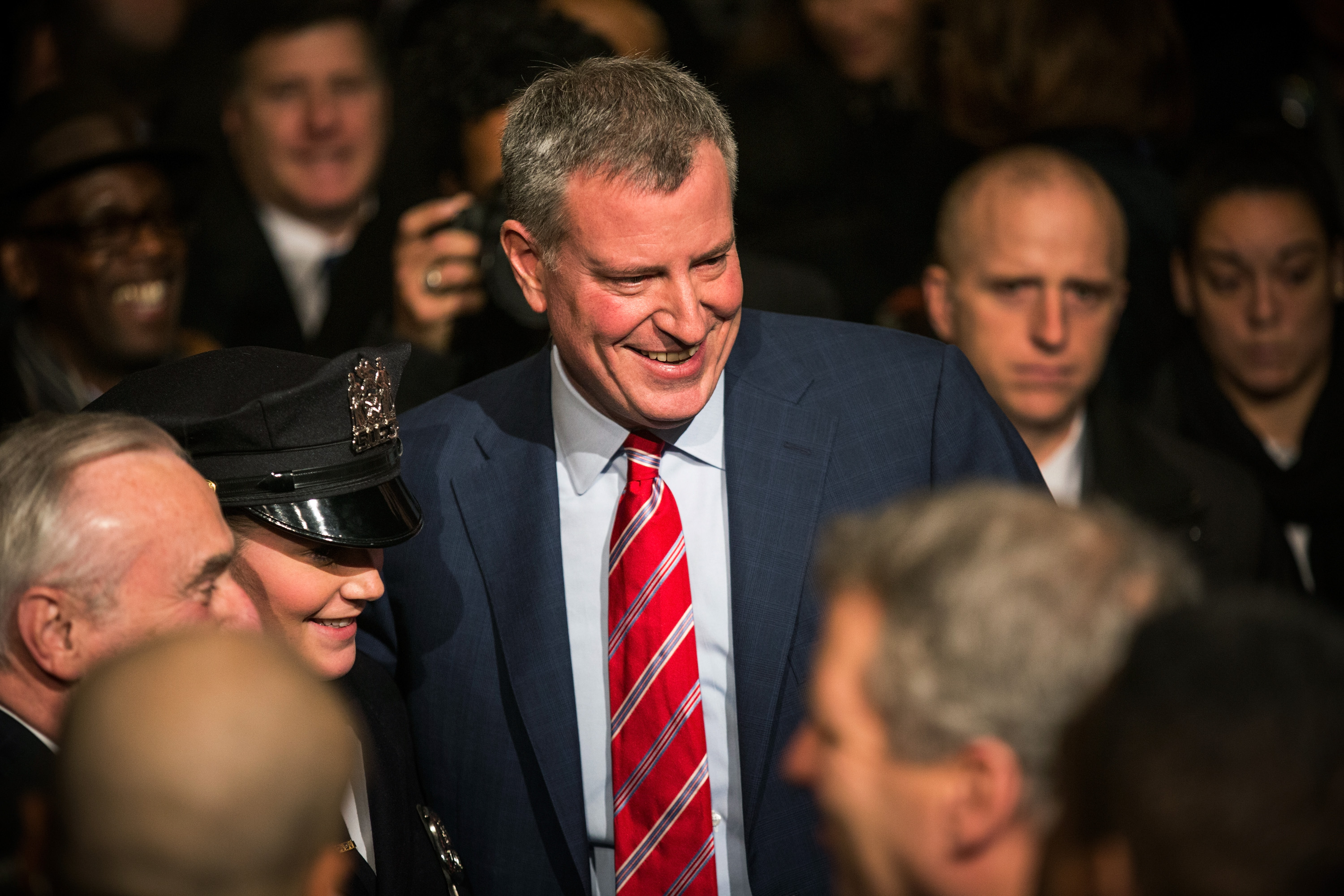 Mayor Bill de Blasio proposed five new fast-ferry lines to connect outer-boroughs to Manhattan today at the cost of a subway ride—an effort his office said would cost the city $10 to $20 million annually in subsidies.
"Today, we announce that we're launching a new citywide ferry service to be open for business in 2017. New ferry rides will be priced the same as a MetroCard fare, so ferries will be as affordable to everyday New Yorkers as our subways and buses," Mr. de Blasio said in his State of the City speech at Baruch College today.
The infrastructure—docks and landings—will cost roughly $55 million for the planned routes. It would cost the city between $10 million and $20 million annually to subsidize the service for 4.6 million riders, which would actually be run by private operators, Deputy Mayor Alicia Glen told reporters.
"We will be launching five new ferry lines in 2017. We have money in the capital budget to do all of the work for the actual dock and landings, and that work will begin this year," Ms. Glen said. "We will simultaneously be going out with a request for proposals to get interest from operators to actually operate those lines, and we expect with negotiations the cost to the city will be somewhere between $10 and $20 million dollars a year annually."
Mr. de Blasio's office said there were currently five "planned" routes: one serving South Brooklyn, one serving Astoria, one serving the Rockaways, one serving Long Island City and the Lower East Side, and one serving Soundview. That leaves out the fifth borough, Staten Island, but a sixth route is "proposed" there—it would run from Coney Island to Stapleton and then on to Wall Street.
The proposal garnered what seemed to be the loudest applause from the audience during Mr. de Blasio's one hour and 17 minute speech—and far more than the following one to implement 13 new bus rapid transit routes. Mr. de Blasio presented it as a way to connect far-flung neighborhoods with the job and economic opportunities within Manhattan.
But ferry service, in the past, has proven pricey and has not been the cure for transit woes some politicians have hoped.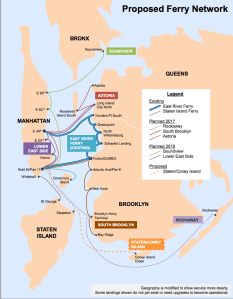 "Since the mid-80s when ferry service started up again and through today, there have been over 70 ferry services that have been tried in the New York metropolitan area and only about 20 exist today," Jeff Zupan, a senior fellow at the Regional Plan Association, told the Observer.
But most of those disappeared because there was no public subsidy—unlike Mr. de Blasio's plan—and without one, they weren't profitable.
"Now you have a situation where the mayor is eager to give service to people who don't have good access to transportation. The question is how much are you willing to spend?" Mr. Zupan asked. "Some have been tried before, Rockaway and Brooklyn Army Terminal. Can you keep ridership up to make it viable?"
All mass transit is subsidized by government, but ferries are particularly expensive to run. Just months ago Mr. de Blasio's administration ended service on a Rockaways ferry route—because it was too expensive. The city was paying about $30 for each trip taken on that ferry's route, a mayoral spokesman said, making the service, set up after Hurricane Sandy knocked out trains, unsustainable. Streetsblog, meanwhile, pegged the subsidy cost at around $22 per passenger per trip—nearly twice the amount spent to subsidize express bus service, which also serve outerborough communities, which the blog calculated was roughly $12. Running the Staten Island Ferry, which is free to ride, costs the city more than $100 million a year, which in 2013 broke down to a subsidy of about $4.86 per passenger.
But the scuttled ferry was a standalone route, and the newly proposed Rockaways ferry route would connect to the broader citywide ferry system rolled out today. That would attract more Rockaways commuters with destinations in places like Brooklyn, the city said, reducing the subway. Perhaps more importantly, the route being part of a broader system allows for more profitable ferry routes to remove offset some of the subsidy burden that comes with running a less popular or longer route.
"We won't have the exact number until we actually go out to the market to solicit operators, but based on our experience with the East River Ferry, that's been over-subscribed, we believe that the operating subsidy will be somewhere between $10 and $20 million a year," Ms. Glen said, referring to the entire five-borough system.
The East River Ferry is run by New York Waterway, and currently costs $4 thanks to a city subsidy. The same company runs unsubsidized service from downtown Jersey City to the World Financial Center, a similar distance, that costs $6.
Several of the routes proposed today, particularly from South Brooklyn or the Rockaways, are longer in distance than the East River or Jersey City routes—and would cost more to operate. But they'll cost less to ride—$2.75 a trip at the current cost of a MetroCard.
"To the extent that the system needs to be subsidized, it will be subsidized by the city itself. We could of course get sponsorship, like any other transit system," Ms. Glen said.
Mr. Zupan said the cost of the previous Rockaway run was unsustainable, and that it was hard to imagine how many riders would be needed to pay for the service. He suggested rolling out the routes slowly to see if they are successful.
"What the city should do is set some criteria to say these are how we're going to decide if it's successful," he said. "If it was a slam-dunk these services would make money, they would have been done years ago."
Mr. de Blasio framed the service in his vision of ending income inequality, saying it would more easily connect people with jobs.
"For years, the conventional wisdom has been that certain neighborhoods are doomed to isolation because of their geography. And we reject that notion," he said. "Today, if you live in one of those neighborhoods—the Rockaways or Red Hook or Soundview, among others—a job in Manhattan can easily mean an hour or more of commuting, even when the skyline is clearly visible from your home."
But while Mr. de Blasio spoke of long commutes, there are no plans for a ferry to the South Shore of Staten Island. Instead, the city is proposing service from Stapleton to Wall Street—almost the exact same trip offered by the free Staten Island Ferry, just about two miles and two train stops from Stapleton, which also deposits riders in the Financial District. Neighborhoods on the South Shore are considerably more isolated.
"The longest commute times in the country exist in the South Shore. So yeah, give it to us in Stapleton but give it to us also in the deep South Shore. No New Yorker should have to endure one and a half to two and a half hour commutes each way, and that's what some of the people on the South Shore are facing," Staten Island Borough President James Oddo said.
Stapleton is ripe for development—a rental building targeting young professionals at the former Navy Homeport is already under construction with two more phases set for the future, and the neighborhood is among those the de Blasio administration is hoping developers will consider for affordable housing. A fast ferry would be a key asset, and one Mr. Oddo said he certainly welcomed—even as he hoped for more.
"We're going to have a critical mass in Stapleton," he said.