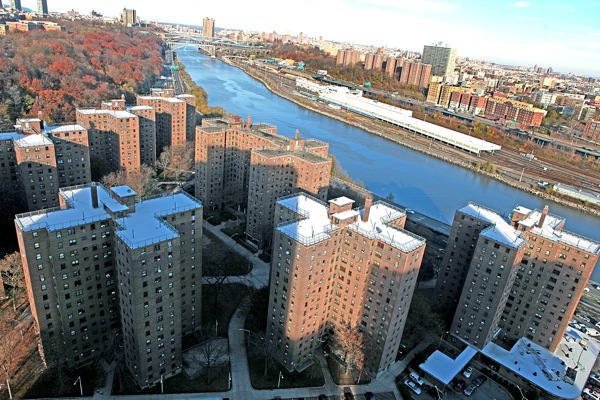 ALBANY—Mayor Bill de Blasio asked the State Legislature today to find $300 million more for the city's chronically-underfunded public housing authority, one prong of his agenda to protect the city's affordable housing stock.
In his testimony on the state budget, Mr. de Blasio said the city would match the extra funds he requested for the New York City Housing Authority, known as NYCHA.
"We are asking the state come up with $300 million for health and safety in NYCHA developments – which the city would match. This additional funding will help ensure that NYCHA is able to fulfill its historic role and operate at the standard tenants are entitled to," Mr. de Blasio said.
Mr. de Blasio called the need for increased public housing funding "urgent," pointing out that NYCHA is the city's largest landlord, managing 178,000 apartments in 344 developments. He called public housing a "key part of the city's commitment to affordable housing."
"There has been a serious erosion of government support for housing at the federal and state levels since the 1990s," he said.
Even since 2001, the annual federal capital grants alone to NYCHA have dropped by $162 million, or 26 percent, something happening nationwide. And the effects of federal nationwide cuts are even worse in New York City, Mr. de Blasio said, because of NYCHA's large size and aging buildings. The city has resorted to spending reserves and capital funds meant for repairs just to keep NYCHA running, he said.
"Unless we address the gaping operating and capital deficits, and do so fully, NYCHA's buildings will continue to deteriorate – depriving tenants of the level of housing they deserve," Mr. de Blasio said.
He pointed to his own efforts to free up $72 million in operating funding by ending the practice of charging NYCHA for police presence. But he said the city could do even more if the state kicked in the extra $300 million.
In his State of the City address, the mayor made it clear his focus this year will be on his affordable housing plan—which will require plenty of help from Albany, where rent laws are set to expire later this year.
"To tackle the affordable housing crisis, the city and state must work cooperatively. Even though I know the discussion of the future of rent regulation will occur post-budget, I must emphasize now the importance of renewing and strengthening rental protections that expire this year," Mr. de Blasio said.
If regulations aren't renewed, New Yorkers will be priced out of "many thousands of apartments," he said.
Mr. de Blasio specifically called for the end of vacancy decontrol, a law that allows property owners to take apartments off the rent-regulated list when they go vacant. "It is a major contributing factor in the loss of rent-protected units in the city," he said.
But within the budget, the mayor called for the state to do more with its Office of Rent Administration to protect tenants from landlord harassment.
"If the state will not enforce the law and protect tenants, it must allocate funds so tenants can help themselves—by providing free legal services to victims of landlord neglect or harassment," he said.