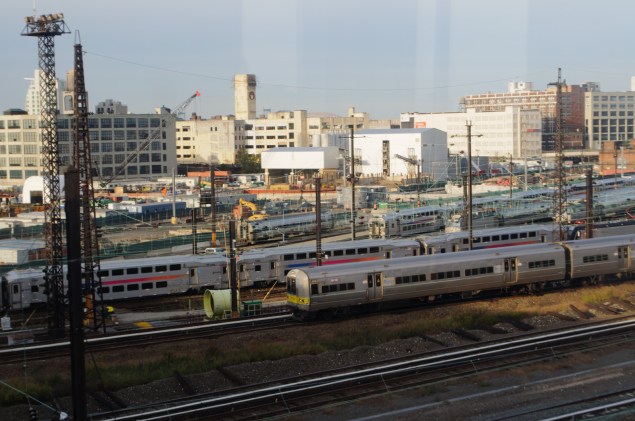 Mayor Bill de Blasio announced at the State of the City address this morning that he intends to build 11,250 affordable housing units at Sunnyside Yards—the same as the number as at Stuy-Town and Peter Cooper Village. At 200 acres, Sunnyside Yards is one of the largest undeveloped parcels in New York City, but one that presents myriad difficulties to developers as it remains an active rail yard in use by several train companies.
Mr. de Blasio compared the Sunnyside Yards plan to post-war affordable housing projects like Starrett City and Co-op City and said that it would be a "a game-changer" with enough affordable housing for "over 30,000 New Yorkers." And unlike Stuy-Town, he said, "we're going to make sure that affordable housing at Sunnyside Yards stays affordable."
Mr. de Blasio said that rail tracks could be placed underground such that housing could be built on top—a process which is being undertaken at Hudson Yards, but in that case with the financial backing of developers eager to cash in on commercial rents—though he admitted that "some parts could more easily handle larger buildings being built there and some could not."
It was yet another ambitious facet in Mr. de Blasio's very ambitious affordable housing plan to build or preserve 200,000 units within the next decade and comes with surprisingly precise details given the nascent stage of the process.
The city is partnering with Amtrak, which owns the yards, and the Metropolitan Transportation Authority, to conduct a feasibility study, Alicia Glen, deputy mayor for housing and economic development, told reporters after the mayor's speech, which she called the first step in seeing if such a project could be completed.
The governor's office, meanwhile, was critical of the announcement, writing in a statement that "the MTA uses Sunnyside Yards as an important facility for our transportation system, and it is not available for any other use in the near term. The State and the MTA are studying several potential future uses of the site from a long term planning prospective."
The Mayor also identified two new neighborhoods—East Harlem and Stapleton, Staten Island—that his administration plans to target for denser residential development and mandatory inclusionary zoning. In those areas developers would need to include affordable housing in projects in order to unlock density bonuses. East Harlem and Stapleton join the list of neighborhoods that have been targeted for such development, which include East New York, Long Island City, Flushing West, and the Jerome Avenue Corridor in the Bronx.
Mr. de Blasio called his approach to affordable housing "fundamentally different" than his predecessors', who presided over a city where "developers wrote their own rules… as the city expanded growth was driven by developer's bottom line," resulting in multi-million dollar homes that drove up rents without offering a corresponding affordability component. Without bold action now, he said, the city risked taking on the aspects of a gated community.
However, details of the program—specifically, affordability percentages and incentive packages—have yet to be revealed. Ms. Glen said the City Planning Commission is planning to release details in the spring, but the plan "will not be one size fits all." And the example Mr. de Blasio held up during his speech—Astoria Cove, which is slated to be 27 percent affordable—illustrates the difficulties of harnessing the private market, where developers are, if not driven by the bottom line, then still beholden to it, in order to enact broad social change. The city agreed to kick in money from its capital budgets to increase the affordability of that project from 25 to 27 percent. It may also help to pay for ferry service at the transit-challenged site. Even so, many affordability advocates alleged that the plan was but a minor improvement from the 80/20 ratio of the Bloomberg era.
The mayor also called for the construction of an additional 160,000 new market-rate units, to help offset demand, which may well produce trepidation in many, if not all, of the neighborhoods slated for mandatory inclusionary rezoning. To offset those fears—and perhaps in an acknowledgement that they are based in reality—the mayor has set aside $36 million for free legal representation in housing court available to all tenants in rezoned neighborhoods, tripling the city's investment in free legal services for tenants.
The Real Estate Board of New York praised the Mayor's focus on affordable housing in a statement released this afternoon: "Building more new market rate and affordable housing, and preserving and enhancing our current inventory of affordable housing is the only way to address our decades-long housing shortage. Without such bold initiatives, the City's housing market will tighten further and become even more expensive. Our industry stands ready to work with the Mayor and other stakeholders to put shovels in the ground and cranes in the sky to tackle this important goal," the statement read.
Tenant and affordable housing groups were also supportive; the New York State Association for Affordable Housing praised the Mayor "for making affordable housing his number one priority. The record number of homeless families on our streets and applications to our housing lotteries are proof that rising rents and stagnant wages are forcing New Yorkers to make impossible choices in their everyday lives."
The question, of course, is whether even with the co-operation of Albany, the mayor's housing plan can preserve what he identified as the good elements of gentrification—jobs, amenities, safer streets—with the displacement that has followed in their wake.
"In the past we said there was nothing you could do about it—you can either have a safe, clean neighborhood or a neighborhood you can afford, but you can't have a safe clean neighborhood you can afford," said Mr. de Blasio. "We believe that's a false choice… That false choice makes no sense for New York City."