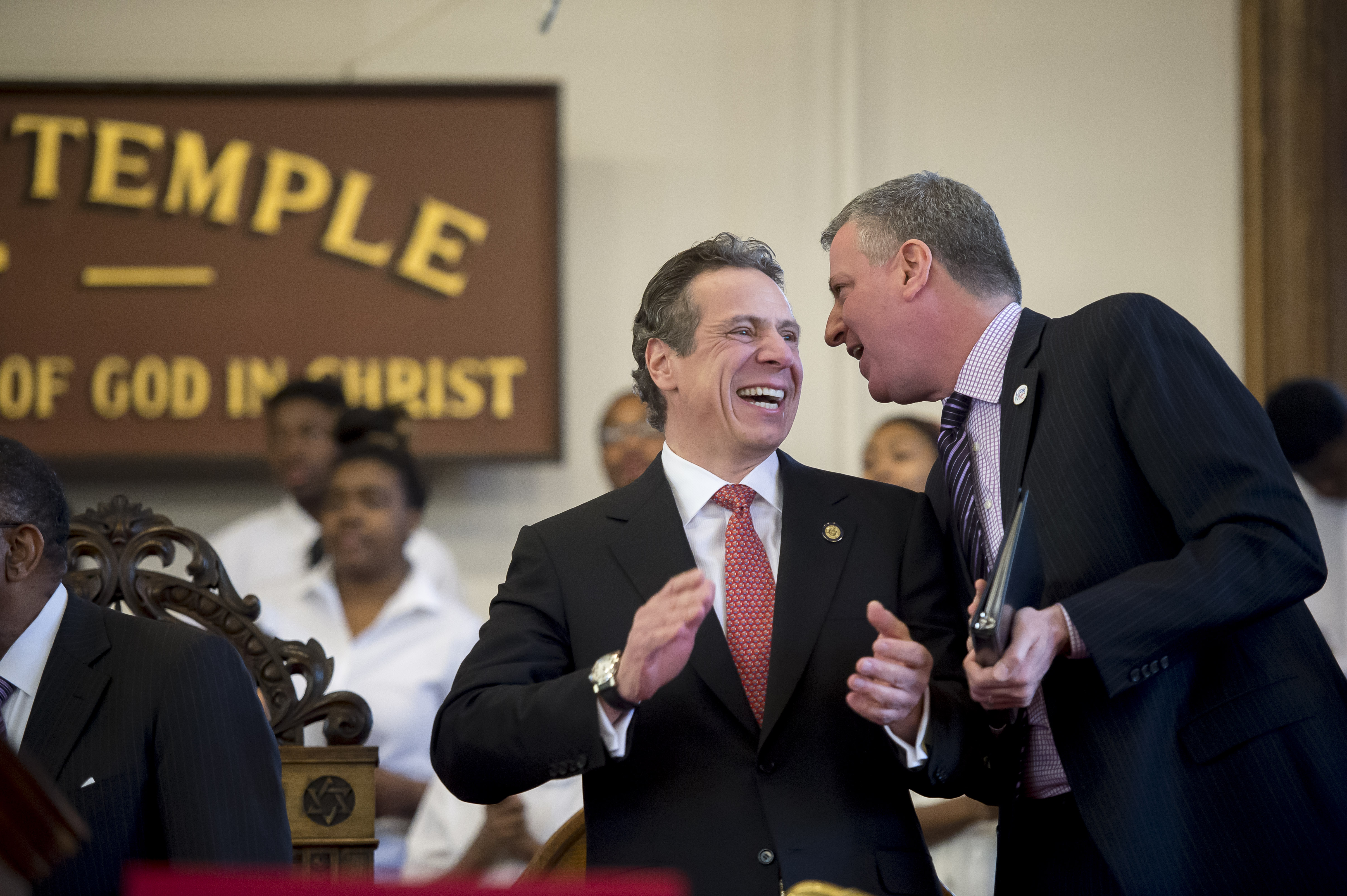 ALBANY—Mayor Bill de Blasio laid out his priorities for the state budget today—asking the state for more money for education and public housing, and for permanent control of the city's schools.
There was no request quite as big as last year's failed bid for a city income tax hike on the wealthy to fund pre-K. And the mayor knows the landscape better than he did a year ago. "It's obviously a lot easier doing something the second time," he said.
But with Mr. de Blasio's tense relationship with Gov. Andrew Cuomo in the spotlight, and with the Senate in the hands of Republicans unenthusiastic about many of his plans, accomplishing his priorities this year may not be any easier for the mayor.
Before the mayor had even finished testifying in the four-hour hearing before a joint Senate and Assembly panel, Mr. Cuomo had said he opposed Mr. de Blasio's push for permanent control over schools, calling the arrangement an "experiment" and saying it should be renewed in three-year spurts.
"The point was, let's try this, mayoral control in New York City, it'd been tried in several other cities across the country. But let's try this and see if it's better than the board of education system. And that's the genesis, and let's review it periodically to see how it's doing," Mr. Cuomo said.
In responding to the governor's comments, Mr. de Blasio said there had been consensus that mayoral control was a "success."
"I certainly have not heard another model proposed. If it's not the old school board system and it's not mayoral control, is there some third way that no one's discussed? I don't know of it," he told the Observer in a post-testimony press conference.
Even the simple timing of Mr. Cuomo's press conference, which included Mr. de Blasio's frequent City Council and mayoral race adversary Christine Quinn, raised eyebrows. And then there was the subject matter: the governor proposed expanding universal pre-K—Mr. de Blasio's signature issue—to three-year-olds in a pilot program.
One reporter asked if the governor had intended to steal the mayor's thunder.
"Only a really twisted mind would come up with that one," Mr. Cuomo said.
And Mr. de Blasio repeated a familiar line—he's "not interested in talking about personalities."
"I respect the governor. I've known him for 20 years. We've gotten a lot done together," Mr. de Blasio told the Observer at the press conference. "We don't agree on everything. I think that's well established. But we've still gotten a lot done. That's really all that matters."
The disagreements between the state and city leaders weren't one-sided. Just as Mr. Cuomo was unenthusiastic about permanent mayoral control, Mr. de Blasio was unenthusiastic about Mr. Cuomo's education reform agenda, particularly his push to increase the use of standardized testing to measure teachers and his plans to take state control of struggling schools.
"I think the way to think about it is, there's a host of issues. I'm going to tell you what I think on each one," the mayor said in describing his views on the governor's education reform agenda. "I think a clear majority of the time the governor and I agree, but there are some areas where there's real disagreement as well."
He was also stark in his criticism of funding cuts for homelessness services, even as more and more people—58,000 now—fill the city's shelters.
Mr. de Blasio met with the governor for about an hour today, speaking briefly to reporters afterward. No, they hadn't made any decisions on homelessness funding. No, they hadn't discussed the mayor's proposal for affordable housing at Sunnyside Yards—which Mr. Cuomo shot down the same day the mayor had made it a centerpiece of his State of the City address. They hadn't made any decisions on mayoral control. It was a beginning, the mayor said, not an ending.
Of course, Mr. Cuomo is not the sole arbiter of the state budget—there's also the Democrat-led Assembly and the State Senate, now controlled by Republicans who are less than pleased with Mr. de Blasio, who campaigned hard for Democrats to take the majority and sought to end the GOP's ruling coalition with breakaway Democrats in the Independent Democratic Conference. (The GOP no longer needs to have a coalition with the IDC, having won its own majority, though they're still working together.)
Mr. de Blasio met with the Senate's top Democrat, Andrea Stewart-Cousins, and is meeting with new Assembly Speaker Carl Heastie, a Bronx Democrat, this afternoon. He said he was going to "try" to meet with the Republican Senate Leader Dean Skelos and IDC Leader Jeffrey Klein, too.
The mayor was unbowed by the shifting of the Senate—saying it had been dominated by Republicans last year, too.
He harkened back to that tax hike he wanted a year ago.
"I think there were—look, I wanted a tax on the wealthy for pre-K. It was my number one issue. It was my signature issue. It was my number one campaign platform plank. And the Republicans in the Senate were adamantly opposed," Mr. de Blasio said. "Last year I understood that. I understand there are gonna be some areas of disagreement. But I don't think the foundational reality has changed."
Will Bredderman contributed reporting.