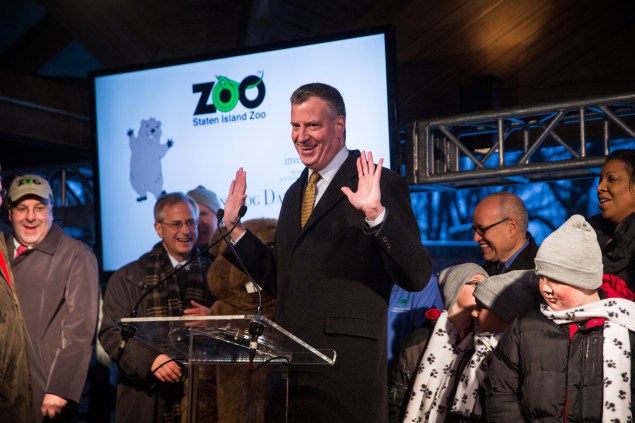 Staten Island Chuck predicted an early spring this morning—and perhaps with it, a new day in government-groundhog diplomacy.
"Chuck says spring is coming! Good news all around," Mayor Bill de Blasio declared at the Staten Island Zoo. "Chuck, I want to thank you for this new approach. I think we finally understand each other."
The ceremony marked the first year that the groundhog, whose full name is Charles G. Hogg, was not hoisted into the air by the mayor—a tradition that was scuttled after Mr. de Blasio dropped the squirming rodent at his inaugural Groundhog Day event last year.
A week after the fall, the groundhog—actually a female named Charlotte playing the role of Chuck—was found dead in her enclosure. The New York Post alleged a cover-up of mayoral rodenticide. The zoo insisted a second fall may have done the groundhog in. Mr. de Blasio at first refused to comment on the debacle, though more recently he has taken to joking about it
"Please take heart there will be no surprises: 2015 is not a leap year," Deputy Borough President Ed Burke said in introducing the mayor. "He's our hands-on and today hands-free Mayor Bill de Blasio."
The zoo made certain there would be no marmot mishaps: Zoo Director Kenneth Mitchell noted the organization had taken a "new, progressive, exciting" approach. This year, Chuck was housed in a new glass enclosure, which had a space for him to wait "underground" until it was his time to shine. He had no contact with Mr. de Blasio, or anyone else. One frustrated photographer noted that Chuck and the mayor were never even in the same frame.
Despite his earlier discomfort about questions surrounding the groundhog—and his reluctance to commit to attending the annual event—today Mr. de Blasio seemed happy to be part of the joke. He ribbed Mr. Burke, legendary in the borough for corny jokes and puns, prompting the audience to "try the veal." He once again made a few cracks about keeping the groundhog safe—and guarding against mayoral injury, since a previous incarnation of Chuck once took a bite out of Mayor Michael Bloomberg.
"There's been a very concerted effort over the last few weeks. Teams of animal behavior experts and scientists have consulted from all over the country. The National Institute of Health has weighed in on my behalf, the National Institute of Groundhog Health as well. I think we got NASA involved," Mr. de Blasio cracked.
The new approach, the mayor said, "will be safer for both species involved."
So instead of having to coax a cranky groundhog out of his cabin—that's how Bloomberg was bit—or hoist him up high, when it was time for Chuck to make his prediction, he was raised up from his burrow with an elevator. Mr. Burke called it "a Chuck-evator," while Mr. de Blasio and Public Advocate Letitia James likened it to a pope-mobile. Then, as groundhogs are known to do, Chuck stalled a bit, deciding whether he wanted to emerge all the way into the spotlight.
"He's wondering on a day like today if the city has a slush fund," Mr. Burke observed, a joke corny enough for even Mr. de Blasio, known for his dad jokes, rolled his eyes.
Unlike past mayors who have tangled with the groundhog–Mr. Bloomberg once called the groundhog a "son of a bitch"–Mr. de Blasio had nothing but kind words for Chuck today.
"This is something I did not know: ranked the number two groundhog by the Weather Channel's list of 11 groundhogs to watch. I did not know there was such a list," Mr. de Blasio said.
And though their relationship was more distant thanks to the plexiglass, it was warm enough to be heralded by the house band, there to entertain a handful chilly school children who had come to see the spectacle.
"He's the furry soothsayer, you know he loves the mayor, he's Chuck. Staten Island Chuck," the singer crooned.