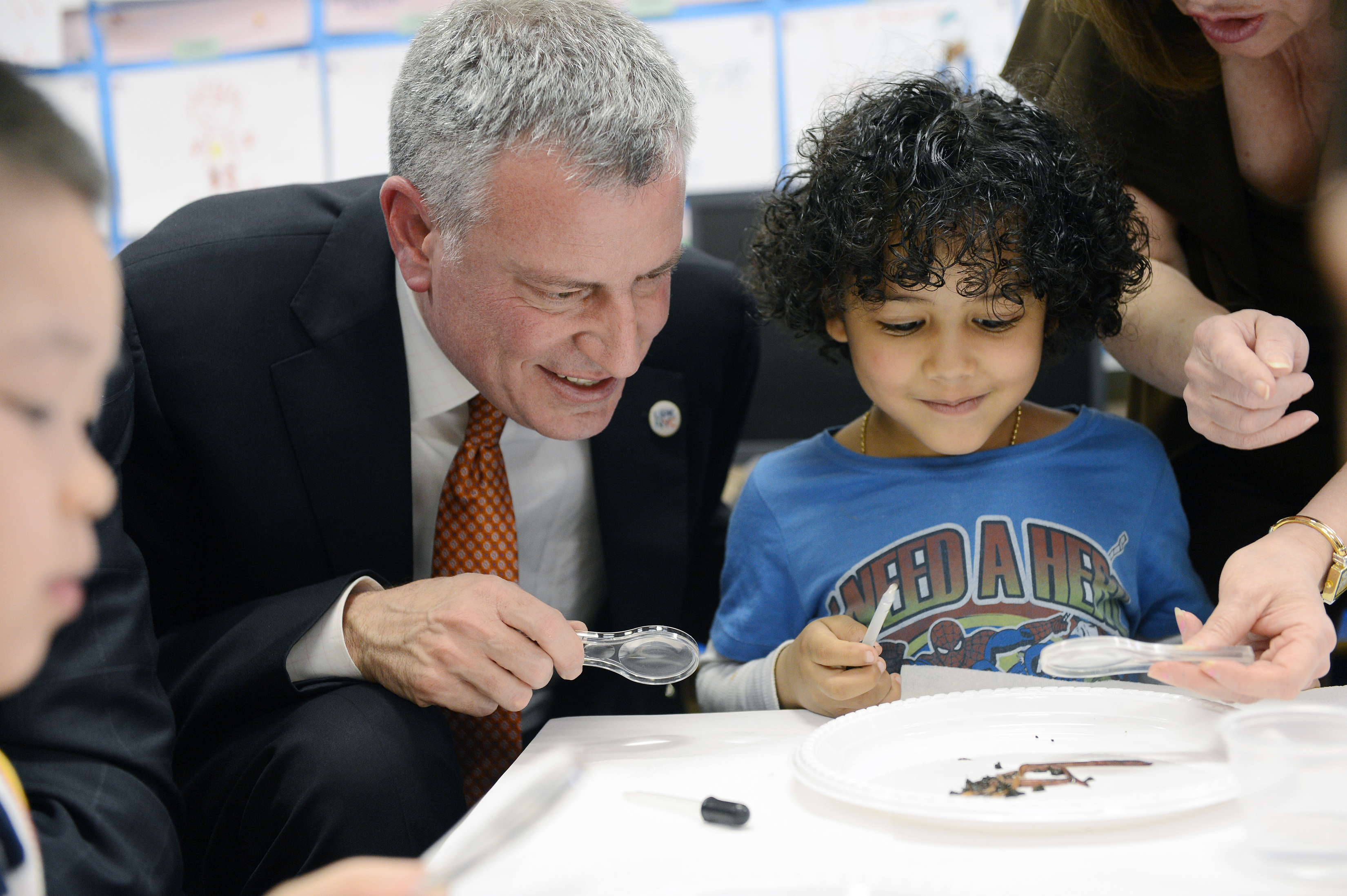 ALBANY—Mayor Bill de Blasio today told the State Legislature that Albany doesn't need to seize control of struggling schools—because that's his job.
Testifying on the state budget in Albany today, Mayor Bill de Blasio responded extensively for the first time to Gov. Andrew Cuomo's calls for education reform, made in the governor's State of the State Address. The mayor asked Mr. Cuomo to extend mayoral control of city schools permanently—and said it made Mr. Cuomo's proposal for the state to take over struggling schools and school districts unnecessary.
"The fact is, mayoral control already makes clear who is responsible for struggling schools in New York City: I am," Mr. de Blasio said. "I am fully accountable to the people of New York City, and if they do not believe I have succeeded, they will have the opportunity to not renew my contract."
The reform agenda touted by Mr. Cuomo has put the governor at odds, not for the first time, with teachers unions—who have often been allies of Mr. de Blasio and other New York City politicians. And today, the mayor was skeptical of some of Mr. Cuomo's proposals—which include tweaking teacher evaluations, to which unions barely agreed in the first place, to be based 50 percent on state standardized exams. Mr. Cuomo has called for the ability to boot teachers after two ineffective ratings.
Mr. de Blasio pointed to his own efforts to remove ineffective teachers, saying the city had removed 289 of them.
"It is good that the governor has addressed this important issue. But reform must be done in the right away," Mr. de Blasio cautioned.
And it seemed he did not see eye-to-eye with the governor when it comes to relying on state exams: "Excessive reliance on high-stakes testing is troubling," Mr. de Blasio said.
Mr. Cuomo has admitted his education reform agenda will be a tough sell amid pushback from the politically powerful unions, but provided an incentive: he promised to boost an education budget increase from a planned $377 million to $1.1 billion, but only if the reforms pass.
Aside from that money, Mr. de Blasio called for the state to boost the city's share of education funds as called for by Campaign for Fiscal Equity lawsuit settlement.
"There is a shortfall this year of $2.6 billion for New York City schools. This is not just another budget priority. It is the result of an order from the New York State Court of appeals to provide 'a sound basic education to all students,'" Mr. de Blasio said.
The mayor did not discuss one favorite education topic of Mr. Cuomo's education reform agenda: charter schools.
Education is just one of several areas Mr. de Blasio focused on in his testimony—the mayor also called for the state legislature to end vacancy decontrol, boost funding for homelessness, and do more to fund the MTA capital plan.