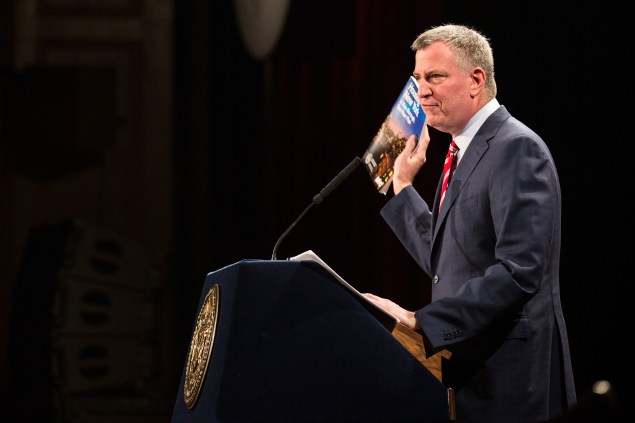 Mayor Bill de Blasio said today he is very "concerned" and "frustrated" that gridlock in Congress may cause the Department of Homeland Security to shut down at the end of the week.
Mr. de Blasio, speaking at an unrelated press conference at City Hall, said funding DHS transcended party lines.
"I'm very concerned, very frustrated. This should be something that is above the partisan fray," Mr. de Blasio, a Democrat, told the Observer. "This is literally a matter of protecting our nation and I am going to remain hopeful that cooler heads will prevail and this will be resolved by the end of the week."
Congress is currently at an impasse as House Republicans seek to tie the funding of DHS to President Barack Obama's decision last year to shield millions of undocumented immigrants from deportation. The Republican-controlled House passed a bill to fund DHS, attaching amendments that would block Mr. Obama's immigration executive action. Though the GOP also controls the Senate, their majority is slimmer and Democrats, including Mr. Obama, are opposed to any funding bill that isn't "clean."
Mr. de Blasio, who has lashed out at Congressional Republicans before, worried about the "long-term" damage that could be done to New York City, a top terror target, if DHS runs out of money Friday.
"I think the difference, if it not resolved, there is a difference between short-term and long-term," Mr. de Blasio said. "Again, particularly in New York City's case we have a lot of tools to protect ourselves but if this is not resolved by Friday or soon after, it starts to undermine the defense of this nation and becomes a huge problem."