It was a ring-kissing contest over bacon and eggs, or so it would appear, as Essex Democrats engaged in a major show of political chest-thumping this morning, welcoming at least three potential candidates for governor to Mayfair Farms to join County Party Chairman Leroy Jones at his annual labor breakfast.
The candidates included Senate President Steve Sweeney (D-3), Jersey City Mayor Steven Fulop, and former U.S. Ambassador to Germany Phil Murphy.
None of the three is an attorney. Notwithstanding the stand-up humor – "It is so cold outside," Essex County Clerk Chris Durkin told the crowd, "I actually just saw a lawyer with his hands in his own pockets." – one person who is not a fledgling candidate for governor but whom some insiders may want to run here in Essex, does have a law degree.
More about that person – and his political dominance in Essex – below.
For his part, Sweeney's North Jersey presence – at least twice in one week and a scheduled Newark North Ward romp planned after the breakfast – signified an uptick in overt political campaign activity for the South Jersey iron worker turned state lawmaker.
Durkin, who backed Fulop early in his 2013 mayoral bid, introduced the senate president and Jersey City mayor, bestowing on the
latter a touch of regional love. "He hails from Hudson but he has Essex County roots," the clerk said of the mayor, whose parents run a Newark deli.
Of the three, only Murphy didn't speak at the microphone. Someone checked with Brendan Gill, who said Murphy preferred simply to soak in the morning's circus.
"I'm humbled," Jones said of the breakfast. "It was a good turnout with amazing honorees, which helps turn out. It's symbolic of a growing partnership between labor and the party organization that could be on everyone's radar as we move toward national and statewide elections. It will manifest itself even more. I'm encouraged."
If Sweeney lacked deep regional conviviality, he could at least burnish labor.
At the breakfast, Democrats honored Mike Capelli, executive secretary-treasurer with the Northeast Regional Council of Carpenters and a political animal based on his organizing activities come election time. Also receiving honors: Greg Lalevee – business manager of International Union of Operating Engineers Local 825; Lionel Leach – president, CWA Local 1039; Amy Lewis – recording-secretary. Teamsters Local 97; and Wayne Richardson – president, LIUNA Local 55.
A fierce presence from SEIU 32BJ included Vice President and District Director Kevin Brown and Political Director Julie Diaz.
Cappeli did not attend the event. A surrogate stood in for him, and anyway it was the more than uneasy triumvirate of Sweeney-Fulop-Murphy that created the most buzz, as Essex Democrats seize on every opportunity to remind rooms like the one in question that they have more registered Dems on the rolls than any other New Jersey county.
"It's smart for Leroy [the county chairman] to have them all here," said Assemblyman Ralph Caputo (D-28). "He's not committed yet. It's good politics on his part. Obviously they see him as a key component to their future. It's to their advantage to be there."
For those keeping careful score, those numbers of registered Democratic voters look like this: 182,882 (Essex); 156,302 (Bergen); 152,862 (Middlesex); and 136,500 (Hudson).
Fulop's from Hudson, so his minders figure he starts with that vital piece.
Murphy has strong ties to the elected officials in Middlesex County, where he hopes to blunt the fact that Fulop is originally from Edison.
A Gloucester County interloper to the most diehard northern party-goers,  statewide presence Sweeney lays claim to strong political ties to Essex County Executive Joe DiVincenzo, a close ally of Chairman Jones.
"The next gubernatorial candidate will come through Essex," DiVincenzo declared late last year.
He was right the last time, his bitterest antagonists like to remind people: he backed Republican Governor Chris Christie in 2013.
Fulop took advantage of a Newark backlash against the county power structure and its perceived cozy connections to the front office when he supported winning renegade mayoral candidate Ras Baraka in Newark's 2014 election.
Sources say Baraka is working closely with Jones, and does not appear to be ready for a civil war in this year's coming Democratic
Primary, harmonic developments that Fulop hopes ultimately to use as part of his argument for why Essex should back him. Baraka didn't attend the breakfast, but he dispatched city ally Tai Cooper in his place.
In Frank Pallone travel mode, Sweeney's case hinges on his longstanding alliance with DiVincenzo and his considerable ties to Building Trades labor – hence the double justification of his presence in West Orange to honor Capelli.
As a component of Building Trades, the Carpenters are already essentially behind their brother Sweeney, if and when he formally runs for governor.
"It was a day to celebrate labor, and I'm pleased it represented importance to those three guys as well as all the other members of labor and elected officials who joined us," Jones said, when asked about Sweeney, Fulop and Murphy.
But Sweeney fatigue is in evidence, according to those off record comments from attendees and other Essex Democratic Party operatives.
It has less to do arguably with Sweeney than Gov. Chris Christie.
Lingering on the Sweeney connection, a party source devoured the proceedings with wolfish delight.
"Leroy is in a tough spot," said the source. "Its going to be rich to watch Joe D. up here trying to make a case for Steve Sweeney. People don't want Christie-lite. We need a strong leader."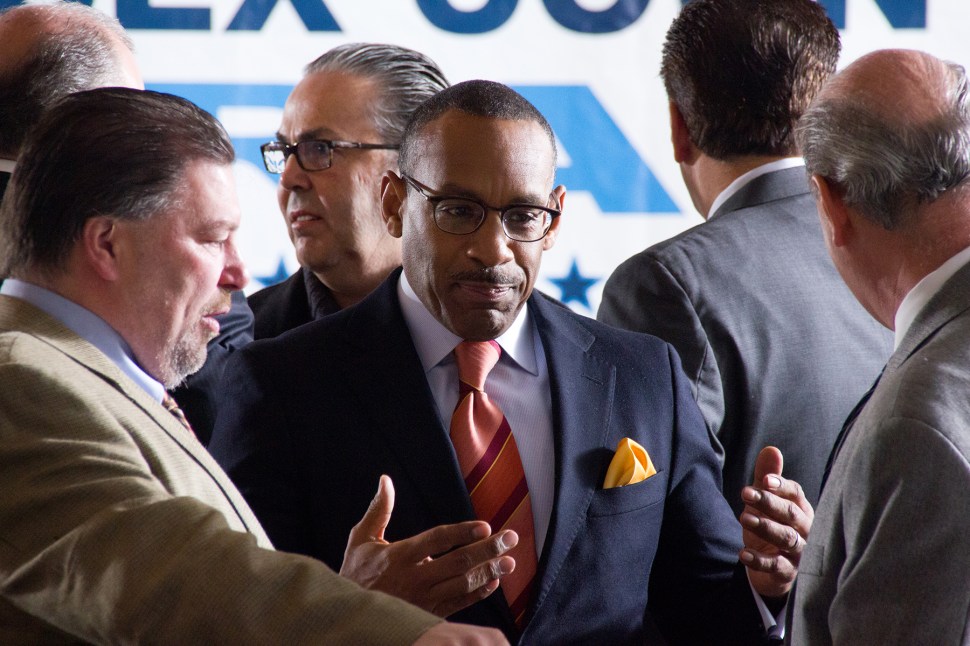 Sweeney and Christie partnered to overhaul public pensions and benefits.
He also rose to power by turning then-Senate President Dick Codey (D-27) out of the senate throne.
Alert to national politics and a possibly weakened Sweeney, the source indulged the continuing back chatter about the possibility of another candidate entering the race.
If the sitting senate president gets sufficiently bloodied early and Murphy can't capitalize, would a 2016 Republican entrenchment in Washington, D.C. and a muscling up of a GOP majority coax U.S. Senator Cory Booker (D-NJ) into a 2017 gubernatorial run with a clear-the-field, Essex-centric strategy? Or might a reanimated Codey (D-27) – like Booker, also from Essex – complicate matters by running, thereby dividing the loyalties of Jones?
"I don't think the field is set yet," the source mused.
When Booker ran in the 2013 special primary election, he received the most votes – by far – in his home county of Essex: 36,303, compared to 24,328 from Bergen and 22,927 from Hudson.
Sources in Essex this week mentioned the Booker factor to PolitickerNJ, noting Booker Chief of Staff Mo Butler's presence this year at DiVincenzo's annual Puerto Rican soiree and concluding that the executive's charm offensive is on to get Booker in the race.
Sources close to South Jersey Democratic Party boss George Norcross III have similarly expressed Norcross' alertness to Booker's political power, in the event Sweeney fails to show northern viability.
Today's labor set piece provided a natural ambiance for Sweeney.
But will that and Joe D. love be enough?
One source said the problem for the executive has to do with a case of simple mechanics. If Sweeney – a South Jersey candidate perceived to have been close to Christie on the biggest selling point issue of Christie's first term – occupies the party line in a year when the legislature is up, his presence could create havoc, and welcome Fulop in to put in play his alliance with Baraka, or push Codey further into Murphy's arms if he doesn't run himself.
Booker would resolve that issue for DiVincenzo and create peace in the kingdom, the source said, explaining the executive's active island button-holing of Butler.
It's volatile.
For state Senator Ronald L. Rice (D-28), the structure as it now stands and as he sees it, won't withstand an altered landscape in Essex, exemplified last year by Baraka's win: a dynamic that the veteran senator argues weakens the executive and his political circle.
"'Joe  D' does not control black people in Essex County," said the senator. "He believes he does because Black people and black leaders in Essex County has never really challenged and debated him publicly to truly expose the real 'Joe D' in reference to his political relationships, the county money and contracts."
But for now, the structure, on display at Mayfair – and those alliances beginning with DiVIncenzo and Jones – stands.
Who among the gubernatorial contenders may survive in Essex to the degree that he empowers the existing establishment alliance, but Rice the renegade doesn't see it that way.