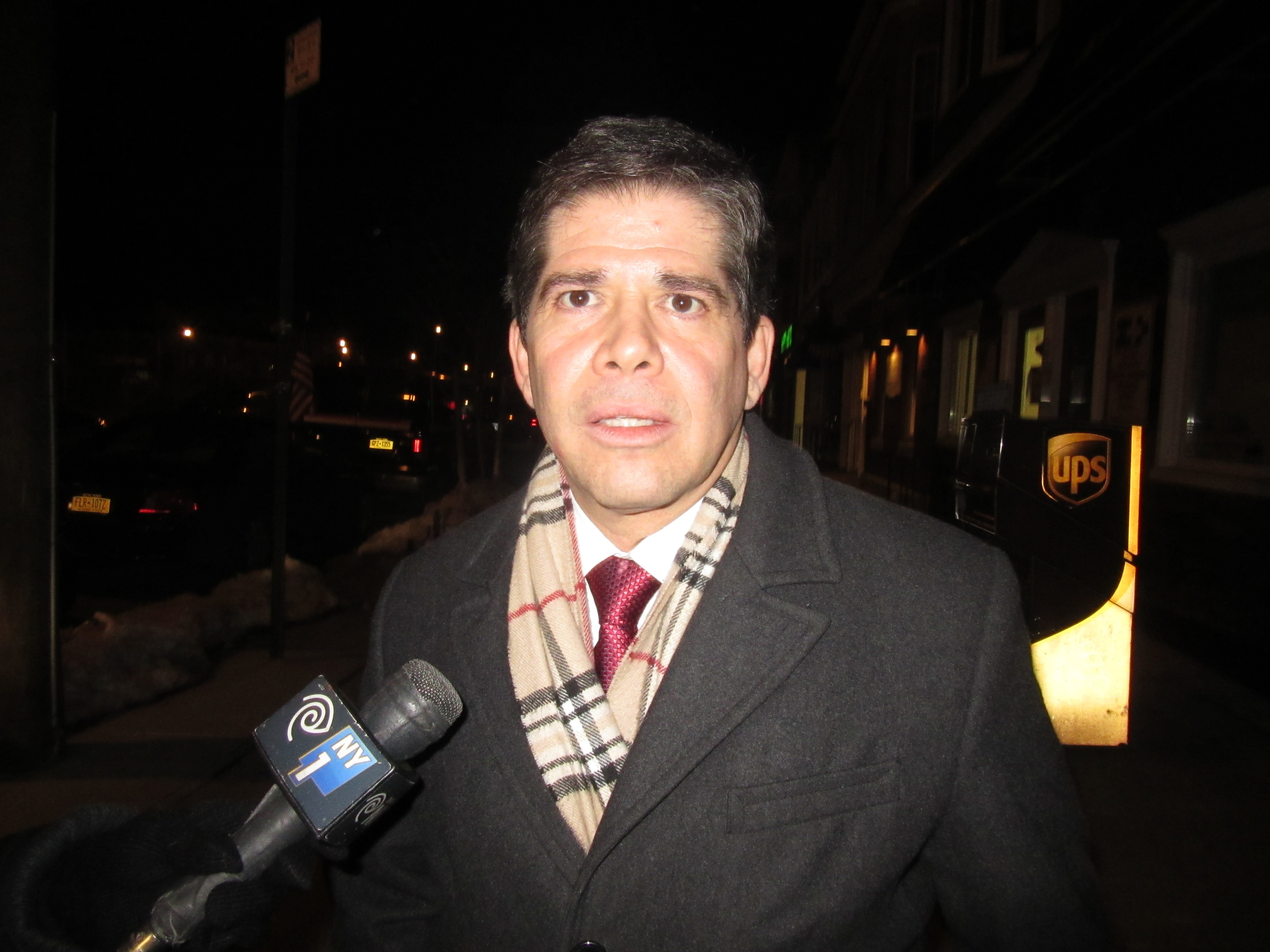 Two elected officials and a labor activist made their case to the Staten Island Democratic Party last night on why they should be the one to run against the borough's Republican district attorney, Daniel Donovan, in the race to succeed former Congressman Michael Grimm—but party officials said their search for a candidate continues.
Brooklyn Councilman Vincent Gentile—widely viewed as the front-runner for the nomination—Brooklyn Assemblyman William Colton and Robert Holst, founder of the pro-union Middle Class Action Project, each pitched themselves to a closed-door meeting of the party's executive committee as the candidate best suited to defeat the heavily-favored Mr. Donovan. Mr. Gentile played up his experience representing parts of Staten Island in the State Senate between 1996 and 2002.
"I'm the only person who's represented both sides of the bridge in the race, and I've had the legislative experience no one else has had," said Mr. Gentile, who arrived carrying a map showing how heavily the Brooklyn part of the Congressional district overlaps with his Council turf. "People recognize me and remember what I've done here all the time."
Mr. Colton, whose Assembly district overlaps only slightly with the Congressional seat, also called attention to his years in government and demographic similarities between his home base and Staten Island.
"I think there's a lot of similarities between the 47th Assembly district in southwest Brooklyn and Staten Island," said Mr. Colton, noting that many Staten Island residents formerly lived in his area or have family there. "People need someone who is a fighter. I've been a legislator, re-elected 10 terms, and I believe people have re-elected me because they know I will fight for what they need. And I think that's what's needed now in a Congressional seat."
More than two thirds of the votes in the district are on the Staten Island side. Mr. Grimm crushed a challenge from Brooklyn Councilman Domenic Recchia Jr. last year, just months before he pleaded guilty to a felony tax evasion charge and resigned the seat.
Mr. Holst, a union electrician, emphasized his ties to organized labor and the working class culture of the district. He also noted that he is the only candidate residing on Staten Island—though he stopped short of declaring that an advantage—and argued his lack of legislative experience is a plus.
"I don't have a record to defend, in terms of votes I've taken in the past. I don't have any issues when it comes to corruption, being any part of that. I'm the candidate that lives it every day," he said. "I understand the struggles and the challenges they face here on Staten Island, because I'm one of them."
All three of the men said they have yet to form an exploratory committee or begin fund-raising for a Congressional run, which is likely to be costly. Mr. Gentile, however, has almost $23,000 in a state campaign account called "Gentile NYC."
Election law would require Mr. Gentile to refund the donors to the Gentile NYC account and ask them to re-donate to a Congressional campaign. Mr. Recchia did this after declaring his candidacy in 2013.
Party Executive Director Thomas Feeney said that the executive committee was "impressed" with all three candidates, and faced a difficult decision.
"We weighed running a Staten Islander who is not an elected official, against running an established Brooklyn guy," he said.
Party Chairman John Gulino said the`party was only interested in a candidate with fund-raising potential, knowledge of national and local issues, a strategy and experience—hinting he was only interested in running an elected official.
"We don't want a newbie," he said, though he declined to say if he regarded any of the candidates interviewed as such.
However, Mr. Gulino said he would continue to interview prospective contenders for the seat. In a special election to fill a Congressional vacancy, the local party establishments pick a candidate, as opposed to an open primary process.
Arne Mattsson, a firefighter-turned-school teacher who unsuccessfully challenged then-Congressman Vito Fossella in 2002, turned up at the meeting but was not permitted to make a presentation. Mr. Feeney said there had been a "miscommunication" and Mr. Mattsson had not been scheduled to speak, and added that Mr. Gulino would meet with him privately in the near future to discuss his potential candidacy.
Gov. Andrew Cuomo has yet to declare Mr. Grimm's seat vacant, which would trigger a special election—and has set no time frame in which he might do so. Sources told the Observer they believe the governor will put off the replacement vote until Election Day in November, in order to save money.