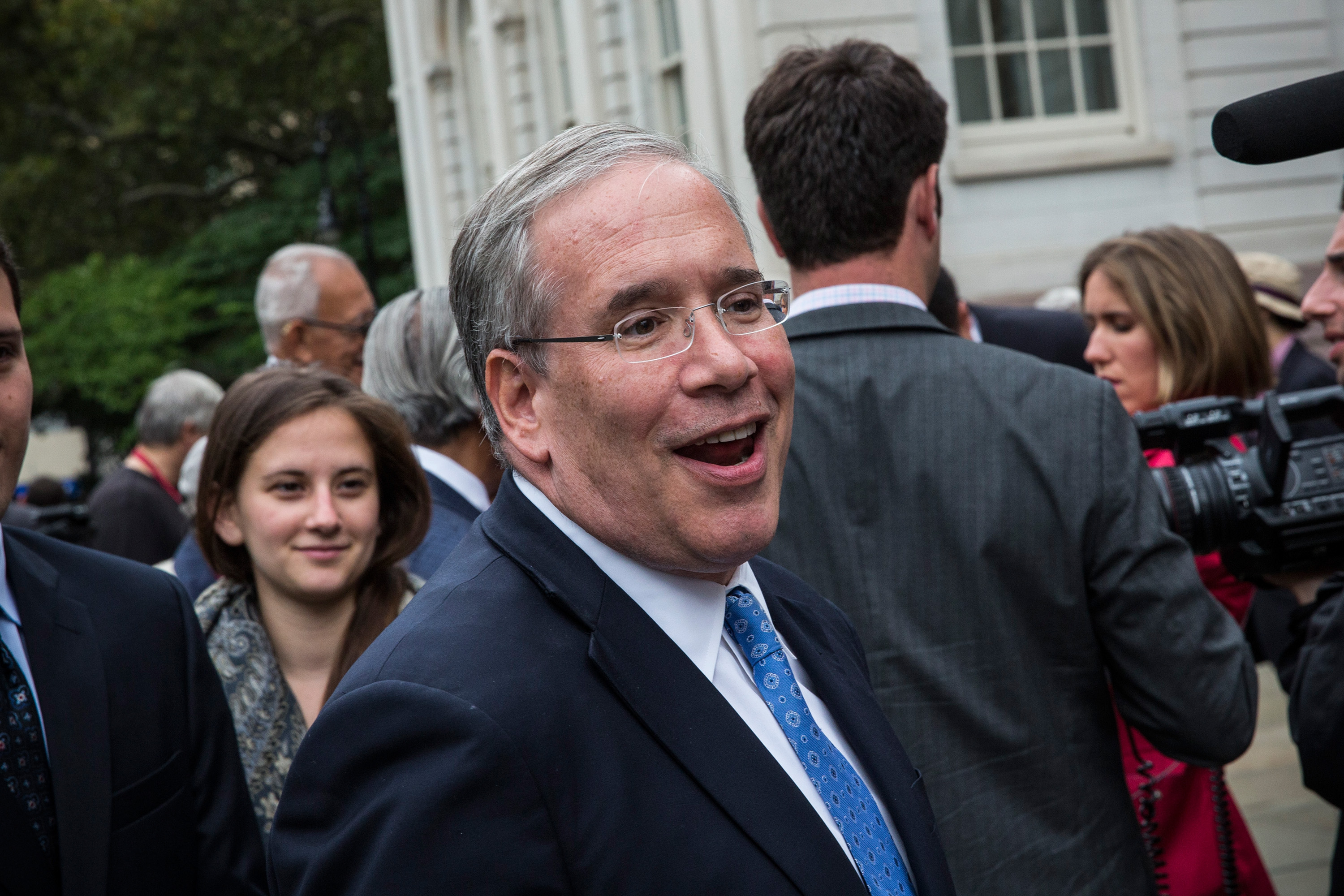 Even as he estimated the city is facing lower budget gaps and higher revenue than Mayor Bill de Blasio has projected—with nearly enough money to balance budgets through 2019—Comptroller Scott Stringer still called on the city to implement a savings plan.
"Based on our projections, this means that the city now has almost enough to balance each year's budget all the way until the end of the financial plan," Mr. Stringer told reporters today at a press conference outlining his analysis of the mayor's proposed budget. "This is an unprecedented situation in New York City."
Mr. Stringer's projections show the city having $1.6 billion more to work with in fiscal years 2015 and 2016—including $1 billion in extra tax revenue—than the city is currently estimating, and his office identified another $600.
That extra cash is nearly enough to cover Mr. Stringer's projected budget gaps, though his estimates are considerably lower than Mr. de Blasio's. While the mayor projected there would be $4.5 billion in budget gaps through fiscal year 2019, Mr. Stringer's projections showed "dramatically lower budget gaps," totaling $1.7 billion through 2019.
Mr. de Blasio's office pointed to problems that can crop up when a budget is based on rosy revenue projections—a practice that left New Jersey cash-strapped.
"We are intentionally prudent in our revenue projections, as always, because we've seen the risks of over-projecting revenue in places like NJ that then faced significant budget holes," spokeswoman Amy Spitalnick said.
But even as the comptroller pointed to higher revenues and smaller budget gaps—as well as healthy pension returns that are paying for half the city's increased salary costs—he said the city should still start saving more cash. If the economy takes a downward swing, New York would need "a cushion of billions to make it through a downturn," he said.
"It is vital that we implement a savings plan—it sets a standard for prudent budgeting and frees up money for improved services and contingency," he said.
In the past, the city has implemented PEG programs—that stands for program to eliminate the gap—that required city agencies to reach certain savings goals each year. Mr. de Blasio has not included any PEGs in his budgets, though he has asked agencies to identify cost savings.
Mr. Stringer said past PEGs, enacted from 2008 to 2013, saved the city $6.5 billion in fiscal year 2014 alone.
"If an agency efficiency program equivalent to those in the past were implemented, we would save $1 billion," Mr. Stringer said—money that could be used to advance other programs.
The mayor's office said it was already putting money away for rainy days.
"While out-year gaps are well below historical averages, this winter OMB instructed agencies to find savings and efficiencies. Those results will be evident in the Executive Budget," Ms. Spitalnick said. "Additionally, the de Blasio administration has boosted reserves to historic highs, a move that independent monitors and raters have all applauded."