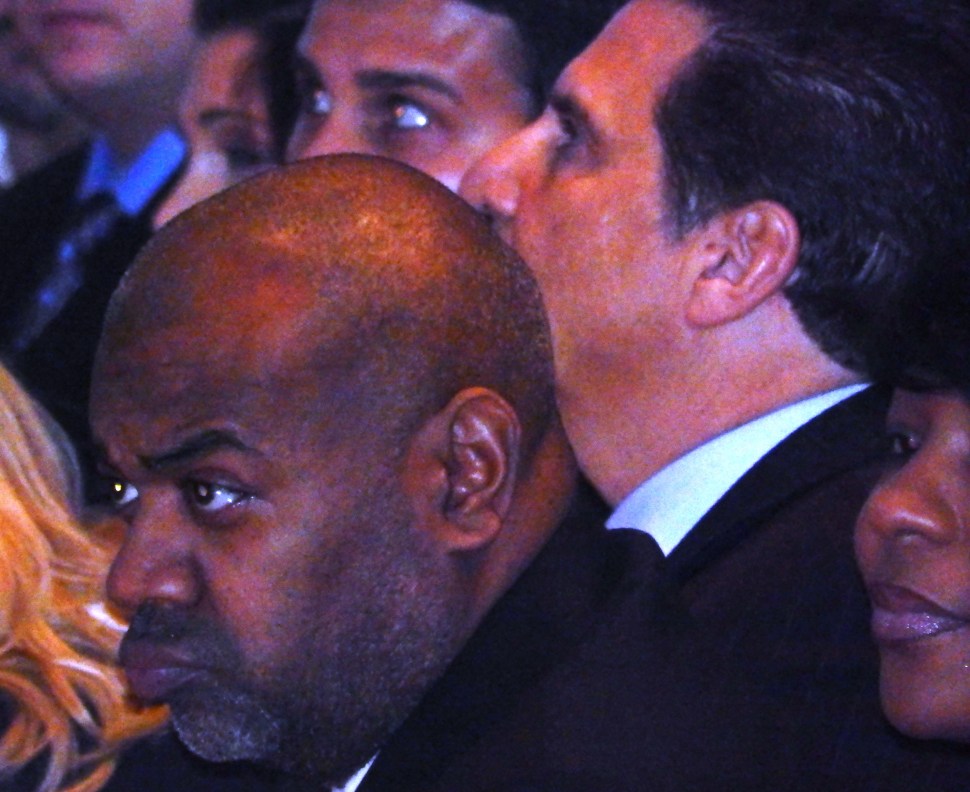 CEDAR GROVE – Political animals praying for a countywide war might call it heartbreak.
But Essex County Executive Joe DiVincenzo and Newark Mayor Ras Baraka showed up tonight bear-hugging their way toward what looks now like a nonevent in early June otherwise known as a Democratic Primary in places like (perhaps) Union County.
"Our great mayor," declared state Senator M. Teresa Ruiz (D-29) when she introduced Baraka, who stepped jauntily to the podium affixed with the seal of the Essex County Executive.
A half a year ago Baraka beat Shavar Jeffries, the candidate backed by the county, who tonight stood in the back of the packed room as Baraka lapped up establishment hand claps.
"It is important that we all be together," said the mayor. "It's important that everyone understand that Essex County is strong and we are moving forward together."
When he finished his remarks, the mayor fell into a front row embrace with DiVincenzo, then resumed his seat next to the man who last year unsuccessfully tried to send him back to the South Ward in defeat.
Baraka and DiVIncenzo occupied their place at the front of the crowd not far from Essex County Democratic Chairman Leroy Jones, who's been in talks with Baraka and tonight appeared to have arrested an LD29 rebellion kicked around late last year as a possibility by the Newark mayor's acolytes.
The theater piece projected grandly on the heels of numerous county events where Baraka dispatched City Hall surrogates but appeared reluctant to personally attend.
"There have been talks," a source told PolitickerNJ. "Leroy's played a big role. Essentially it's been, 'Ras, what are you doing? You're going to have to run for re-election at some point. The city needs help."
Several other symbolic gestures jumped out of the second floor room here at the Essex Hospital Center where the likes of Newark North Ward Councilman Anibal Ramos, Deputy Chief of Staff Bill Payne, Essex County Clerk Chris Durkin, Assemblyman Tom Giblin (D-34), Freeholders Rolando Bobadilla, Rufus Johnson, Freeholder President Britnee Timberlake, Assemblyman Ralph Caputo (D-28), veteran party operative Tom Barrett and others crammed the seats.
In the midst of an ongoing fight for attention among three visible prospective 2017 Democratic candidates for governor,  and desire to project strength in 800k population Essex County, home to the state's most registered Democrats, Senate President Steve Sweeney (D-3) did not appear tonight.
Neither did former U.S. Ambassador to Germany Phil Murphy.
Yet their rival, the close ally of Baraka, commanded a front row seat and lifted an arm in acknowledgement of DiVincenzo Chief Phil Alagia's warm introduction.
People in the crowd noticed the turn around from DiVincenzo's inaugural last month when Sweeney stood front and center and Fulop found himself sandwiched in the back seat shadows with nary a word from his would-be hosts.
It was that event in fact, a source noted, that began turning around relations between the veteran county executive and young mayor, a source said, and the recognition that they have more in common than differences.
Fulop didn't address the Essex audience tonight.
Instead, his ally, former Governor Jim McGreevey, went to the head of the room to a near uniform standing ovation.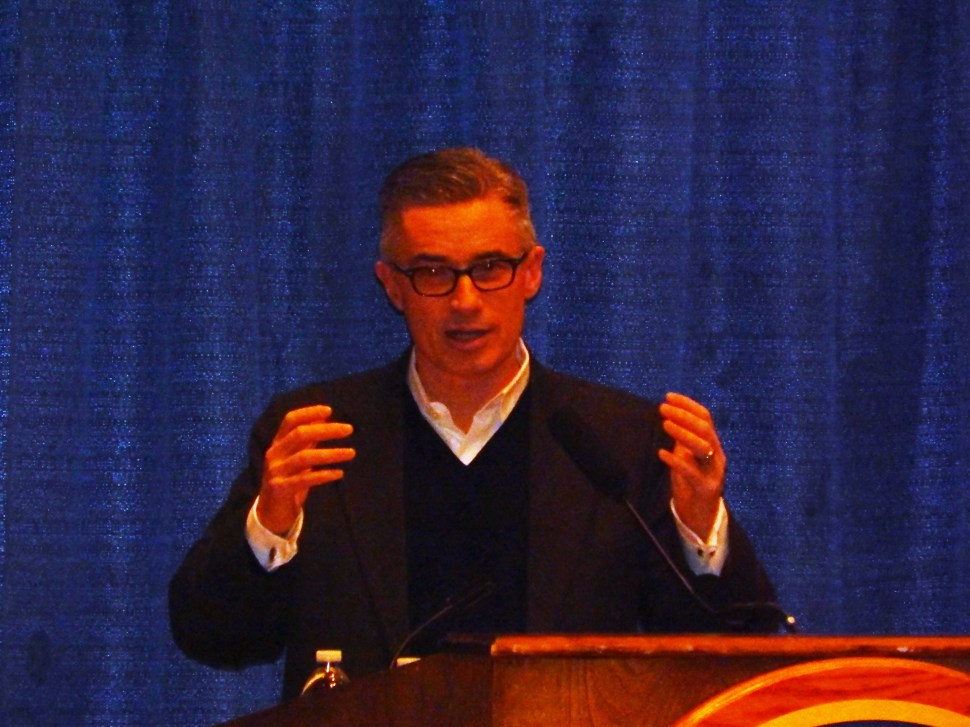 "An unbelievable governor," Alagia crowed, moments before McGreevey plugged prisoner re-entry reform, a program he heads in Jersey City, which he intends to work with DiVIncenzo to expand here. "Now I get it," said McGreevey, reflecting on last night's Oscars host Neil Patrick Harris. "I fill the white Irish Catholic gay quota."
McGreevey wants to work with the county executive to improve sobriety training for prisoners, and transitional housing and employment opportunities.
"Every child of God deserves a second chance," said the former governor, who resigned his office just over ten years ago when he announced that he was a gay American.
"We all fall down but we all get up, Mayor Baraka," added the former governor, finding a friendly face int he crowd. "Every life is redeemable."
Words like "building" and "partnership" abounded in the speech.
"Just like we did in Jersey City," said a beaming McGreevey.
It was all buildup to the main act: DiVincenzo, who on his way to the front of the room smirked.
"Bergen," he said. "Come on."
It was a reference to Bergen County Executive Jim Tedesco's rampant appearances at Chamber of Commerce events in D.C. last week, reflected in pieces by PolitickerNJ.
The numbers – and past performance – convince DiVincenzo that everything political for Democrats goes through Essex.
He dove into a five page speech complete with power point presentation.
"As one of the largest employers in Essex, it is critical that we remain a driving force in maintaining the economic stability of our communities," said the county executive. "We still practice prudent fiscal strategies, cut spending, implemented long-term budgeting, increased revenue, held the line on taxes and kept our workforce working."