"I saw her walk into the ring today and I thought, it's not going to happen," said Ruben Lemmens, of his 4-year-old French bulldog Diesel. "Her ears weren't up, she wasn't expressing."
Diesel is a bitch otherwise known as Lena V.D. Mestreechteneerkes, and she had a litter of puppies about a year ago. This is incredibly important. Her progeny will impact the Westminster Kennel Club Dog Show—the Pulitzer of puppies, the Cannes of canines, the Wimbledon of woof. But though her pups may someday be champions, Diesel herself has not been showing her old enthusiasm for the circuit. 
Not so Diesel's owner. When we found him backstage, he was clearly devoted to the cause. After being rebuffed by several breeders who wouldn't even sell him a dog several years back—"they thought I was just this kid—"the plaid-shirt-clad Californian lamented, his girlfriend had signed him and Diesel up for a show. Now, he said that he's been to about 100 shows with his two Frenchies.
Such is the pressure applied to these otherwise utterly adorable doggie creatures. It is no easy task to take home a champion blue ribbon at Westminster, be it best of breed, group or show. One must not only be an ideal representation of one's breed, but also, entirely one's self. Charming, spirited, tractable but not dull, motivated by treats, but not too motivated. A little doglike behavior is considered only proper—say tossing one's head a bit at the confines of a lead—but nothing so doglike as barking or leaping up at a judge.
It is no less stressful for the handlers or owners, who are tasked with calling forth this animated yet pliant demeanor. An hour before the show began at Madison Square Garden Monday night, we saw more than a few quaffing glasses of wine, among them one woman in a cream brocade skirt suit rather daringly sipping a glass of red. Red wine and a cream brocade skirt suit! The dog owners are out for blood.
Dogs, they are different. Some dogs prefer to remain crated, dozing as their handlers and owners primp themselves and chat with attendees, a number of whom did not seem particularly well-versed in the ways of dog breeding. 'Oh, it's a German Shepherd Collie mix!' cried one woman, pointing out a Belgian Tervuren to her friend before concluding, 'Oh, wait, it won't be a mix,'"
Other dogs kept their energy up by interacting with the crowd. Look at Larry, the Entlebucher Mountain Dog, dubbed The Smallest of the Bernese Mountain Dogs, whom we found relaxing on a low bed that jutted into the overcrowded pathway through the pre-show benching stations.
"We're not really dog show people," said his owner James Morrow.
"Larry's like a dog dog," added his friend Eric Schwartz.
To prepare for his big day, Larry had enjoyed a chicken lunch and gone out to play in Central Park, they said. His nails had been trimmed a week before, his owner said.
Pirata, a Portguese Podengo Pequeno, was unable to indulge in such pre-show relaxation, busy as he was having his wiry fur carefully fluffed with a combination of baby powder and cornstarch by his half-owner Karen Oglesby. She finished the process off with a cloud of hairspray and a few encouraging little beats about the haunches, leaving him looking suitably scruffy and alert. As much as could be expected, anyway—both had been up since 4 a.m.
Of course, all the preparation and primping in the world cannot stop a dog from having an off night. In the hound group, a Scottish Deerhound, a breed admired for its "floating lope"—sometimes referred to as "poetry in motion"—refused to do anything but plod along behind his increasingly desperate handler, despite what must have been an outstanding performance earlier that day in Best of Breed.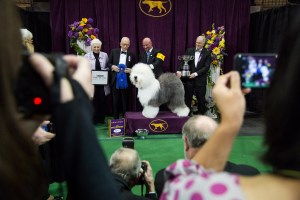 Movement counts for a lot, and in some cases it can count for everything: Eddie Dziuck, the part-owner of the group's winner, a 15-inch Beagle named Miss P. and a grand-niece of 2008 Best in Show winner Uno, credited Miss P.'s win with her beautiful gait.
"A hunting breed should be able to move smoothly and effortlessly," said Mr. Dziuck. "You can picture her going on for hours and hours."
Ms. Dziuck beamed.
"Especially that last go, she was so fluid."
Alas, it would be her last Westminster—Mr. Dziuck said that next, the 4-year-old bitch, would be "going for motherhood."
We thought momentarily about the unfairness of being a show bitch when  dogs often get to enjoy both breeding and showing well into their golden years. What a life it is to be a show dog. The 11-year-old Schipperke, for example, once again took the Westminster ring with gusto.
But, on occasion, owners have dogs that defy that F. Scott Fitzgerald dictim: There are  no second acts in American lives of dogs in dog shows.
Take Patricia Hearst-Shaw, the heiress and former Symbionese Liberation Army captive whose Shih Tzu, named Rocket, won Best Toy Monday night. A known fan of the French Bulldog—one of Ms. Hearst-Shaw's won Best of Opposite Sex for his breed in 2008—was wearing a long black tunic and large French bulldog-shaped silver ring with gemstone eyes when she came down to bask in the glow of victory.
"I guess people somehow imagine that you don't evolve in your life," Ms. Hearst told a group of reporters, before excusing herself to return to stroking her champion Shih Tzu, who was nodding off in the arms of his other owner.
He needed the sleep. He'd be back the following night to compete for Best in Show against the crowd favorite, an Old English Sheepdog named—in an appropriate christening—Swagger. Swagger was a formidable competitor who gave this reporter's hand an amiable lick before settling down on the floor with his fluffy head between his enormous powder-puff paws.
Asked about the habits of a champion, owner Colton Johnson said Swagger was most apt to be found "running around herding my children and sleeping on their beds" when not showing. He also took a weekly bath with a clarifying shampoo—"no whitening!"—and periodically, candy removed from his gray and white coat.
"We're always pulling gummy bears out of his hair," said Mr. Johnson