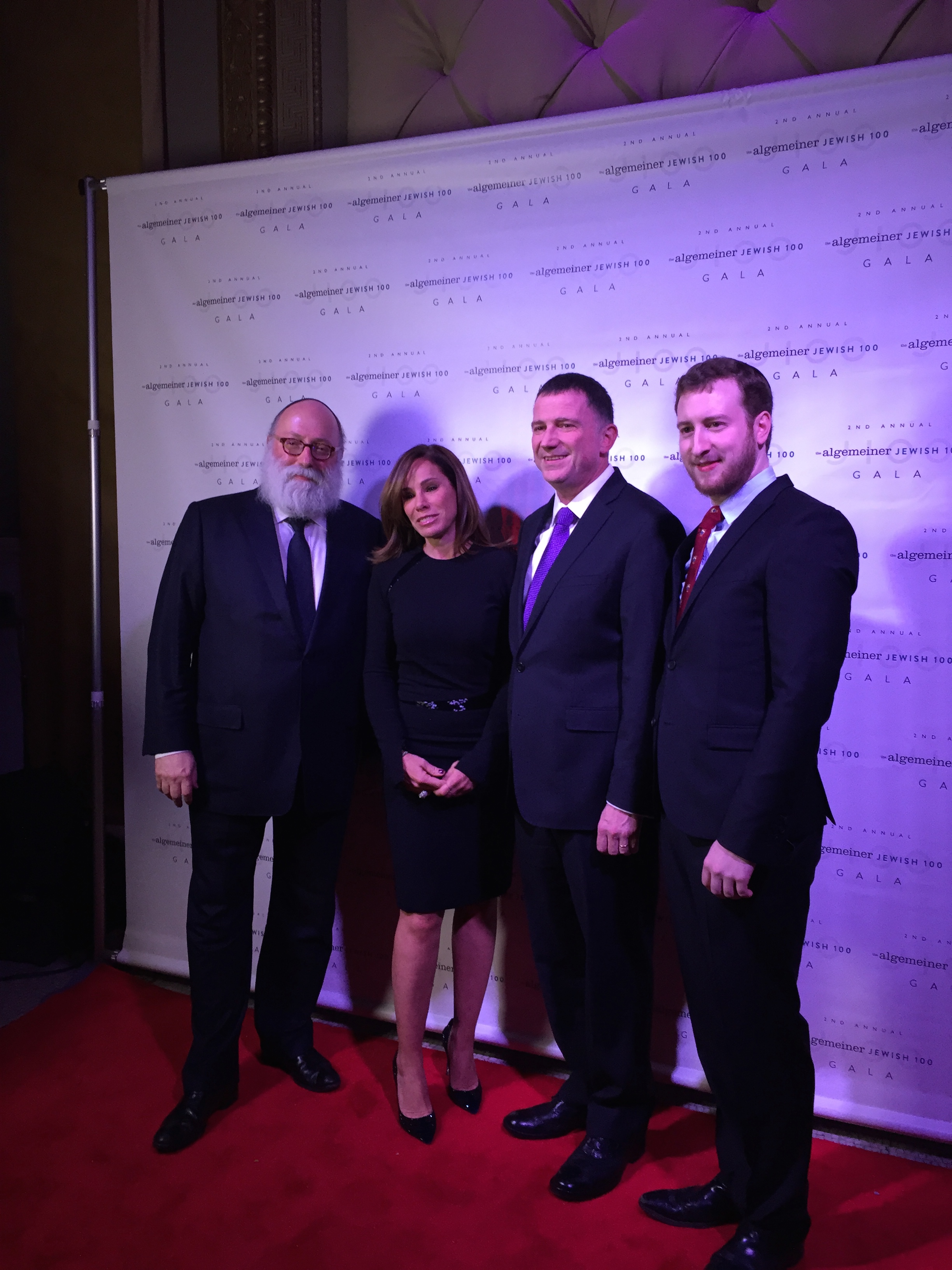 Hundreds of the Jewish community's most influential filled the Capitale on Bowery last night in SoHo, in support of Israel and The Algemeiner Journal. The Algemeiner Jewish 100 Gala honored the top 100 people positively influencing Jewish life, and presented awards, most notably to the late Joan Rivers, whose daughter Melissa accepted on her behalf, and Donald Trump.
The Algemeiner Journal, a Jewish newspaper highlighting Jewish and Israeli issues across the globe, was celebrating it's 43rd year of publication during its second annual gala yesterday evening. The paper's Publisher, Simon Jacobson, and Editor in Chief, Dovid Efune, began the festivities by speaking about the publication's perseverance over its long tenure. They both emphasized the importance of being heard and the journal's mission to be the voice of the Jewish people.
"Friends, by your attendance here tonight, by your strengthening of our voice, each of you has made a statement, each of us has made a statement. We will not be silent," exclaimed Mr. Efune. "We will speak up on behalf of those that cannot do so, and we will raise our voices on behalf of those that are not heard."
The gala was appropriately held at the Capitale, an old bank that's been converted into a ballroom, as community and industry leaders dressed well and ate even better, enjoying a spread of kosher steak, turkey, and of course brisket. On top of purchasing tickets for the occasion, attendees texted donations to further their contributions.
Headlining the event were Melissa Rivers and Donald Trump, who were accepting awards from Algemeiner for their continued support of Israel and the Jewish people. Ms. Rivers, following her late mother Joan's legacy, was very open about her views on Israel, as was Mr. Trump (the father in-law of the Observer's publisher), who has made numerous donations towards the Jewish state over the years. Ms. Rivers spoke following a touching and of course comedic tribute video to her mother.
"Not only was my mother proud of her Jewish heritage, but she was also fearless, and beyond a vocal supporter of the state of Israel. Especially at a time when it was not popular to be so," Ms. Rivers said. "I know she certainly would have stayed until the end of the program, and not because she would have been having an absolutely fantastic time, but also because she would want to take home a centerpiece, and last Jew in the room always gets the centerpiece," she fittingly concluded with a laugh.
Mr. Trump, who was presented the award by his Jewish daughter Ivanka, gave a short speech in which he talked about the final episodes of his show "The Apprentice," and his appreciation for Israel.
"We love Israel, we will fight for Israel 100 percent, 1000 percent, it will be there forever," Mr. Trump told the audience. "It was a great event, and a great honor," he later told the Observer.