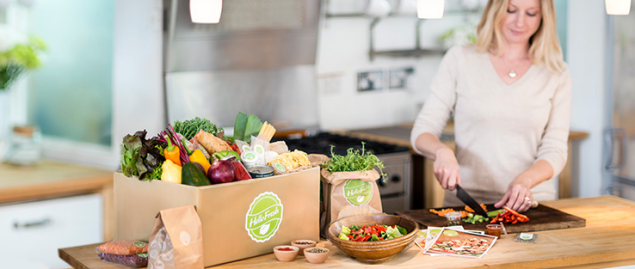 It's no secret New Yorkers love their delivery: why elbow your way through the Union Square Trader Joe's and haul 50 pounds of food back to your apartment when instead, you could have the ingredients for a week's worth of meals delivered directly to your doorstep?
That's the idea behind HelloFresh, a subscription recipe service founded in 2011 that delivers weekly boxes of pre-portioned ingredients and step-by-step cooking instructions directly to users' homes. The company announced this morning the completion of a $126 million Series E—a sign that subscription services are only continuing to thrive in New York, a city where residents are hard-pressed to leave their apartments if not given a very, very good reason.
"HelloFresh aims to become the leading brand in the grocery and meal delivery category and already serves customers across the entire U.S," Seth Goldman, U.S. CEO of HelloFresh, said in a release. "We are constantly opening up new ways to eat healthier and enjoy more quality time around the dinner table. That's very motivating and inspires us to take the company to the next level."
To Mr. Goldman's credit, HelloFresh's meals are pretty awesome—and they're not even that expensive. We, personally, tried out the service last summer, and made some pretty tasty apricot-glazed chicken with green beans. As we remarked at the time, "We found that HelloFresh's recipes were really simple, but very tasty; they required a small amount of time and equipment, and were surprisingly easy to make on a work night."
HelloFresh isn't the only company making waves in the grocery delivery industry. There's also Blue Apron, which, according to TechCrunch, is currently valued around $450 million, sells a million meals every month, and recently opened an e-commerce store. And let's not forget Instacart, the San Francisco-based grocery delivery app that's slowly but surely been expanding across the entirety of New York City.
Our sincerest props to everyone working to eliminate the insanity-inducing trauma of an NYC grocery shopping trip from our everyday lives.