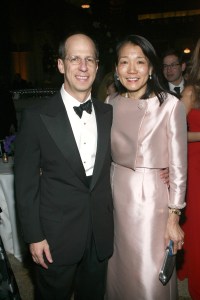 When denizens of the Upper East Side's more fashionable buildings step into their elevators, footsore from long days of shopping, it is not generally the handles of Dress Barn bags that dig into their sweating and pampered palms. Founded in Stamford, Connecticut in 1962 to meet the sartorial demands of a growing women's workforce, the big-box retailer now has some 3,900 locations, dealing in practical and affordable fashions for the professional woman, with some emphasis placed on customers who've grown somewhat wide of hip, if not necessarily long of tooth.
Of course, the proceeds of flower-print mumus add up quickly, and acting through a trust, Dress Barn's CEO, David R. Jaffe, has just purchased a sponsor unit at Extell's pricey Carlton House conversion, at 21 East 61st Street, for $8.7 million, according to city records. (Mr. Jaffe's mother, Roslyn, is Dress Barn's founder; he lists his primary address as a New Canaan mansion on the oh-so-delightful-sounding Summersweet Lane.)
Built in 1951, the building is the former home of the Helmsley Carlton House hotel, which Extell bought in 2010 for $164 million, with a luxurious overhaul–and a more than $350 million investment–in mind. The brick and limestone facade has been restored and structural elements reinforced. Plush extras include a "luxury attache," steam and game rooms, and a heated indoor pool.
Mr. Jaffe's new pad is a 2,507 square-foot three-bedroom, with a great room and a big open kitchen. Though it fetched a shade more than the $8.55 million asking price, the condop falls in what might be called the lower-mid range of the development's offerings, which topped out last month with the sale for $52 million–20 percent below ask–of the penthouse. Still, he won't be any further than the owners of that fine home from the nearby "haute couture ateliers and boutiques that place Madison Avenue among the world's most chic shopping destinations."
Dress Barn, anyone?