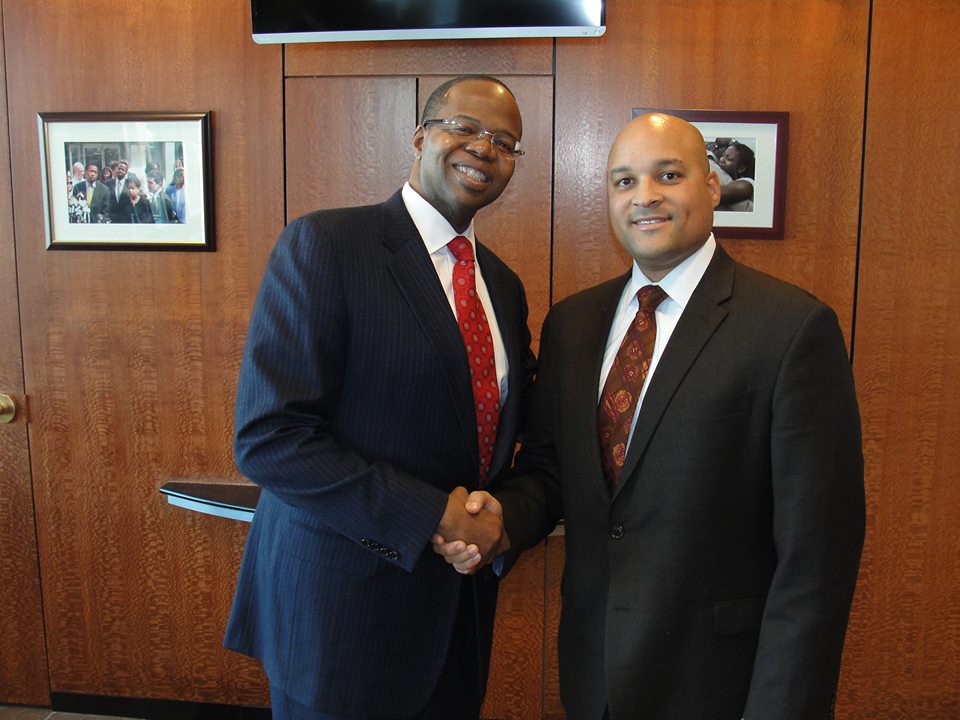 The death of Staten Islander Eric Garner last year has inspired one local attorney to take up an underdog bid to replace District Attorney Daniel Donovan, who is planning to run for Congress.
Matthew Smalls, a former Manhattan assistant district attorney now in private practice, has filed to run as a Democrat to become the borough's next top prosecutor. He claimed that the "genesis" of his candidacy is what he saw as Mr. Donovan's failure to publicly address Garner's death at the hands of NYPD Officer Daniel Pantaleo in the month between the killing and the impaneling of a grand jury. The death was ruled a homicide by the medical examiner, but nobody was indicted by Mr. Donovan's grand jury.
"There was a huge issue about trust between the police and community, and there was a concern whether the administration would take the community's concerns seriously," Mr. Smalls told the Observer. "Not one time did the current administration stand before the people and explain what the grand jury process was, and assure people justice would be done. That leadership vacuum allowed the really toxic environment in this city to fester."
The Albany native, who has lived on Staten Island for two years, argued that a lack of trust with the public can hinder the ability of the D.A.'s office to effectively do its job.
"We need the community to trust us, because that's where our jurors come from, that's where our witnesses come from, this is where our victims come from, the people of Staten Island," he said.
Mr. Smalls would not remark, however, on the grand jury's decision not to indict Mr. Pantaleo for killing Garner, which some critics have blamed on Mr. Donovan.
"The grand jury did what it did. That's our system, that's our law," said Mr. Smalls.
The candidate, whose bid was first reported in the Staten Island Advance, said he also wished to more aggressively combat the borough's ongoing opioid abuse crisis, which he argued would be possible if the D.A.'s office used tools like social media to track users and dealers.
"I don't know how many times I have to read about a young person overdosing on heroin. You don't see that in other parts of the city, because I think that other parts of the city are using smarter practices," he said. "I think the residents of the entire island would like to see something done about it."
Mr. Donovan's office noted that the current D.A. met with Garner's family after his death, and put out a press release upon impaneling the grand jury.
"Those were the people we were dealing with, and those were the people that we had to assure," said Chief Assistant District Attorney Daniel Master.
Mr. Donovan's office also noted that one of its A.D.A.s sits on Mayor Bill de Blasio's task force on prescription painkiller abuse, and his office had the overdose antidote naloxone placed in three of the borough's four police precincts, which has saved a number of lives. Mr. Master also said that they have a designated group of prosecutors exclusively handling opioid cases.
"They are not called a narcotics unit, but they will be soon. They're the same people who have been handling our cases for years," Mr. Master said.
Mr. Smalls, a resident of Staten Island's diverse and predominantly Democratic North Shore, faces a steep uphill battle winning support in the overwhelmingly white and conservative borough. Victory would prove even more difficult should Republican State Senator Andrew Lanza or Democratic former Congressman Michael McMahon enter the race, as some have speculated they will.
However, Mr. Smalls says he remains undeterred.
"I'm in it to win it. I don't know who the opponents are, but I'm in it to win it. We will present our ideas for the office to the people, and the people will decide," he said.
Both parties will have nominating conventions for candidates to replace Mr. Donovan, whose term as D.A. officially ends next January.